Health issues or depression Essay Sample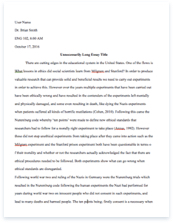 The whole doc is available only for registered users
OPEN DOC
Download Essay
A limited time offer!
Get a custom sample essay written according to your requirements urgent 3h delivery guaranteed
Order Now
Health issues or depression Essay Sample
If the individual has mental health issues or depression then I would need to encourage the individual to wash hands etc and prompt them to do things e.g. use the toilet. I would assist the individual who had poor mobility to wash and dress use the toilet etc. I would take into account the individuals choices and if an individual did not like sharing a bathroom I would work with my organisation to find a way round the problem. If the individual was ill it would be up to the staff to attend the individual's hygiene needs and assess what needs they have. The staff need to consider the individuals preferences and culture.
In this situation I must ensure I do no put my personal experiences on the individual and respect their decisions on how they wish to be cared for. I would speak with my colleagues and see what they thought but I would do this whilst maintaining confidentiality. When assisting the individual with their personal care needs, I would explain why it is important to wash and to put on clean clothes and how it prevents infections etc. I would do so in a calm sensitive manner, asking the individual for their opinion. I would consider any personal reasons, culture and experiences the individual may have about personal hygiene and see if I could find a way that reduces the risk of infection without taking away the individual's rights.
To prepare the environment to facilitate for effective communication by ensuring lighting is adequate, not too bright. Other distractions such as any interfering objects or any visual noises can hinder communication, therefore a peaceful, relaxing atmosphere is required in able to communicate effectively. A face to face contact must be maintained, avoid covering mouth or face, head movements must be clear to prevent any confusions.
Mouth should be kept clean and clear therefore eating and drinking is not required when communicating as words cannot be sounded out correctly, smoking or chewing these all hinder effective communication. You must be facing the individual at reasonable distance, wear correct contact lenses or any eye wear that maybe required for effective communication for example specs. Other auditory factors noises, air conditioning, fans, tv, radio other etc distance no further then 6feet from the talker. The individual factors can be there health, may not be well enough feel fatigue, have an illness makes concentration difficult.
Mr P is an elderly man who is retired and moved into a retired care home, his able to do things for himself, he wears specs as eye sight is not so good and hard of hearing uses a hearing aid. He was seated in his bedroom in an arm chair he was asleep. I knocked on his door and waited to be allowed in the room, the door was opened and I could see he was asleep and slightly dark in his room, so I switched on the light and I approached Mr P with a gentle calming manner and tapped his hand to wake him, he smiled as he looked up. Before attempting to communicate to him, the tv was blaring away loudly, so turned off the tv. Before attempting to speak to him I noticed he had not had his hearing aid in, therefore I used hand signalling signs in able to communicate to him to tell him need hearing aid in.
The hearing aid was on his side table, I checked to see if it was working fully and placed in his ear with his consent by signalling to the ear. I asked Mr P if he could hear me, he replied yes, so the hearing aid was working fine. I sat in front of him to maintain eye contact, I noticed he was not wearing his glasses so gave his glasses to him to wear I explained to him it was lunchtime made sure I spoke reasonably loud and clearly for him to understand what was being said. We cannot allow our own values to impose on service user's choices or decisions when it comes to personal hygiene, we must keep these to ourselves and allow service user with personal hygiene we must keep these to ourselves and allow service users to be confident/independent with their decisions in life and support them.
Mrs A is an elderly woman whom cannot speak English, she is able to do somethings for herself for e.g. brush her own teeth, dress herself to some extent but may require assistance as she has a bad leg therefore unable to stand for long periods of time and her arm pains from a fall, but she still is able to use her arm well and likes to be independent as much as she is able to. Mrs A lost her husband which made a big impact on her health, she was going through a bad phrase and therefore lost everything she owned due to family conflicts etc.
Now she is alone no one to help her, she been placed into a Care home, she has no family or friends she financially relies on her government income which is enough for care home services. She is not able to take care of herself fully in regards of personal care, clothes, toiletries, financially or participate much in many activities, always isolated herself from others. Mrs A walks to the dining room the other service users comment on her personal hygiene which upsets her, therefore she goes back to her bedroom.
Her health seems to be deteriorating as her food and drink intake as reduced and mental trauma has made some impact on her. We managed to feed her reasonable amounts but she still was reluctant to eating. Mrs A used a shared bathroom where she was unable to clean or wash herself properly as she felt embarrassed and the facilities was not always cleaned. Lack of communication can have effects on an individual's well-being for example, Mrs A as she cannot speak much English.
I can support the preferences and needs of the individual while maintaining their independence by encouraging independence and allowing individuals to undertake certain tasks in a way they feel comfortable with, this could be with feeding, personal care etc. Support the individuals to communicate their preferences, views and needs regarding personal hygiene. Treating residents as an individual and respecting their preferences including what they want to wear, when they want to get up etc for e.g. I used informed choices for Mr G, as he likes to have a cake for a pudding but he is diabetic, to protect his health and choice I offered him a diabetic cake which tastes the same only has less sugar intake, he was quite happy with that.
Mr G likes to choose his own clothes but he tends to wear unmatched clothing without rejecting his choice, I showed him a different variety of clothing which made him change his mind which was more of appropriate choice for him. I could offer suitable choices which made him change his mind, I considered his care plan to ensure that Mr G is supported appropriately to promote their rights, respect, dignity, choices, that take into consideration their culture, beliefs and preferences. We need to support individual's preferences and needs to allow them to become independent as possible. In addition, considering the individuals care plan/risk assessment, we can identify risks where we need to support the individuals, in a way which minimises potential risks while supporting their independence.
We can also identify new risks which need to be documented in the service users risk assessment to prevent accidents or injuries and to alert other colleagues about them. Looking through individuals care plans you can identify their preferences and needs, apply these within the level of care you provide to them, but also ask them what they would prefer, by giving them choices this helps them to maintain their independence and promotes person centred values.
The service user may have a faith, culture, religion or belief so we need to make sure we apply these with their care being provided to them, if unsure ask the individual what they prefer or do some research on their faith, religion, culture etc. An individual may feel confident in undertaking certain tasks without help, if he/she is being given privacy whilst using the bathroom or dressing etc this also allows them to slowly progress which can build their independence and minimise dependency on you. Another way of promoting independency having aids such as walking frames, walking sticks, hand rails, etc all this equipment promote independency.
Mr P popped his head out of his bedroom door and shouted for assistance he had a soiled pad. I assured him that I was coming to him, I went to collect gloves, apron and a disposable bag for any waste and a laundry bag for any soiled clothing (red bag). Before entering I had put on my gloves and apron, I knocked on the door and waited to be allowed in, he let me in, I noticed the windows where uncovered and Mr P was indecent therefore, I drawn the curtains and switched on the light. The bathroom floor, toilet and bed was all soiled, I explained to Mr P on what I was about to do and gained trust and with his consent could undertake personal care. I placed all soiled clothing, bed sheets into a red bag and soiled pad and any waste into a disposable bag and disposed of correctly.
Remain professional always, kept Mr P's intimate body parts covered with a towel whilst undertaking personal care to maintain their privacy and dignity. I averted eye contact to avoid embarrassment, remain understanding and gentle through the duration of personal care, we can maintain individual's dignity by giving them privacy when they require it, the individual may feel more comfortable with doing a task their self (showering, get dressed etc). Allow time for individual to use the toilet in private or wear clothing that is easy to put on or take off this helps to promote their independence.