Health & Safety Law Essay Sample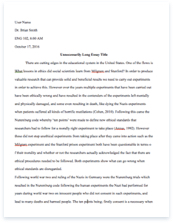 The whole doc is available only for registered users
OPEN DOC
Download Essay
A limited time offer!
Get a custom sample essay written according to your requirements urgent 3h delivery guaranteed
Order Now
Health & Safety Law Essay Sample
The purpose of this report is to answer the question "To what extent has the development of effective Health & Safety Legislation in the United Kingdom been hindered by economic & commercial factors?"
This will be achieved through:
A. Investigation of existing literature on the subject paying particular attention to:
1. Lord Young's report "Common Sense, Common Safety". 2. The Loftstedt' Report
3. Associated Progress Reports & Publications
4. Case Law
B. Investigation of available statistical information.
In order to answer the question the evidence must first be examined to enable an informed answer to be provided.
There is evidence to suggest that the main economic and commercial factors hindering the development of effective health & safety in the UK stem from the burden of bureaucracy. This has been found to be due to:
A. Complex Structure of Legislation
1. EU Framework Directive 1989
2. Duplication of Legislation
B. Development of 'Compensation Culture'.
1. Strict Liability
2. Over Compliance/insurance & H&S Cons
The Burden of Bureaucracy.
This refers to the red tape that surrounds compliance with health and safety legislation.
In Lord Young's report commissioned by the Prime Minister to review the current Health & Safety system with a view to putting some common sense back into health & safety, Lord Young states that:
"The aim is to free businesses from unnecessary bureaucratic burdens and the fear of having to pay out unjustified damages claims and legal fees."
Complex Structure of Legislation
Since the introduction of HSWA, there have been a large number of new regulations introduced in the UK. This is partly in response to major accidents such as Kings Cross Fire 1987 and Piper Alpha disaster in 1988 as well as an attempt to regulate the evolving occupational health risks. This has lead to duplication in certain areas of legislation.
The other reason is partly in response to the introduction by the EU of the "six pack" of statutory regulations. This directive brought about the Management of Health & Safety at Work 1999 Regulations which requires all duty holders to carry out Risk Assessments. This has put a huge administrative burden on SME's and shows that a large proportion of the administrative burden of Health & Safety Legislation comes from the EU Directives.
In the Prime minister's forward in Lord Young's report he states that:
"legislation designed to protect people from major hazards has been extended inappropriately to cover every walk of life, no matter how low the risk resulting in reports of absurd examples of senseless bureaucracy getting in the way of organisations that contribute to building a bigger and stronger society, and businesses being drowned in red tape, confused and in fear of being sued for even minor accidents." ²
Lord Young states in his report that this is
"Largely the result of the way in which sensible health and safety rules that apply to hazardous occupations have been applied across all occupations."
He partially blames the EU stating
"Part of the responsibility lies with the EU where the Framework Directive of 1989 made risk assessments compulsory across all occupations, whether hazardous or not and in part to the overcautious approach of eliminating all risks instead of applying the test contained within the act of a 'reasonably practicable' approach."
He also states that
"I believe that a 'compensation culture' driven by litigation is at the heart of the problems that so beset health & safety today."
This statement infers that the real problem lies with the legislation itself, in addition to the way that it is being interpreted and applied.
Professor Loftstedt took this further by producing a report which focused on reviewing the approx 200 regulations and 53 associated Acops with a view to reducing the burden of legislation on businesses whilst maintaining the progress in Health & Safety outcomes.
Loftsteadt recommends :
1. Simplyfying the regulatory framework with sector-specific
2. Reviewing the regulations for low risk businesses
3. Working more closely with EU to ensure that directives are risk and evidence based and not prescriptive.
Compensation Culture
¹& ² Lord Young of Griffham, Common Sense, Common Safety, 2010 www.number10.gov.uk/wp-content/uploads/402906_CommonSense_acc.pdf
Conclusion
This question asks "To what extent has the development of effective Health & Safety Legislation in the United Kingdom been hindered by economic & commercial factors?" I would argue that the extent that it has been hindered is significantly lower than the extent to which Health & Safety has affected the economy and commerce.
I base this argument on the facts
There is no dispute that since the introduction of the Health & Safety at Work etc Act 1974 (HSAW 1974), workplaces have becomes safer and the number of accidents have decreased substantially resulting in the UK having the lowest number of non-fatal accidents and second lowest number of fatal accidents in Europe. However, the burden placed on Small to Medium Enterprises (SME's) by the above factors is having a detrimental affect on economic growth.