Healthcare Experiences and Preferences of Uninsured Workers Essay Sample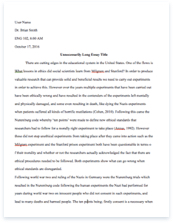 The whole doc is available only for registered users
OPEN DOC
Download Essay
A limited time offer!
Get a custom sample essay written according to your requirements urgent 3h delivery guaranteed
Order Now
Healthcare Experiences and Preferences of Uninsured Workers Essay Sample
This is an analysis of an article, Healthcare Experiences and Preferences of Uninsured Workers by Ruth Ann van Loon, Joyce R.Borkin and John J Steffen.  In this essay I will analyze the data analysis section to determine whether the appropriate statistical procedures were used to analyze the data, and I will provide an explanation of the meaning of the results of the study, based on findings from the statistical test.
The article discusses the experiences, beliefs and preferences of uninsured workers and goes on to conclude that are actively going about seeking solutions to their own healthcare requirements and have definite opinions about what they want and require.  The report also found that although many uninsured Americans say that they are happy with the healthcare they receive, many have untreated diseases that they ignore.  Also, the number of uninsured Americans has increased steadily between 1987 and 1998.  In 1999 the trend was reversed.
Statistical data in the report tells us that 42.6 million Americans are still uninsured and because of their reduced access to healthcare, 30 – 50% of this number forego, postpone or cannot obtain basic care requirements such as getting ailments treated
The report gives a number of statistics and percentages related to these factors and others, and gives detail of their increase or decline in recent years.
It discusses the method of obtaining this information, for example face to face interviews were used.  A sample of 57 respondents who are racially diverse were used.  Questions with open and closed answers were put to the respondents.  Questions that were asked included self care, and illnesses within the family.
Interviews were audiotaoped and interviewers made notes all along.
The findings were broken down into detailed percentages.  For example, more than 20% of houses with children living in them stated that the children did not have frequent appointments with doctors.
I believe that although the report goes into a lot of detail about its findings, what methods it used and what the statistical outcome was, 57 respondents was too small a number for the results to be accurate in a country such as America with its population of 281 421 988 (www.infoplease.com).  Therefore, I believe that the results, which if you read them alone would indicate that America has to improve its healthcare insurance options for people who cannot afford private insurance, can only be taken into account if the same results come up when conducted with a much higher sample of people, for example I believe 200 respondents would be a much closer number.
Bibliography
www.infoplease.com (2005)
Healthcare Experiences and Preferences of Uninsured Workers by Ruth Ann van Loon, Joyce R.Borkin and John J Steffen.