Heifer International and the Ford Foundation Essay Sample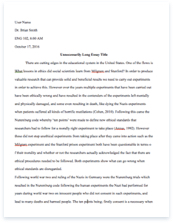 The whole doc is available only for registered users
OPEN DOC
Get Full Essay
Get access to this section to get all help you need with your essay and educational issues.
Get Access
Heifer International and the Ford Foundation Essay Sample
Both Heifer International and the Ford Foundation have established superlative records for charitable services. Each of the organizations follows distinct and individual policies regarding approaches the "4 P's:" Product, Place, Purchase or not Purchase, Promotion.  Heifer International is a charitable organization with gift giving as the strategy for its operational goals.   The Ford Foundation is a charitable organization which has resource of innovative people and network of institutions worldwide. For purposes of this discussion, the Ford Foundation is regarded as a competitor to Heifer International; of interest are innovative marketing strategies placed in operation by the Ford Foundation and the efficacy of the strategies in operation at Heifer International.
            Heifer International aims to nourish millions who were once hungry by supplying resource for milk, eggs and fresh vegetables. The focus is to uplift families who for generations knew only poverty to build new homes and start new businesses. They also target children who are out in the fields doing hard labor to enter school to get education. The vision of the organization is to see a world of communities living together in peace, equally sharing the resources of healthy planet. The strategy used by the organization is to "pass on the gift" people share their animal offspring with others as well as their knowledge, resources, and skill. This simple idea of giving families a source of food rather than short-term relief has mass appeal and has continued for over sixty years.  (What If We Ended World Hunger)
            The Ford Foundation's goals are to strengthen democratic values, reduce poverty and injustice, promote international cooperation and advance human achievement. The Foundation is an independent organization, which has undertaken the challenge to create political, economic and social systems that promote peace, human welfare and sustainability of the environment. (Our Mission)
            The main focus of support area for Ford Foundation is implemented by making grants and loans which would build knowledge and strengthen organizations and networks. (Our Mission) The spectrum of coverage under the philanthropic policy of Ford Foundation is wider than that of Heifer. The global presence is more widespread with vaster and more planned organization and support. (History) Ford Foundation achieves its objective by sound organization and good marketing plan. The "4P's" (Product, Place, Purchase or not Purchase, Promotion) are inherently visible in the marketing strategy for campaign and promotion. Almost every decade is marked by a new agenda or grant in operation, followed by the chosen field of operation, backed by sound economic support and strengthened by effective promotional campaign.
            The strategy which Ford Foundation uses is that of integrated marketing communication. This works very effectively to reach the target audiences and moving them to action. Research indicates that the average consumer has to hear or see a message ten times before they even consider taking action. And Ford foundation has been effective and successful in achieving its objective by adopting this strategy. This is confirmed by the five decades of successful participation in tactical philanthropy and charity. (Moore)
            By comparison, Ford Foundation's wide network, diversified interest in the programs, good asset building focus and effective campaigns which have consistent message of their mission are the strengths which very few charitable organizations have. Even Heifer focuses just on livestock exchange in the form of gift giving and sustainable lifestyle change for future development and improvement. It does not go beyond its limited mission.
The direct focus on livestock and farming, gives Heifer an edge of advantage over Ford foundation. Ford Foundation does not have that direct appeal in the single area of rural agricultural development, where the online technology is used effectively to reach small farmers and people in remote areas to better their economic sustainability through participation in gift giving program with incentive to carry on and grow. This personal touch and effective Internet use of technology to enhance the growth of the organization is lacking in the strategy of Ford Foundation which is very savvy and businesslike. (Moore)
Works Cited
Moore, Karen. "Integrated communications unify product launch." Tallahassee.com.       March 6, 2007. Tallahassee Democrat. 18 Mar 2007 www.tallahassee.   com/apps/pbcs.dll/article?AID=/20070306/BUSINESS02/703060353
"Our Mission." 2007. Ford Foundation. 18 Mar 2007 <www.fordfound.  org/about/mission2.cfm>.
"History." 2007. Ford Foundation. 18 Mar 2007      <www.fordfound.     org/about/mission2.cfm>.
"What If We Ended World Hunger." Heifer International. 18 March 2007. Heifer           Project International. 18 March 2007 <www.heifer.org/>.
.