Helping the Homelessness Essay Sample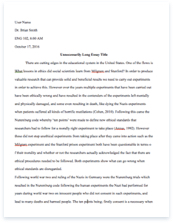 The whole doc is available only for registered users
OPEN DOC
Pages:
Word count: 1292
Category: poverty
Get Full Essay
Get access to this section to get all help you need with your essay and educational issues.
Get Access
Helping the Homelessness Essay Sample
Homelessness is defined as a condition in which a person lacks a fixed, regular, and inadequate night-time residence. Estimated homeless figures in the United States range from 600,000 to 2.5 million 1.37 million of the total homeless population in USA are children under the age of 18. 40% are families with children, 41% are single males, 14% are single female Research by Dennis Culhane, University of Pennsylvania, followed thousands of homeless people in New York and each of them used an average of $40,000 a year in public services, such as increased health care (Jones). Homelessness is a major problem here in the USA. Maybe I feel this way because the government is always running to the frontline when other countries are in need, but they can't help their own. Could it be the budget or the bad economy? Can homelessness be eliminated?
I don't think so, but I think we can change things so that there are less people on the streets. In this paper I'm going to be discussing the homeless population in Toledo, Ohio (Lucas County) and what we can hope to change for them, for the better First, I'm going to start with some facts and figures on homelessness. For families the most common causes for homelessness are: lack of affordable housing, unemployment, and poverty. For singles they are: substance abuse, lack of affordable housing and mental illness. Veterans are more likely to become homeless, 40% of homeless men are veterans. There are more African-Americans homeless then any other ethnic group. The first and only major federal legislative response to homelessness is The McKinney-Vento Homeless Assistance Act signed in 1987 by President Ronald Reagan. The Act has resulted in many programs that has helped thousands of Americans regain shelter, training for jobs, primary health care and several other programs.
1.5 million of the homeless population are children, so that means one out of every 50 children is homeless Families with children makes up one of the fastest growing sections in the homeless community. Families are 40% of the homeless population; a child is born into poverty every 33 seconds. There is a common misconception that homelessness is an issue that only pertains to single men and women, but in reality thousands of families a year will experience homelessness. In fact, 41% of the homeless population is comprised of families. Homelessness is a devastating experience for families. It disrupts virtually every aspect of family life, damaging the physical and emotional health of family members, interfering with children's education and development and frequently resulting in the Alexander 2
separation of family members. The problem of family homelessness is not solely restricted to urban areas; rural and suburban communities are increasingly plagued by the problem. President Obama recently addressed this vital issue when he stated "It is not acceptable for children and families to be without a roof over their heads in a country as wealthy as ours." (National Alliance to End Homelessness). Toledo is not a very big city, yet I see many people with no place to stay. That leads me to wonder about the survey that is conducted every year by the city. According to them, there are only about 1,000 people without shelter.
At any given moment, Lucas County has about 1,000 people who are homeless, according to statistics from the annual "point-in-time" count. About 20 percent of those individuals experience mental illness; about 25 percent have substance-abuse issues and about 7 percent are veterans, according to the statistics, compiled by the board. About two-thirds of those individuals do not have children; about one-third are families with children. United Way's 211 aid hotline receives more than 500 calls every month for shelter services and about 180 calls monthly for rent assistance (K Giammarise).That report was made in 2010. Just walking the streets I know there is more people with no home. People lying on bus benches, sleeping in the rest areas at the library, and even staying in old dirty abandoned houses.
The number of homeless people in Lucas County is increasing after the results of an annual count were released. Not all of the homeless in the Toledo area come to shelters, such as the Cherry Street Mission in downtown Toledo. That is a reason why the count is so important; it offers a glimpse into the number of homeless people in Lucas County (M. Wright). I have been doing some research of my own, I see the budget is not enough to cover all the people without shelter. Not only do they have to provide housing, but many of the shelters also provide meals as well. They cover the heating and electrical too. I have also learned city council has planned to cut the budget. A 12% cut or about 85,000 from the budget, which I can't understand. Homelessness is a serious problem in today's world. Many people and their families don't have a stable place to stay. Is it up to the government, or is it up to our neighbors to give a helping hand when they see someone in need? How do we change the system and make it work for us all? Can we even help, the way the economy is? The country has a whole is in debt. Lucas county is in debt. We all have to figure how to cut costs while not cutting services that are needed. We have to get our families and our Vets off the streets. But how?
Since homelessness is caused by many different things, one could wonder if this is a problem that can even be fixed. There is always going to be people that lose their housing, whether if its raises on rent, losing their job and or transportation. What happens after they lose their housing is where the problems start. There are many transitional housing programs, shelters, and missions. What's the difference? Transitional housing is a program that provides temporary housing for up to 24 months. And there is no real big difference between shelters and missions.
Alexander 3
What can be done to at least help solve this problem? First, once a person reports that they are Homeless, the system should jump into action. Social workers should be ready and available to make an effective case plan. The case plan should be tailored to fit the person and or family. For example if someone ends up homeless because they got laid off and couldn't pay the rent, the social worker or case worker should make a plan that lists job openings, job fairs and a list of affordable housing. The person or family should then move into the transitional housing phase. In this stage the person should be looking for a job and applying for housing. I also feel the 24 month rule should be turned intoa 6-12 months rule. The longer a person stays in transitional housing, the more resources they are using. We all can help on a smaller level, by donating food, clothes, blankets, shoes, or passing out meals.
Homelessness is a complicated and sensitive issue. With Vets and African Americans toppling the list, families and children are on the rise. Budget cuts and ineffective housing plans are playing a part also. Making sure everyone has a safe place to sleep is a difficult task. I also feel if you treat the causes of homelessness, other thing will begin to fall into place.
Works Citied
Giammarise, Kate. "Housing the Homless." Toledo Blade n.d.: n. pag. Toledo Blade. Web. 28 Nov. 2012. "Helping Homlessness." National Coalition for the Homeless. N.p., n.d. Web. 28 Nov. 2012. Jones. "Homlessness Statistics." n.d.: n. pag. Web. 28 Nov. 2012. <http://www.homelessnesswordcup.com>.