Heredity Determines Personality Essay Sample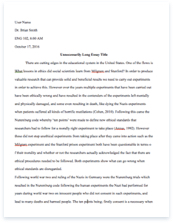 The whole doc is available only for registered users
OPEN DOC
Download Essay
A limited time offer!
Get a custom sample essay written according to your requirements urgent 3h delivery guaranteed
Order Now
Heredity Determines Personality Essay Sample
"Heredity determines personality." (a) Build an argument to support this statement. (b) Build an argument against this statement. Personality is defined as the sum total of beliefs, behaviors, attitudes and values that distinguishes an individual. Each of us has unique personalities which distinguish us from the others. Even twins who look alike and are brought up in the same environment, differ in personalities. A number of factors determine a person's personality. These include environment and genetics. Our personality is the product of the interaction of these two factors. It is not exclusively molded by the environment or genetics but a combination of both. Support
As a human being, we have certain characteristics which mainly comes from our genetic inheritance. Therefore one's personality is dependent on heredity. For example, we use words like father like son; she has her mother's temperament.
In addition, a people grow up in their family would pick up their parents habits and also try to behave like them. As a result, heredity does limit the individual's personality trait. Moreover, we all know that every person put up with similar gene with their parents which are to be found in their chromosome. Therefore, Heredity determines personality.
Against
People play different role at different situation and environment. A person learns it from their culture and from their social groups. Different culture also has a different way of handle activities and situation. Therefore we try to take in the good cultural values, norms and so many things to define who we are. Our religion determines our personality too. Such as, people who come from Christian religion their personality and believe, obviously differ from another religion and vice versa. Experience also plays an important role in shaping our personality to be more mature. For example, when a female colleague expressed her anger to a male colleague openly in the office. Everyone will have a negative perception about her as well as embarrassing herself. Therefore, she would have learned from this experience
by not repeating it and use a different approach to the situation.
From the above explanations and examples given, it seems to me that not only heredity determines personality but also the environment and situation.
Suggest a way that a manager might be able to use his or her understanding of perceptual selectivity and organisation to communicate more effectively with subordinates.
What steps might managers at a company that is about to merge with another company take to promote organisational commitment among employees? One of the steps a manager can take is the Manager-Initiated Interventions Whenever an M&A takes place, rarely is there any discussion of the cultural compatibility of the merging firms. Culture is considered a "soft" factor that shouldn't be a main consideration. But there are some mergers that have include cultural attributes into the merging planning. For example, the merger between SmithKline and British-based Beecham Merging firms should consider
Values, expectations, styles, goals
Information technology systems
Compensation and rewards systems
The human resource talent pool
Both the dominant and subcultures