Hero Builders Case Study Essay Sample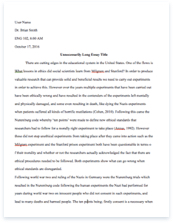 The whole doc is available only for registered users
OPEN DOC
Download Essay
A limited time offer!
Get a custom sample essay written according to your requirements urgent 3h delivery guaranteed
Order Now
Hero Builders Case Study Essay Sample
1. Which of the four types of the studies are presented in this case. Research details mentioned in the case complies with the requirements of the descriptive tupe of research. As we see from the research researcher collected data and tried to reveal the other players of the market and general trends. The study answers to the question "who?" and considering clarifications of legal side that mentioned in the research to the question "how?". Drawing conclusion from that features we relate it to the descriptive type of the research.
2. What issues, other than those Vicale chose to evaluate, would you have included in your research plan for HeroBuilders.com? Although the Herobulders.com succeeded in business and gained popularity we observed few important issues that were omitted by Mr.Vicale and they constitute gaps of the research which should be considered before marketing product. 1. Promotion: From the research we do not observe any actions in this direction. No research regarding promotion means was observed initially to promote the product in the market. 2. Price: Mr. Vicale researched for identifying the major players in the market not their price policy. Price issue is also important in the profitability of the business. So it also should be considered. 3. Customer segment: We would add identification of potential customer segment as well to the research. This could be helpful in focusing on special category of customers and increase popularity and profits of the business. 4. Distribution canals are also avoided in the research. Potential of either online selling and selling via toy shops should be investigated profoundly.