High on Caffeine: Regulating Energy Drinks Essay Sample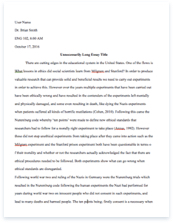 The whole doc is available only for registered users
OPEN DOC
Pages:
Word count: 664
Category: drink
Download Essay
A limited time offer!
Get a custom sample essay written according to your requirements urgent 3h delivery guaranteed
Order Now
High on Caffeine: Regulating Energy Drinks Essay Sample
Caffeine is a stimulant that leads to temporary alertness. Its purpose is both clear and highly effective. Caffeine can be found in many different available beverages, such as, coffee, tea, soda, and energy drinks of course. Many people do not recognize that caffeine can be toxic at certain dosages, and lead to very serious health risk. Tan-Li Hsu the author of "High on Caffeine: Regulating Energy Drinks" effectively argues the merit of providing warnings for caffeine content on all drink labels that has this highly addictive drug. The demand for the product is increasing all across the United States. Hsu shows the negative influences of caffeine on the everyday life of Americans, especially that of a teenagers. Hsu explains that since the introduction of Red Bull to the American market in 1997 the market has since skyrocketed. Hsu takes up a position alongside Dr. Griffiths and other authors of the John Hopkins study "that energy drink manufacturers should clearly indicate the amount of caffeine on labels and shift marketing efforts away from teenagers."
In this essay, I will evaluate the logic of Tan-Li Hsu's argument, considering whether the support for her thesis is appropriate, believable and consistent, and complete. While Hsu's argument is logical and well supported but it lacks a brighter side to caffeine when used in moderation. Hsu's neglects to consider that the marketing of these caffeine filled drinks are not generally marketed to teenagers but to college students who would need that extra boost to finish a paper or that class project. Hsu provides appropriate support for thesis. Throughout the argument, Hsu cites from six different journals and articles on the subject. The quotes, examples and statistics all support the reasons why Hsu beliefs on the labeling of these energy drinks. In paragraph 2, Hsu provides statistics from "Teens" on the percentage of teenagers that engage in the drinking of energy drinks, which suggest that this thirty-one… What are Energy Drinks
Energy drinks are canned or bottled beverages sold in convenience stores, grocery stores, and bars and nightclubs. Most energy drinks are carbonated drinks that contain large amounts of caffeine and sugar with additional ingredients, such as B vitamins, amino acids, and herbal stimulants such as guarana. Energy drinks are marketed primarily to people between the ages of 18 and 30 as a stimulant, which is why energy drinks have names that convey strength, power, and speed. History of Energy Drinks
Although sales of energy drinks in the United States were $3.5 billion in 2005, according to Beverage Digest, the category was only recently created with the launch of the Red Bull Energy Drink.
Red Bull was created by Dietrich Mateschitz, an Austrian who modified the energy drink from a Thai beverage called Krating Daeng, a popular drink with rickshaw drivers in Thailand. The key ingredient in the Thai energy drink was taurine, an amino acid that was first discovered in bulls. Red Bull was introduced to Europe in 1987 and to the United States in 1997. The ingredients in energy drinks and why they are there:
Caffeine: Caffeine (and also sugar) are the main ingredients in energy drinks that give you the feeling of more energy. The amount of caffeine in most 250 ml sized cans of energy drinks is 80 mg, which is less than a typical cup of coffee. Health Canada says that most healthy adults can safely consume up to 400 mg of caffeine in a day. However, the amount of caffeine in energy drink is more than what is recommended for children. Health Canada says that children under 12 years of age should have much less than 85 mg of caffeine a day. What this means is that one energy drink can easily put children over their caffeine limits. Too much caffeine can cause irritability, nervousness and sleeping problems. It is not recommended that children and young teenagers use energy drinks. Sugar: Sugar (like caffeine) also provides you with…