High Turnover of Workers in Nursing Homes Essay Sample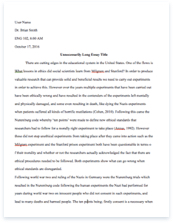 Pages: 5
Word count: 1,251
Rewriting Possibility: 99%

(excellent)

Category: nurse
Get Full Essay
Get access to this section to get all help you need with your essay and educational issues.
Get Access
Introduction of TOPIC
     Nursing homes are experiencing high turnover percentages throughout the United States resulting in the decline of quality healthcare provided for residents of these facilities; however, administration can improve this decline in quality through developing solid leadership skills in the area of communication, establish employee incentives and equally distribute attention to resident and employee needs.
     Approximately 1.4 million elderly are served in long-term care nursing facilities in the United States and studies show that turnover rates in these institutions can be as high as 200 percent within a year. (Duke, 2004) In 2002 the turnover rates within nursing care facilities were shown to be 50-100% Nurse's Aides, 20-55% Registered Nurses and 50% LPNs.  (Katz, & Kapp, 2003, p. 136) Nursing care professionals have identified the cause of this turnover as directly associated with the working environment within these institutions.  (Duke, 2004) Care facilities reporting the lowest percentage in turnover had two commonalities within their working environment – good management/employee communication and an established merit-based working environment.  (Duke, 2004)   As a result, turnover rates were much lower within these institutions.
     Historically, the working environment within nursing home facilities is emotionally and physically challenging, pay rates are low due to the constraints of Medicaid and Medicare reimbursements, and administration is constantly recruiting or training new personnel due to the turnover cycle.  Unfortunately this nationwide problem leads to diminishing the quality of care residents of long-term care facilities receive as resources once used to improve patient care are now being diverted towards recruitment and training. It is becoming difficult for nursing home administrators to continually balance the needs of the residents with the needs of the staff.   (Evashwick, 2001, p. 50)
     In a study of 164 nursing homes completed by Duke University School of Nursing in Texas in 2004; administrators, directors of nursing, registered nurses, LPN's and Certified Nursing Assistants were interviewed and the results reflected the following:  RN and LPN turnover decreased between 11 – 16% in institutions where the Director of Nursing had been on staff for a lengthy amount of time.  According to the study, "The more time the director of nursing was on staff, the more stable the nurses perceived their work environment."  (Duke, 2004)  This study also showed the stability of the working environment was just as critical for the Certified Nursing Assistants, as these professionals felt their time was limited with the residents.  According to Duke's Registered Nurse Ruth Anderson Ph.D. "If they don't have the time to spend that extra minute with the residents, they feel they might be cheating the resident."  Anderson also went on to say that as a result, "They're always rushing in and out of the room.  That contributes to the high turnover."  (Duke, 2004)
     Yet another factor promoting stability within the long-term care working environment was the
number of professionals on staff, as well as the lack of communication with administration. In 2000
20% of all LPNs versus 6% of Registered Nurses and 50% of all nurses aids worked within the long term care nursing facilities.  (Katz, & Kapp, 2003, p. 136)  "Registered nurses want other nurses with which to collaborate, and nursing assistance need the security of having access to the clinical expertise of the registered nurse." (Duke, 2004)   Researchers also found that these professionals lacked support of nursing home administration and that professionals were leaving because they "need to know that their managers hear their concerns, so communication is key," says Kirsten Corazzaini, Ph.D., assistant professor Duke University School of Nursing.  (Duke, 2004)
     Unfortunately pay for an employee is based on nursing home expenditures vs. income.  The average cost for residents to receive care in a nursing home is between $2000 and $4000 per month – this is based upon geographic location, type of facility, level of care and other dynamics.  In 1996 Nursing home expenditures were approximately $79 billion and were expected to reach 131 billion by the year 2000.  These statistics are based upon the National Health Statistics Group's totals and projections in 1997.  Payment for nursing home care is provided primarily by Medicaid (47.8%), private individuals and families (31.4%).  The reliance on state funded payments places a huge financial challenge on nursing care facilities and as states consistently search for ways to limit their spending, nursing homes are often left without.  This limited funding poses a challenge to care facilities as they attempt to hire competent professionals from a competitive workforce.    (Evashwick, 2001, p. 51)
     In an effort to confront the high turnover crisis and to address the low wages of professionals in nursing home centers, Jobs with a Future Partnerships completed a study of all long term care facilities within the state of Wisconsin.  The results were astounding and as a result of their findings the following statement was made, "This result is perhaps most important and dramatically demonstrates what many in the industry already believe.  Frontline caregivers are the eyes and ears of health care organizations.  High turnover disrupts the ability of frontline caregivers to provide and promote quality care.
High-turnover facilities in the region post lower quality care as measured by complaints, violations, and deficiencies documented by the DHFS Bureau of Quality Assurance."  (JWF, 2003, p. 2)  JWF outlined a plan for nursing home facilities within the state of Wisconsin.  The strategies imposed on the state were to increase wages, improve benefits, increase training, ensure safety and reliable schedules, create career ladders, and enhance support networks.  (JWF, 2003, p. 2)  Bob Kellerman, executive director of AgeAdvantage on director of the Wisconsin Long-Term Care Workforce Alliance stated that "It's obvious that, if we want to provide high quality long-term care, we have to turn care giving itself into a rewarding career." Kellerman also stated that turnover was less in facilities that had established merit-based employee incentives and identified those models as, "The models we want to emulate."  (JWF, 2003, p. 1)
     A clear cut solution remains to be seen, however solid leadership is the key towards any successful institution.  Administration must communicate effectively with its professional staff, provide the moral support necessary to establish attractive working conditions and create incentive-based programs for their employees.  Studies have shown that low wages are not the only cause of high turnover – lack of adequately trained professionals by nursing home administration creates a weak foundation for long term care facilities.  Consistent training of all professional and paraprofessional staff members establishes a solid work force as well as increases employee retention and the quality of resident care.
References
Caring About Caregivers: Reducing Turnover of Frontline Health Care Workers in South Central Wisconsin (Rep.). (2003). South Central Wisconsin, Wisconsin: Jobs With a Future Partnerships (JWF).
Center on Wisconsin Strategy. JWF. (2003, October 15). Higher Paid Workers More Likely to Stick with Jobs and Provide Better Care in Area Nursing Homes, New Study Shows. Center on Wisconsin Strategy Press Release.
Duke Medical Center News Office. (2004, April 29). VNR Package:Why Nurses Don't Stay in Nursing Homes. Duke Medical Center News Office Press Release.
Evashwick, C. (2001). The Continuum of Long-Term Care. Long Beach, CA: Thomson Delmar Learning.
Katz, P. R., & Kapp, M. B. (2003). Vulnerable Populations in the Long Term Care Continuum (M. D. Mezey, Ed.). New York, New York: Springer Publishing.