Hilton Hotels Essay Sample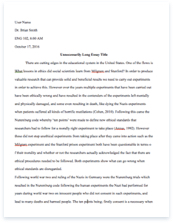 The whole doc is available only for registered users
OPEN DOC
Pages:
Word count: 930
Category: hotel
Get Full Essay
Get access to this section to get all help you need with your essay and educational issues.
Get Access
Hilton Hotels Essay Sample
Hilton Hotels founded in 1919 by Conrad Hilton. Hilton bought his first hotel, the Mobley Hotel, in 1919 in Cisco, Texas. The first hotel to bear the Hilton name was the Dallas Hilton, a high-rise that opened in Dallas, Texas in 1925. In 1949, at the Caribe Hilton Hotel's Beachcomber Bar in San Juan, Puerto Rico, Ramon "Monchito" Marrero created the Piña Colada. In 1954, Hilton hotels bought the Statler Hotel chain, making it the largest hospitality company in the world.
Hilton Hotels Corporation is a leading hospitality company that owns, manages, and franchises over 2,000 hotels across the country. The company's international arm, Conrad Hotels, has locations in Australia, England, Ireland, Egypt, Belgium, Turkey, Hong Kong, and Singapore.
By the late 1940s, Hilton owned a worldwide chain of premium hotels. The Hilton Hotels Corporation is formed it becomes the first hotel company to have its stock listed on the New York Stock. In the 1960s, Hilton sold its international operations and concentrated on management contracts and franchising.
The company created innovative joint-venture arrangements that became standard industry practice. It then entered what would become a prime source of revenue for the company: casino-hotels. Hilton expanded into gaming in 1971; by 1989, gaming provided 44 percent of the company's income.
In 1996, Barron Hilton relinquished day-to-day management of the chain to Stephen F. Bollenbach. Asserting that "Big companies do big things," Bollenbach revitalized the company with bold actions. He spun off the company's gaming operations as Park Place Entertainment Corporation in 1998. One year later he orchestrated the $3.7 billion acquisition of Promus Hotel Corporation, which added the Doubletree, Embassy Suites, Hampton Inn, Homewood Suites, and Harrison Conference Centers brand names to its line-up.
Hilton hotels are owned by, managed by, or franchised to independent operators by Hilton Worldwide. Hilton Hotels became the first coast-to-coast hotel chain of the United States in 1943. As of 2010, there are now over 530 Hilton branded hotels across the world in 78 countries across six continents. Mission
To be the excellent global hospitality company – the first choice of guests, team members, and owners alike. We provide business and leisure travellers with a choice of excellent hospitality products that offer good value for money, while vowing a good return to owners and stakeholders and motivation to employees. Vision
To fill the earth with the light and warmth of hospitality. Hospitality is all about the individual and at Hilton; we pride ourselves on our unique service culture. Yes I Can! Is our company wide philosophy which promises that each guest will be treated with a positive service attitude at every point of contact. The hotel manager, the waiter, the receptionist, the porter, everyone plays a vital role in delivering a memorable guest experience. Values
* Passionate about delivering exceptional guest experiences.
* Do the right thing, all the time.
* Leaders in our industry and in our communities.
* Team players in everything we do.
* The owners of our actions and decisions.
* Operate with a sense of urgency and discipline.
All Brands in Hilton's Hotel
Waldorf Astoria Hotels & Resorts
* Ranked number one large city hotel in the continental U.S in the travel and Leisure 2012 world's best awards. * Luxury brand reflect the culture and history of their extraordinary locations, as well as fresh, modem expressions of Waldorf Astoria's rich legacy. It provides guest exceptional environment and the personalized attention of true Waldorf service that creates singular experience. Conrad Hotels and Resorts
* Smart luxury is at the core of everything Conrad Hotels & Resorts does. They offer one of a kind experiences, service that intuitive & connections to people and places near or far. Hilton Hotels and Resorts
* One of the most recognized names in the industry. It offers travels a world of authentic experiences. The brand continues to be innovative, forward thinking global leader of hospitality. Hilton Grand Vacation
* For those aspiring the good life, Hilton Grand Vacations offer a passport to endless memories. It is an innovative, flexible, global club program that sets the stage for a lifetime of unforgettable travels. Embassy Suites Hotels
* It leads the category in all suites. Full service, upscale hotel experience. Whether you're traveling for business or leisure, you can experience the consistently awarded, best in class customer service provided in this brand. Double Tree
* It all starts with a warm chocolate chip cookie, a simple touch that sets the tone to create a rewarding experience for a guest's entire stay. The Double Tree by Hilton understands that doing the little things well can mean everything.
Hilton Garden Inn
* It is the award winning, upscale, yet affordable hotel brand. It continually strive to ensure today's busy travellers have everything they need to be the most productive on the road, no matter the occasion. Hampton
* The mission of this brand is to satisfy every guest, every time. They made satisfaction a promise with unconditional, 100% Hampton Guarantee. It has been serving up hospitality for more than 25 years. Homewood Suites
* It has been making guests feel at home for more than 20 years. And since every suite includes bundled services like hot breakfast, dinner, and select drinks Monday-Thursday, plus high-speed Internet, workout rooms, and business centres all with a 100% satisfaction guarantee-it's easy to see why. Home 2 Suites by Hilton
* Modern and, understanding choice in mid-tier, extended stay travel. It delivering unexpected style, enhanced flexibility, expanded spaces, and differentiated amenities.