Hisitorical and Theoretical Foundations of Workforce Education Essay Sample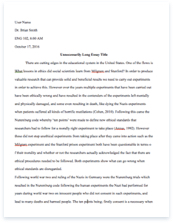 The whole doc is available only for registered users
OPEN DOC
Get Full Essay
Get access to this section to get all help you need with your essay and educational issues.
Get Access
Hisitorical and Theoretical Foundations of Workforce Education Essay Sample
During the course of the semester, we have learned about the many historical, philosophical, social, theoretical, and economic foundations of Work Force Education and discussed how they relate to each other and to the missions of the field. In this paper I will add my topic to the mix and set forth how I think the foundations and missions interact and support my research topic going forward. The paper is organized into the following sections: Introduction, body, summation, and references to date. The body is organized into five areas. They are: Nature of research topic, Missions and historical foundations, Philosophical and social foundations, Theoretical foundations, and Economic foundations. Body
Nature of research topic
The subject of my research is spiritual leadership and its impact on customer outcomes in a hospitality setting. In my reading I found that there was much written about the positive impact that spiritual leadership has on empowered teams. Empowered teams are the subject of many articles relating to guest satisfaction in hospitality settings. Leadership in hospitality organizations presents special challenges especially with respect to involvement of the customer in virtually all processes and the intangible nature of service as a product. I would like to explore what facets of spiritual leadership are particularly effective in this unique setting. Leaders of Hospitality and other service organizations have unique challenges as compared to their counterparts in other industries. Food may be the primary product of a restaurant, but most of the "manufacturing" is done right in the same place that offers the service. Workers are expected to be friendly and cheerful toward both the customer (guest) and their co-workers. They are expected to care about what happens to the customer. The product is really the guest experience, which is not easily measured, and all leadership functions have to be performed in conjunction with the customer. Also a very high level of flexibility, coordination, and communication among labor-intensive systems and processes must converge to create a positive guest experience.
While continuing to make sure that all systems and processes are aligned to drive guest satisfaction, the leader must also assure that the operation makes a profit. Strategies for designing a process will be quite different depending on whether a service is being provided or a product is being manufactured and the degree of customer contact lies at the heart. The degree of customer contact in service organizations is higher because the customer takes an active role in the process itself. The level of contact is the extent to which the customer is present, involved, and receives personal attention during the service process. This contact, often referred to as the moment of truth, brings the customer and the service provider together. Therefore the leader must make sure that all employees are empowered to address customer needs in a real time basis because it is at that time customer attitudes about the quality of service are shaped. (Krajewski, L.J., Ritzman, L. P., & Malhotra, M. K., 2010)
Many studies have proved a positive correlation between happy employees and happy, loyal customers. Leadership theories have long tried to explain the best ways leaders can facilitate a motivated, engaged workforce. For the purpose of my research I want to explore ways in which Spiritual Leadership in particular, impacts employee commitment and in turn customer satisfaction in a hospitality specific service setting. Duchon and Plowman (2005) investigated work unit spirituality and performance in a large hospital and found there is a relationship between the climate of work and its overall performance. Workplace spirituality is defined as a workplace that recognizes that employees have an inner life that nourishes and is nourished by meaningful work that takes place in the context of community. This definition has implications for how leaders can enhance work unit performance by nurturing the spirit at work. Reave(2005), in her review of 150 studies is showing a clear connection between spiritual values and practices and effective leadership.
Values that have long been considered spiritual ideals, such as integrity, honesty, and humility are demonstrated to be connected to leadership effectiveness and success. According to Fry (2011), a person's spirit is the vital force traditionally believed to be the intangible, life affirming energy in oneself and all human beings. Today, people as part of their spiritual journey are struggling with what that force means for their work. The model of spiritual leadership incorporates vision, hope faith and altruistic love, theories of workplace spirituality. The purpose of spiritual leaderships is to create vision and value congruence across the strategic, empowered team to foster higher levels of organizational commitment and performance. Scholars have noticed a rising interest in workplace spirituality. This is not surprising since it has long been established that people have the intrinsic drive and motivation to learn and find meaning in their work and to be a member of a group in which they feel valued in return to their contribution to the group's performance (Giacalone & Jurkiewicz, 2003). Employee involvement is a key tactic for improving processes and quality.
One way to achieve employee involvement is by the use of teams. Teams involve the use of employee empowerment that moves the responsibility for decisions further down the organizational chart. In theorizing spiritual leadership, we focus on the collective social influence process that engages everyone and enables groups of people to work together in meaningful ways (Day, 2000). Spiritual leadership emphasizes this less leader-centric approach, focusing on engaging all group members to meet spiritual needs and enhance organizational commitment and performance. The positive relationships found between membership and organizational commitment, attest to the practical importance of establishing membership in groups through spiritual leadership. Indeed, we know that high quality relationships can serve to facilitate learning and action in groups (Balkundi & Kilduff, 2005). According to Allen and Meyer (1990), Organizational commitment has been conceptualized and measured in various ways. Many studies have been conducted to test aspects of a three-component model of commitment which integrates these various conceptualizations.
The affective component of organizational commitment, proposed by the model, refers to employees' emotional attachment to, identification with, and involvement in, the organization. The continuance component refers to commitment based on the costs that employees associate with leaving the organization. Finally, the normative component refers to employees' feelings of obligation to remain with the organization. Meyer and Allen (1990) further demonstrated that occupational and organizational commitment contributes independently to the prediction of professional activity and work behavior. We also believe that the findings here suggest that instilling a sense of calling and membership in groups will foster high levels of team-member social exchanges. These recurring positive group interactions would have both individual and emergent collective effects, as demonstrated, on performance outcomes. Individuals in empowered teams have a sense of ownership of the work and are completely engaged in its tasks, which require their best thinking and creativity.
They take pride in their work and are excited in having a sense of progress and seeing the results of their efforts. Empowered teams and their leaders should also establish a culture and ethical system that embodies the values of altruistic love where group members are challenged to persevere, be tenacious and "do what it takes," to pursue excellence. Thus, empowerment provides the basis for manifesting and experiencing the organizations culture that is centered on altruistic love. The purpose of spiritual leadership is to create vision and value congruence across the individual, empowered team and organization levels and, ultimately, foster higher levels of spiritual well-being whereby organizational commitment and organizational performance can not only coexist, but be maximized (Fry & Slocum, 2008). This suggests that for better outcomes one should lead and manage by using values that drive fear and abuse out of the workplace and engage the hearts and minds of people. Support for autonomy and decision-making responsibility through self-managed, empowered teams and trusting people and letting them be who they are to use and develop their gifts and skills is essential.
It is through this process that individual and team vision and values become integrated with the organization's vision and values. In sharing power, strategic leaders actually increase the total amount of power in the organization, thereby freeing people from leadership through fear, coercion, and over control. This allows them to utilize their talents and abilities in ways that were previously shackled. Past research suggests that increased organizational commitment strengthens motivation and reduces turnover (Mowday, Porter, & Steers, 1982) and that organizational productivity is at the heart of the total quality management movement.
So my question is if spiritual leadership improves the outcomes of empowered teams and empowered team improve customer satisfaction, is there a relationship that can be proved between spiritual leadership and customer satisfaction, and does that imply consideration of new service business models in hospitality organizations? The conceptual distinction between spiritual leadership theory variables and other leadership theories and constructs needs to be explored some more. Empirical research is just beginning to examine the relationship between the qualities of spiritual leadership and organizational outcomes in some settings and finding a positive correlation (Fry, 2003). Therefore is spiritual leadership a valid theory that can be widely applied as a model of organizational/professional development (Fry 2003)? Missions and historical foundations
(Gray & Herr, 1998) State "One universal characteristic of a professional endeavor, such a workforce education, is that its members have a sense of the antecedents of the profession-how the profession evolved to where it is presently, and that the definition of Workforce Education suggests two missions: 1. To promote individual opportunity by making the student more competitive in the labor force, and 2. To make the nation strong and firms internationally competitive by solving human performance problems of incumbent workers." It is interesting to consider the historical context of Workforce Education as it relates the role of the HRD practitioner. Even when looking at a 20 year snapshot of my career, I have seen the practitioner's role change from that of a payroll and benefits administrator to that of a key player in driving organizational strategy. That is, as competitive forces have changed so must the role of the workforce educator to maintain the mission of keeping the individual and the nation competitive.
To accomplish this however the workforce educator must not only be able to look forward, but look backward and draw from history. For instance, the status of different classes of workers has been ingrained since ancient Greece and will still have impact on training and development programs today. In designing a cohort group in a custom training program we typically still today do not like to include managers and subordinates in the same group, because of the bad dynamics the combination of two different statuses can create to interfere with learning. Gray and Herr (1998) also talk about the skills-employability paradigm and how the historical and present day universal acceptance of that concept has influenced curriculum design in the workforce education field. The children of the industrial age, the Carlisle Pennsylvania Indian School, and present day high school vocational education all focus on job training because of that influence.
To what extent are we teaching job skills versus education are always a question in program design? Other historical perspectives help to understand how the role of government, the beliefs of modernism, the introduction of psychological testing, just to name a few, have affected the present day landscape of workforce education. As for the hospitality workforce, one way to learn the business is to take a hands-on approach, go to work in it, and acquire the necessary skills to operate the business. As in other industries the problem with this is while you may learn how to cook, check-in or wait tables, you will not learn all of the skills needed to be a leader of the operation. Historically, as in other industries, hospitality education was skill- centered and learned through apprenticeships.
This approach assumed and worked only if change came slowly. In today's rapidly changing work environment, and the need for real time solutions to service failures, the hospitality industry needs knowledge workers. As Peter Drucker says "Today the center of our productivity is the knowledge worker, the man or woman who can apply productive work ideas, concepts and information." As I study my topic I am interested in the concept of the knowledge worker and what that means for leadership practices. The success of a hospitality operation-that is happy, repeat customer- absolutely requires that workers are empowered to make decisions that result in positive customer outcomes. What leadership models work best in driving decision down the organizational chart, such that sharing power, creates more power? Philosophical and social foundations
As I reflect on my experience in private sector training over the last fifteen years, I can relate the outcomes of my projects to many of the philosophical and sociological foundations of WFED that we have read about and discussed in class. As one example, my longest running project was funded by the Department of the Army to provide two levels of hospitality management certification to civilian employees of the Army Lodging Directorate. On one hand, these programs certainly addressed the philosophical mission of promoting individual opportunity. Employees that successfully completed these Penn State certifications were afforded many employment opportunities in and outside of Army Lodging because of the weight a certification from Penn State's School of Hospitality Management holds in the lodging industry. On the other hand, the program content was designed to include Army Lodging Operating Standards, and therefore definitely addressed many of Army Lodging's human performance problems, the other philosophical mission. Sociologically, the audience for these programs was unique in that every participant had a military connection whether it was themselves, a spouse, or a child creating a very strong network of roles and human relations as a backdrop.
More often than not, this military network served to limit their mobility and advancement as they needed to accommodate the active duty military family member. For our program to remain relevant and successful we had to be aware of and actively adjust to the philosophical and sociological perspectives in the design and delivery of our instruction. In relation to my topic of leadership in hospitality, it is important to understand that hospitality from a philosophical and social standpoint is one of the oldest professions and according to Oxford English Dictionary means "the reception and entertainment of guest, visitors or strangers with liberality and good will." This profession is one where the primary goal is to make the guest feel more comfortable than they did when they walked in, such that they will want to return again and again.
If your personality profile is not one that readily buys into this philosophy, you need to find another industry. The hospitality industry has faced social image challenges over the years in recruiting the top students for management and leadership positions. Hospitality careers are often looked down upon by society, as being demeaning, servant positions. For many year universities providing hospitality management degrees had to clearly define the difference between service management and servitude to gain enrollments. That said, the hospitality industry is one of the few remaining places in our specialized world that requires a broadly trained generalist. A good manager in hospitality must have technical skills and specialized knowledge, that all are directed toward making the guest feel welcome, making things work for the guest, and making a profit! The leaders of these operations must also be able to successfully relate to guests and employees, while achieving the business goals of the operation. In my research I hope to find what models of leadership work best under these circumstances. Theoretical foundations
In reflecting on the theories presented over the course of the last semester weeks, I realize that they all are related in that they are an attempt to: 1. Understand the workforce, its' characteristics, traits, and features. 2. Understand the environments in which work is performed. 3. Understand approaches to learning styles so as to create effective educational programs. An interesting, yet consistent phenomenon was that they are all interconnected, and I would argue, all interdependent. For example, Human Capital theory, Progressivism and Humanism are validated by Brain Based Learning. If systems theory and chaos theory hold true then it becomes essential to apply all of the learning theories: Progressivism, Experiential, Contextual, Constructivism; according to the situation and task at hand…and, oh by the way, all of these are validated by Brain Based Learning and need to take into account the experience level of the Human Capital! In my particular field of hospitality, the notion of the empowered workforce is critical because of the inseparability of customer from the service delivery process.
In other words, the degree of customer contact in service organizations is higher because the customer takes an active role in the process itself. Therefore the leader must make sure that all employees are empowered to address customer needs in a real time basis. Teams that use employee empowerment move the responsibility for decisions down the organizational chart. Further, individuals working in empowered teams have a sense of ownership of the work and are completely engaged in its tasks, which require their best thinking and creativity (Thomas, 2000). This employee involvement is also a key tactic for improving process and quality, another essential business metric in Hospitality. Research has shown that empowered teams flourish in a learning organization (Fry, 2003). Therefore workforce education issues around creating empowered teams also must capture many of the theoretical constructs related to Trait-factor, Career typology, Developmental self-concept …in addition to all of the other theories I have mentioned above.
As the theory groups went through their presentations, I kept thinking about how important many of these frameworks are in a leadership context. The notion of Human Capital, Progressivism, Brain Based Learning, Trait, and Developmental self-concept have huge implications for leadership. Given my hospitality background I also began to wonder how these theoretical constructs impact business outcomes, especially from the perspective of the customer. Past research suggests that increased organizational commitment strengthens motivation and reduces turnover (Mowday, Porter, & Steers, 1982), and that organizational productivity is at the heart of total quality management. So my question is if leadership that increases organizational commitment can improve the outcomes of empowered teams, and empowered teams improve customer satisfaction is there a relationship that can be proved between a particular leadership style and customer satisfaction?
Empirical research in spiritual leadership is beginning to examine the relationship between the qualities of spiritual leadership and organizational outcomes in some settings and finding a positive correlation (Fry, Hannah, Noel, Walumbwa 2011). The conceptual distinction between spiritual leadership and other leadership styles is something I need to learn more about. Recent meta-analyses indicate that engagement is positively and strongly related to a variety of key business outcomes, including productivity, customer satisfaction, accidents, and employee turnover (Fry, 2003). The question is especially interesting to me is the relationship between the quality of spiritual leadership and organizational outcomes from the customer's perspective, and if that implies consideration of new quality service models in hospitality organizations? Furthermore, is spiritual leadership a valid theory that can be widely applied as a model for organization and professional development (Fry, 2003)? Economic Foundations
The Economic Foundations speak directly to the two missions of Workforce Ed. From the individual's perspective Workforce Educations provides the skills so that he/she can earn an economic return in the workplace and support him/her and family. The second mission of improving the nation's workforce also delivers positives return to the national economy as us and our neighbors are better able to contribute to national economic growth. But while we were sleeping, as Freidman put it, globalization happened and changed the playing field, with respect to labor supply, and talent shortages. The individual and the nations now have to compete for jobs in a world essentially without borders because of technology.
For the field of Workforce Education, if you are aiming to provide career opportunities for individuals and to prepare your nation's workforce in a globalized environment, it requires another look as to the kinds of skills you believe are important to develop. Clearly the same old models may not suffice. However, with the rapid change associated with technologies where does the field begin such that it can provide a competitive advantage for US workers/the workforce? The complexity of the problem is mind boggling. With respect to my paper topic, I am interested in the economic and global foundations as they relate to leaders role in creating learning organizations. That is, how can leaders of learning organizations, where decisions are pushed down the organization to empowered teams, also collaborate across borders with technology and talent to create win-win economic outcomes for the individual and the firm? How can leaders build trust and sustain performance levels, in an environment that requires constant monitoring of alternative, possibly cheaper labor? Summation
The topic of spiritual leadership in hospitality will draw on many of the historical and theoretical foundations as we seek to understand better ways for leaders to facilitate learning organizations and empowered teams. Despite looking for new and better ways to lead and relate successfully hospitality leaders must also direct the work of their operation in ways that drive customer satisfaction and business returns while keeping to the historical mission that remains: " the reception and entertainment of guests, visitors, and strangers with liberality and good will."
References
Avolio, B.J., (1999). Full leadership development: Building the vital sources in organizations. Thousand Oaks, CA: Sage. Avolio, B. J., & Gardner, W. L. (2005). Authentic leadership development: Getting to the root of positive forms of leadership. The Leadership Quarterly, 16, 315-338. Allen, N. J. and Meyer, J. P. (1990). The measurement and antecedents of affective,
continuance and normative commitment to the organization. Journal of Occupational Psychology, 63, 1–18. doi: 10.1111/j.2044-8325.1990.tb00506.x Baron, R. M., & Kenny, D. A. (1986). The moderator-mediator variable distinction in social psychological research: Conceptual, strategic, and statistical considerations. Journal of Personality and Social Psychology, 51, 1173-1182. Balkundi, P. & Kilduff, M. (2006). The ties that lead: A social network approach to leadership. The Leadership Quarterly, 17(4), 419-439. doi: 10 1016/j.leaq.2006.01.001 Choi, S. & Mattila, A. S. (2008). Perceived controllability and service expectations: Influences on customer reactions following service failure. Journal of Business Research, 61, 24-30. doi: 10.1016/j.jbusres.2006.05.006 Cooper, C.L., & Locke, E. A. ( 2000). Industrial and organizational psychology: Linking theory with practice. Malden, MA: Blackwell. Day, L. W. (2000). Toward a paradigm of spiritual leadership. The Leadership Quarterly, 16(5), 619-622. doi: 10 1016/j.leaq.2005.07.001 Duchon, D. & Plowman, A. D. (2005). Nurturing the spirit at work: Impact on work unit performance. The Leadership Quarterly, 16(5), 807-833. doi: 10.1016/j.leaq.2005.07.008 Fry, L. W. (2003). Toward a theory of spiritual leadership. The Leadership Quarterly, 14(5), 693-727. doi: 10.1016/j.leaq.2003.09.001 Fry, L. W. & Slocum (2008). Toward a paradigm of spiritual leadership. The Leadership Quarterly, 16(5), 619-622. doi: 10 1016/j.leaq.2005.07.001 Fry, L. W., Hannah, S. T., Noel, M., & Walumbwa, F. O. (2011). Impact of spiritual leadership on unit performance. The Leadership Quarterly, 22, 259-270. Gray, K.C. & Herr, E.L. (1998). Workforce education: The basics. Boston: Allyn and Bacon. Giacalone, R. A., & Jurkiewicz, C. L. (2003). Right from wrong: the influence of spirituality on perceptions of unethical business activities. Journal of Business Ethics. 46(1),85-97. doi:10.1023/A:1024767511458 Krajewski, L.J., Ritzman, L. P., & Malhotra, M. K. ( 2010). Operations management: Process and supply chains (pp. 93-97). Upper Saddle River, NJ: Pearson Education. Mowday, R.T. (1981). Viewing turnover from the perspective of those who remain: The relating of job attitudes to attributions of the causes of turnover. Journal of Applied Psychology , 66(1),120-123. doi: 10 1037/0021-9010.66.1.120 Mowday, R. T., Porter, L. W., & Steers, R. M. (1982). Employee-organization linkages: The psychology of commitment, absenteeism, and turnover. New York: Academic Press.
Townsend, J. S., & Wichem, F. B. (1984). The development of the spiritual qualities inventory. The Journal of Psychology and Theology. 12(4), 305-313.