History of Health Care Essay Sample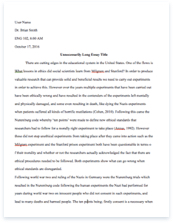 The whole doc is available only for registered users
OPEN DOC
Download Essay
Get Full Essay
Get access to this section to get all the help you need with your essay and educational goals.
Get Access
History of Health Care Essay Sample
In my paper I will give you information on what interested me about the history of health care. I will also discuss a through description of the area in health care that I am pursuing and the reason why I am choosing to work as a Healthcare Administrator, and the demographics of those the Health Administrators service, the types of services a Health-care Administrator offers, and the reason why I chose to work as a Health-care Administrator.
New to Healthcare
The history of healthcare is interesting; you need to understand the history and how healthcare started, and why it continues to be a growing concern among citizens in the United States. Amazingly, the healthcare system did not always exist according to an internet source. In fact, before 1920, most people had no healthcare coverage, ("U.S. Healthcare History", 2011 Humana). Doctors didn't know enough about disease to really provide much useful care therefore they didn't charge very much for their services. But when doctors did begin to learn more about diseases and effective treatments, they started charging more, and more than people could afford. People in hospitals needed to be treated; with new technology on the rise it also became too expensive for people to take advantage of. With the Great Depression, and the cost of being treated it only made the situation even worse. Once the birth of healthcare was born, this was Blue Cross, it helped to ease the problem at hand, to help the people to pay their hospital bills.
The fact remains everyone needs treatment one time or another and being new in the healthcare with a caring heart and determination to assist those who need it was most important and yet interesting to me. This is why I chose to further my degree and pursue my education as a Healthcare Administrator. It is challenging but will be rewarding, because it allows him or her to use the skills and training received from school to make a difference in people's lives Healthcare Administration is an extensive area of health care. As a Healthcare Administrator he or she is a leader. Yet a demanding field which requires dealing with people and contains several areas of personal interest. They head up hospitals, physician group practices, and nursing homes. They will deal with other essential areas of healthcare such as community health systems, As a Healthcare Administrator you are responsible for facilities, services, programs, staff, budgets, and relations with other organization which could include state or county mental health divisions, clinics, and small practices and insurance companies. All areas are just as important as the next and require the same amount if not more dedication and determination.
The outcome may be different for each person but the mission and objective will always remain the same. As the field in healthcare expands then the need for insurer's demands for greater efficiency will increase as well as the demographic pressures and other trends will grow for the need of well-prepared Healthcare Administrators. "There's no question health-care administration is going to be a growth career, because health care will be one of the industries expanding a lot in the next few years," (says psychologist Leland R. Kaiser, PhD, a health-care consultant and associate professor emeritus of health administration at the University of Colorado at Denver).
Conclusions
In my opinion there are many reasons why a person would want to work in Healthcare. But the reason why I choose the Healthcare Administrator field is because of career advancement and personal satisfaction and to know that someday I could be a part of history to make a difference in a person's life. I am personally very excited to say that I am already feeling the as though I am a part of history even to this very day. For those already in the healthcare field knows it is an exciting but rapidly changing field. After obtaining a healthcare administrator degree she or he will be provided the skills needed to get noticed and prepare for the future of medicine. Once he or she has earned their college degree it will give them the personal satisfaction of knowing that they can help individuals meet their personal and professional goals. I feel that I am in a course that will change from day to day, and I am ready to help make a difference in someone else's life.
References
"U.S. Healthcare History", 2011 Humana
Psychologist Leland R. Kaiser, PhD, a health-care consultant and associate professor emeritus of health administration at the University of Colorado at Denver http://www.apa.org/gradpsych/2011/03/post-grad.aspx