History of Rock and Roll Essay Sample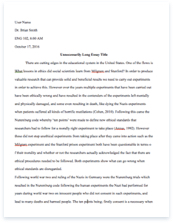 The whole doc is available only for registered users
OPEN DOC
Get Full Essay
Get access to this section to get all help you need with your essay and educational issues.
Get Access
History of Rock and Roll Essay Sample
Course Content:
This course centers on the study of the history, trends, and influences of rock musicians and their music on society and culture. No previous musical training is required. The ultimate objective is for the student to develop a greater understanding and appreciation of this great form of art and entertainment.
Course Books and Resources: Required
Katherine Charleton- Rock Music Styles, A History (sixth edition, but fifth edition is ok)
Course Requirements:
You will be expected to do all readings for each week, and watch the videos that are inbedded in the lecture. The readings will always have a 'lecture' section, and a reading from the textbook. Weekly tests will draw from both sources. I have a monitor to check if you have watched the videos, so be sure to do all listening, and absorb the music you are hearing. The entire point of this class is hear and the sounds and understand their historical and cultural context.
Grading
|Grading will be based on: | | |Weekly Test Questions from that weeks readings |30% | |Midterm paper (Due in week six) See below |25% | |Final examination
|30% | |1 concert review (Due the last week of class) |15% |
To pass this class you must complete all assigned items.
a. Weekly test questions b. One midterm paper c. One concert review d.Final Exam
Description of Tests and Reports
Weekly Test Questions
Every week you will have a timed test of 15 questions. The test window will be from Thursday to Sunday. You'll have 15 minutes to complete the test. The idea is to have the info studied and memorized, so you are not scrambling through your notes for the answers.
Midterm Paper : This is a simple paper of two typed, double spaced pages. Your grade will drop significantly if it is less than two pages. Choose any performer or band from the lecture, book, or your own experience. The paper should have three components to it. 1. A brief historical sketch
2. Career highlights.
3. And most important, one quarter of your paper should express why this music has meaning to you.
Final : The final will focus on a questions that are a combination of true/false, multiple choice, and very short essay questions. Questions will be taken from throughout the quarter. The final is important for this class! grade for your final. Study Hard!!
Any form of Academic Dishonesty is strictly forbidden. This includes all forms of plagiarism and cheating. This will result in an automatic fail in the class, and subsequent action by the University.
Very Important Note
If you have any questions regarding this class, post it in the discussion board. If you have a question others will probably have the same question as well. I will read and answer questions fro the discussion board on Tuesdays and Thursdays. Please Do Not email me with questions unless the subject is of a very personal nature. There will not be discussion board questions for this class, due to the large size. Therefore, the discussion board will be used only to ask me questions.
Week by week basic sketch. Here are all the readings from the book you'll be expected to do. Each week an assignment will show up on blackboard.
1. Introduction, elements of music, early rock(mid 50's). Read page 12 1950's section, and Chapters 2,3, and 4
2. Elvis Presley, Schlock Rock, Beach Boys(50's-60's) Read page 62, 1960s and Chapters 4 and 5
3. The Beatles, The Stones, The Who, British Invasion(1964-70) Chapter 7-8
4. Soul, Stax, Motown, Dylan, Folk Rock(1960's) Read chapters 6 and 9
5. Folk, Psychedelic, Hendrix(mid to late 60's) Read chapter 10
6. Paper Due, Funk, Southern Rock, Read 1970's page 156, chapters 11,17
7. Progressive Rock, Glam/Glitter(1970's) Chapter 14
8. Heavy Metal(1970's-80's), Reggae Chapter 13,15
9. Punk(mid 70's), New Wave(early 80's), 80's Pop Chapters 16,19
10. Rap(1980's) Grunge(1990's), Review, (concert reviews due) Chapters 18, 21
History of Rock and Roll 1006
Dann Zinn
Guidelines for the Concert Review
Performance Review Information
The review for this class must be a live performance of rock or pop music. This includes all styles of rock, metal, pop, rap, alternative, etc. No country, jazz, folk, or classical. You should attend performances of professional level groups. Club bands that cover other groups songs, Church groups, high school or amateur groups, and Broadway style shows are not appropriate for this class. Use the internet, SF chronicle, or East Bay Express for resources to find concerts.
Think of yourself as the reviewer for a major newspaper. Evaluate a musical event based on your personal reactions and use the vocabulary and criteria discussed in class lectures. Be specific with your descriptions of the events and your responses, both emotionally and intellectually. The purpose of these reviews is to take the concepts and musical styles discussed in class and apply them to understanding a live performance. Keep your mind, eyes, and most importantly your ears open.
One Review of two pages is due the tenth week of class. It must be a minimum of two typed pages, double spaced. Your grade will drop significantly if it is less than two pages. Scan any program, flyer, or ticket stub from the concert. Your grade will be lowered without this proof of attendance. You must go to the concert during this quarter! Concerts attended during any other time frame are unacceptable and will receive an F.
Reviews should include the following:
1. Name of the artist or group. Describe the musician(s) and instruments played. Briefly describe the audience and setting. How did the surroundings affect your experience?
2. What were your expectations before attending the performance? Were those expectations met?
3. Describe two or three of the songs. Discuss any musical elements which stood out. For example: Mood- what was the mood of the music? Exciting, sad, romantic? Style- Rock and Roll, R and B, Hip Hop, Grunge, etc.
4. Which was your favorite song and why? Which was your least favorite and why?
5. What did you like or dislike about the musicians playing and why?
6. Did you enjoy the performance on the whole? Why or why not?