History of Sony Essay Sample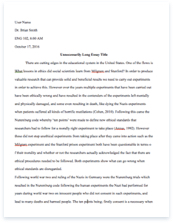 Pages: 4
Word count: 1,081
Rewriting Possibility: 99%

(excellent)

Category: sony
Get Full Essay
Get access to this section to get all help you need with your essay and educational issues.
Get Access
Introduction of TOPIC
Born in the ruins of war torn Japan, Sony has now become one of the worlds most recognized corporations. The beginnings of Sony Corporation could be traced to a war ravaged room in the Shirokiya Department Store in Tokyo. It was here that Masaru Ibuka and his team of engineers founded what was "Tokyo Tsushin Kenkyujo (Totsuko)" ("Tokyo Telecommunications Research Institute" in English).  This was in October of 1945.While the team had the necessary engineering background, machinery and an admittedly small fund source (Ibuka's savings), they did not have any products and without a product, they don't have a business.
At the end of the war, the Japanese were looking for a way to receive world news. Radios were in short supply and existing radios carried modifications made during the war period to prevent radios from receiving enemy propaganda. The company started its life repairing broken radios and converting shortwave (military) radios into full wave general purpose radios. Ibuka's radios were in high demand as well as other products like a vacuum tube voltmeter that the company made.
\With a steady supply of business, the company was formally established on May 7, 1946. At its inauguration speech, Ibuka spoke that this new company would not fall into the mistakes made by large companies. He stressed that "While we create and introduce technologies which large corporations cannot match. The reconstruction of Japan depends on the development of dynamic technologies".  With this, the young crew went into work, often locked inside their building as they worked tirelessly past the building's closing time. They churned out products like an electric mattress heater or replacement equipment for NHK built from military surpluses.
However, the first really big hit of Sony was a fruit of Ibuka's visit to the United States in the early 1950s. While in the US, Ibuka learned of a new invention at Bell Labs – the transistor. Ibuka then started making transistor radios which were smaller than the vacuum tube based radios they replaced. While Totsuko was not the first company to produce transistor radios, their TR-55 model was the first commercially successful transistor radio. The 1950s saw the explosion in use of the transistor radio in both the US and Japan, particularly in the young demographics. This was attributed no
t only to the radio's size but also to the explosion of rock and roll music. At the end of the
1960s, an electronics giant was born. The company chose Sony as the romanized name for their company from the Latin word Sony, the root of sonic and sound. Thus the company emblazoned their auditory electronic roots in their name.
Since then, Sony has lived up to Ibuka's dream of continuous innovation. The trinitron television was introduced in 1968. The Betamax videocassette format was launched in 1975, the Walkman player in 1979. Other Sony creations include the 3.5" floppy diskette, the CD (together with Phillips), and the minidisc. With these creations, Sony became one of the top consumer electronics companies of the world. Apart from simply creating technologies. Sony created standards which earned Sony royalties from third party  manufacturers.
It was in 1994 that Sony launched one of its most successful franchises, the Sony Playstation. The Sony Playstation and its successor the Playstation 2 became the dominant game consoles in their respective generations, beating out entries from traditional gaming companies like Nintendo and Sega. Sony introduced the Playstation 3 a year ago, incorporating a built in Blu-Ray disc player (another Sony technology). It is apparent that Sony hopes to promote Blu-Ray over HD-DVD as the next dominant optical media format through the proliferation of the free Blu-Ray player with the Playstation 3. This was a strategy that worked before for Sony as the Playstation 2 was one of the cheapest DVD players during its launch, a factor that became a huge boost to its sales. It remains to be seen whether the Playstation 3 (or Sony for that matter) will be successful in having Blu-Ray dominate the current optical format war.
Sony has also expanded its operation through mergers and acquisitions. One of the more famous Sony properties Columbia Pictures Entertainment which became Sony Pictures Entertainment in 1991. Aside from movies, another area in the entertainment sector where Sony has a stake is in music through Sony-BMG Music Entertainment. In 2001, Sony Ericsson was launched after a 50:50 joint venture between Sony and Ericsson AB. Sony also leverages its brands across its many products. As an example, one can purchase a Walkman  phone or a Cybershot (after Sony's digital product line) based phone, all from Sony Ericsson.
While these companies may show Sony's horizontal expansion, the corporation is still developing their own products much as Ibuka envisioned in his inaugural speech. Aside from the aforementioned Blu-Ray disc, the Playstation 3 also carries the Cell Processor, a new advanced  processor architecture that was developed by a consortium which Sony was a part of. Sony's Playstation brand is also expanding into mobile gaming through the Playstation Portable. Robotics is also another key future path for Sony. It was Sony that brought the world Aibo, the world's first robotic dog. Other robot creations include Rolly, a robotic music player, and Qrio, a humanoid robot. Qrio can stand, dance, can recognize voices, faces and remember the likes and dislikes of the people it interacts with. A gigantic feat for a company that was born in the war-ravaged city of Tokyo. The Sony experience teaches us that sheer destruction is not enough to derail a company that is bent on creating and selling dynamic technologies to the consumer.
Bibliography
Bloomberg.com. "Investment Tools- Ticker for 6758, TYO". 4 Nov 2007
            http://www.bloomberg.com/apps/cbuilder?ticker1=6758:JP
Schiffer, Michael Brian. "Cultural imperatives and product development: the case of the shirt-pocket radio." Technology and Culture 34(1993): 98-113.
Sony Corporation, "Sony History." Sony. 2007. 4 Nov 2007 <http://www.sony.net/Fun/SH/1-1/h1.html>.
Sony Corporation, Annual Report. 2006. Tokyo: 2006.
Yahoo! Finance, "SNE:Summary for SONY CP ADR.." Yahoo Finance. 4 Nov 2007
            http://finance.yahoo.com/q?d=t&s=SNE