History of Special Education Law Essay Sample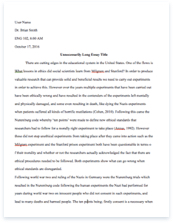 The whole doc is available only for registered users
OPEN DOC
Download Essay
A limited time offer!
Get a custom sample essay written according to your requirements urgent 3h delivery guaranteed
Order Now
History of Special Education Law Essay Sample
From the beginning of time until the end of time, there will always be students who require special education services. Throughout the 20th century, there have been many laws written to try and protect and help students with disabilities. Two in particular are the Education for All Handicapped Children Act of 1975, and the Individuals with Disabilities Education Act (IDEA 1990). Special education classes were available in the 1950's, but the outcome for the students was not what parents expected. The students in these classes could not preform academically, and were considered unteachable. They eventually were sent to special schools that focused on teaching them manual skills. The programs may have been available, but clearly it was discrimination towards those students with disabilities. This is why the laws written for the handicapped are so important, especially in the school system. The chart above compares two articles covering individuals with disabilities; one is an overview of disabilities, covering the Education for All Handicapped Children Act, also known as Public Law 94-142, and the other is an overview of the Individuals with Disabilities Education Act (IDEA) Amendments of 1997.
In the article on an overview of disabilities, it says the handicapped children must meet two criteria; they must have one or more disability and require special education and related services (ERIC Clearinghouse on Handicapped and Gifted Children, R. A., 1987). In this article, it also gives specific definitions of the disabilities that children have to have to be considered for assistance under Public Law 94-142. The acceptable disabilities listed range from deaf to blind to mental retardation, orthopedically impaired, and those that are speech impaired or have a learning disability, among many other disabilities. When a child is thought to have a handicap, there is a multidisciplinary team that will evaluate the child. The team consists of at least one teacher or specialist that has knowledge of the student with the disability.
When the team meets, they will determine if the child will require special education services or not. All schools and agencies that provide services for children with disabilities must comply with P.L. 94-142 in order to receive federal assistance. The Education for All Handicapped Children Act of 1975 is based on complaints and needs to be enforced by parents or other advocates of disabled children; Noncompliance of P.L. 94-142 will result in funds being stopped for the agency or school involved (Ballard & Zettel, 1978). This seems to be a good incentive for agencies to make sure they are compliant with all the laws governing children with disabilities.
There were some differences from the above article on disabilities with the article An Overview of the Individuals with Disabilities Education Act (IDEA) Amendments of 1997. IDEA is organized into four parts to cover all of the provisions for students with disabilities. Also, under IDEA, students have to participate in state assessments, even if it is an alternate assessment from those in regular education. "IDEA 97 requires states to include students with disabilities in state and district-wide testing programs, with accommodations when necessary," (Knoblauch & ERIC Clearinghouse on Disabilities and Gifted Education, R. A., 1998. p.3). Under IDEA, all students will have an individualized education plan (IEP) that has to be followed to ensure children with disabilities are getting the most out of their education, and needs to include a statement of transition starting at age 14. Another difference is that IDEA 97 includes disciplinary procedures for students with disabilities. It says that students will not be denied an education because of their behavior.
It outlines the different strategies for dealing with behavior issues, for example schools are allowed to place a student in an alternate setting if their behavior is such that they cannot remain in their current setting without disruption. Under IDEA, students have an IEP team that meets to write the IEP for the students, and in a case of behavior issues, the IEP team determines the action that needs to be taken with the student. Parental consent is also required for evaluations, and the parent is involved in the IEP meeting concerning anything with their child. Under IDEA, parents are to be keep inform of any school placement, and also the progress of their children. For noncompliance to the IDEA 97 Act, the government can withhold funding until they are in compliance with all aspects outlined in the IDEA act (Heumann & Hehir, 1997).
While there are several differences between both of these articles, there are some similarities also. Under both acts listed, all students regardless of disabilities must be provided with a free public education, and they also must have access to general education classrooms as well, and accommodations have to be met. While it seems that these two articles cover two different laws that were passed, the reality is that they are one in the same. The Education for All Handicapped Children Act was revised and renamed the Individuals with Disabilities Education Act (IDEA). While the Public Law 94-142 provided that all children with disabilities will receive a free public education, IDEA allows has provisions for transitioning students into high school. As mentioned before, both of these acts provide federal funding for programs for students with disabilities as long as the agencies that are receiving the funds are in compliance with the guidelines. ""In order to receive federal funds, states must develop and implement policies that assure a free appropriate public education (FAPE) to all children with disabilities. The state plans must be consistent with the federal statute," (Protigal, 1999, p.1).
To conclude, both of the articles in the paper outline what is expected of schools and programs that have students with disabilities. Every child in America is entitled to a free public education without any discrimination because of a disability they may have. Each child has the ability to learn, even if it is at a different rate or pace from their peers. It is up to educators to understand what the laws are and mean to them and their students to ensure they are offering them the best education they can in accordance their individual capabilities.
References
Ballard, J., & Zettel, J. J. (1978). The Managerial Aspects of Public Law
94-142. Exceptional Children, 44(6), 457-462. Retrieved from http://eds.a.ebscohost.com.library.gcu.edu:2048/ehost/pdfviewer/pdfviewer?sid=41ba31e7-5ca7-4b9f-af8b-6397f85b5446%40sessionmgr4003&vid=7&hid=4108 ERIC Clearinghouse on Handicapped and Gifted Children, R. A. (1987). Disabilities: An Overview. ERIC Digest #420. Revised. Retrieved from http://eds.a.ebscohost.com.library.gcu.edu:2048/ehost/detail?sid=649ed845-5bb9-4722-baf1-bf2e12c42623%40sessionmgr4005&vid=1&hid=4103&bdata=JnNpdGU9ZWhvc3QtbGl2ZSZzY29wZT1zaXRl#db=eric&AN=ED291203 Heumann, J., & Hehir, T. (1997, September). "believing in children –. Retrieved from http://www2.ed.gov/offices/OSERS/Policy/IDEA/article2.html Knoblauch, B., & ERIC Clearinghouse on Disabilities and Gifted Education, R. A. (1998). An Overview of the Individuals with Disabilities Education Act Amendments of 1997 (P.L. 105-17). ERIC Digest. Retrieved from http://eds.a.ebscohost.com.library.gcu.edu:2048/ehost/detail?sid=d91c90f3-6f83-4434-b3b2-bb80ae7660a0%40sessionmgr4002&vid=1&hid=4103&bdata=JnNpdGU9ZWhvc3QtbGl2ZSZzY29wZT1zaXRl#db=eric&AN=ED430325 Protigal, S. (1999). Public law 94-142 – education of all handicapped children act. Retrieved from http://www.scn.org/~bk269/94-142.html