HIV and AIDS in the Black Community Essay Sample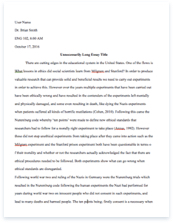 The whole doc is available only for registered users
OPEN DOC
Get Full Essay
Get access to this section to get all help you need with your essay and educational issues.
Get Access
HIV and AIDS in the Black Community Essay Sample
​African-Americans are the ethnic group most affected by HIV/AIDS. Ironically african-americans represent 14% of the population of the United States , but represent 44% across the gender line. African-american men represent 70% of HIV infections among the ethnic group, however african-american women are also highly at risk of HIV infection. Indeed they have a rate of infection that is 15 times greater than the rate for caucasion women (HIV among African-Americans, 2012). Most African-american women (85%) are infected with HIV through heterosexual sex, often with partners, who claim to be straight but in fact regularly engaged in homosexual sex (Hunter & King, 2005). Causes of HIV/AIDS
​There are at least three major causes for the existence of the higher rate of HIV infection among African-american women than their caucasion counterparts. First there is a higher-than-average rate of HIV infection for African-american men than caucasion men.Next African-american men who engage in homosexual activity are more likely than white men to also engage in homosexual activity while having heterosexual partners (Hunter & King, 2005). Finally, safe sex practices are less popular among African-american men and women, primarily believed to be the result of socioeconomic and educational factors, including poverty, lower educational status, lack of accss to preventative education, and lack of access to healthcare (Cleveland, 2008). These cumulative causes magnify the vulnerability of African-american women to HIV infection and the consequent development of AIDS. Alternate Solutions
​The first solution should focus on the creation of public awareness campaign for safe sex practices among African-american men and women through the socioeconomic perspective. Safe sex practices are almost entirely the result of education about the threat of sexually-tranmitted diseases. African-american women in particular are likely to believe they are not at threat of HIV infection because they believe their partners to be straight. Thus, HIV prevention should educate African-american women about the high rate of HIV infection among them , as well as their male counterparts. Such public awareness will help change their attitude. ​Potential positive outcomes include greater awareness about the threat of infection , and greater awareness about the likely cause of infection, thus the adoption of safe sex practices by African-american women,(condom use). Potential negative side effects include skepticism by African-american women that some of their partners might be engaged in homosexual activity, leading to resistance to engage in safe sex.
This might lead to decreased sense of urgency about the need to engage in safe sex and a lower rate of seafe sex practices among African-american women. ​The second solution addresses the problem of access to condomss and HIV testing. This issue is primarily the result of higher than average rates of poverty in the African-american community. Condoms are relatively costly, and many lack insurance or other methods to pay for healthcare, including STD testing. Medicaid does not cover condoms. This solution seeks private funding pay for free condoms and STD tests for African-american men and women. ​Potential positive outcomes include greater access to condoms and STD tests, which in turn will produce the result of greater use of the resources and lower rates of HIV/AIDS in african-americans.Potential negative side effects include the promotion of sexual promiscuity and the diminishment of sexual chastity among African-american youth, which could lead to higher risk of the HIV infection. Final Decision
​The best solution is the implementation od an Hiv awareness campaign targeted at African-american women. African-american women as a population have lower rates of awareness about HIV infection, ahich is is perceived to be primarily a homosexual disease that's inflicts homosexual men (Cleveland, 2008). African-american women also are likely to discount the possibility that their male partners are engaged in homosexual activity ( Hunter & King, 2005). Addressing these erroneous beliefs must be the first step in encouraging African-american women to engage in safe sex practices. Providing access to condoms and testing before an awareness campaign puts the cart before the horse. ​
The primary step for this solution requires securing the services of a reputable and professional marketing and advertising firm that will develop the awareness campaign, which will be distributed on billboards, bus stops, and other public spaces that accept visual advertising. An awareness campaign must first identify its target audience and related interests, needs , education,beliefs,biases, and behaviors that will influence reception of the message. A socioeconomic demographic evaluation of African-american women, particularly those in the working and lower classes , will be conducted. A survey of a smaple population in the target population should gauge attitudes about perceptions of vulnerbility to HIV infection and barriers to engaging in safe sex. The campaign must tailor the messege based on the evalution of the target audience and associated traits that will influence the message, including potential resistance. The issue of homosexual activity among African-american men who pose as straight must be addressed in the campaign. The message must anticipate potential skepticism by African-american men to this issue Implementation
​The campaign will include the distribution of visual messages on billboards, bus stop sinage and other public spaces that carry advertising in working-class and poor African-american communities. The campaign will have a consistent theme that identifies it's various messges as part of the same campaign. The campaign must be enough to reach the audience and reinforce the message. ​Lastly, the campaign must be subjected to post-implementation evaluation to deteermine its effectiveness. Ideally, a longitudunal study would measure the rate of infection of the experimental group against a control group that did not observe the awareness campaign. However, this will fail to yeild timely results. This evaluation should include a survey several months to a year after the campaign that measures knowledge of the campaign among residents in the targeted communities. Final Evaluation
​Leaders in public health must address the issue of HIV/AIDS among African-americans, particularly women who are unaware of the homosexual activity of their male partners. This campaign should be flexible enough to adjust accordingly based on consumer responses. Adjustments might be neccesary to tailor the message baesed on potential resistance by the target audience.
References
Cleveland, J. (2008). Heightened national rsponse to the HIV/AIDS crisis among African Americans. Centers for Disease Control and Prevention from:http://www.cdc.gov/hiv/topics/aa/resources/slidesets/pdf/HPLS_Cleveland_1.pdf HIV among African Americans. (2012). Centers for Disease Control and Prevention from: http://www.cdc.gov/hiv/topics/aa/Hunter,K & King, J (2005). On the down low; a journey into the lives of 'striaght' black men who sleep with men. New York: Random House Digital ​