Homeschooling Case Essay Sample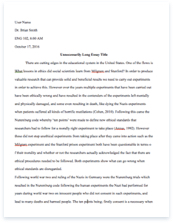 Pages: 3
Word count: 731
Rewriting Possibility: 99%

(excellent)

Category: homeschooling
Get Full Essay
Get access to this section to get all help you need with your essay and educational issues.
Get Access
Introduction of TOPIC
            With the advent of modern technology home schooling, distance education, and e-learning have become trends in education, however, whether this innovation in education is advantageous to the learners and educators has yet to be analyzed.   There are contentions that such trends detach the learners from their peer group and are deprived of many forms of socialization.  There are also those who feel strong apprehension on the internet and other modern technology replacing the teacher who is more capable of setting an educational environment.  With the many questions that confront the learners and the educators it is imperative to find out how homeschooling should be regarded. This paper intends then to discuss what comprises homeschooling and to present possible effects on the learners and on the whole educational system.
            Dulcinea Media (2009) defines homeschooling as the mode of training where parents or guardians take responsibility for the education of their children outside the four walls of the formal educational system.  This mode of learning is not something new.  Guballa (2007) indicated that it was the most common mode of education in the early 20th century and there are about ten US presidents who were homeschooled by their mothers.  Moitozo (2003) provided four advantages for this trend of educating the children: (1) religious and philosophical convictions; (2) socialization; (3) academics; and (4) time with the family.  Moitozo said that nothing can best teach and motivate the children to learn but personal convictions.  Only those who have deep
passion and sense of purpose can sustain a higher purpose of learning and who has such drive but the
parents who have the great dreams for their children.
            Lim, (2006) also indicated that homeschooling is a family activity that gives an opportunity for them to bond together and to know each other's differences.  He also believes that aside from parents' inculcation of personal religious and philosophical convictions, it frees the children from peer pressures and they are able to attend to the children according to what they particularly need aside from having a flexible schedule.
            Homeschooling does not follow a curriculum and it is really advantageous because learning is personalized.  However, there are also disadvantages which should be addressed if parents have to decide to go with this approach of learning.   It requires the parents to go full time as they need to research on what to teach and how to teach.  The parents may end up too exhausted and would not have time for themselves or for their relatives.  There may be parents who are not much equipped making their learners quite inferior as compared to other homeschoolers besides the fact that as children are isolated at home, they lack the activities to compete with other children of their own age. (iloveIndia.com 2009).
             Homeschooling entails great responsibility for the parents.  Successful-homeschooling (2009) indicated that parents need to address as well the educational gaps which they may take for granted for lack of training and knowledge and they must learn to accept criticisms from other homeschools and parents in order to improve and to be more equipped in handling their children.
            Indeed, homeschooling has advantages and disadvantages but it is a fact that many successful individuals came from homeschooling.  If learners could learn best with their parents, rather than with a school teacher, there is no need to be frantic.   What is most important is that the child gets the education that he deserves.
References:
Dulcinea Media. (2009).  Homeschooling defined and explained.  Retrieved. April 19, 2009 from http://www.findingdulcinea.com/guides/Education/Homeschooling.pg_0.html#0
Guballa, C.  (2007).  Brave new world of homeschooling. Inquirer.  Retrieved, April 19, 2009 from http://showbizandstyle.inquirer.net/lifestyle/lifestyle/view/20070506-64296/Brave-new-world-of-homeschooling
iloveIndia.com (2009), Home schooling information.  Retrieved, April 19, 2009 from http://lifestyle.iloveindia.com/lounge/home-schooling-information-552.html
Lim, R.  (2006).  5 advantages of homeschooling.  Ezine Articles.  Retrieved, April 19. 2009 from http://ezinearticles.com/?5-Advantages-Of-Homeschooling&id=197985
Moitozo, S. (2003).  4 advantages of homeschooling.  At Home in America.  Retrieved, April 19, 2009 from http://www.athomeinamerica.com/node.php?id=7
Successful-schooling.com (2009).  Disadvantages of homeschooling.  Retrieved, April 19, 2009 from http://www.successful-homeschooling.com/disadvantages-of-homeschooling.html