Honors classes in high school Essay Sample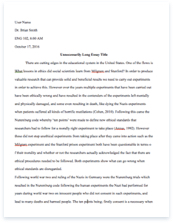 The whole doc is available only for registered users
OPEN DOC
Download Essay
A limited time offer!
Get a custom sample essay written according to your requirements urgent 3h delivery guaranteed
Order Now
Honors classes in high school Essay Sample
High school is one of the most important parts of an average teen's academic and social life in the United States. It is where many people find themselves, including discovering what they want, what they're good at, and sometimes even who they are and who they think they're destined to be. High school can be considered a great experience, however, our high school years are also a time where students struggle most and find themselves facing a lot of stress. Students deal with stress on a day-to-day basis, and the stress can be positive, but can be negative and lead to damages. Some common causes of stress in a high school student's life are things like academic achievements,parental pressures, and relationships with friends and parents.
High academic stress, meaning stress of school and marks, is something very common for high school students. Homework seems to be the one main thing many teens claim to be stressed about. "Stress seems to come from homework. Every time your homework pile stacks higher, your stress levels rise. Homework is a huge part of high school coursework, especially if one takes Advanced Placement (AP) or Honors classes in high school.
However when students take the stress negatively, the will feel helpless and lost, and ultimately will not achieve their academic goal.This negative academic stress can even cause students to plagiarize in order to get the mark they are looking for. However there are effects of high stress that are far worse than cheating on paper. Some students with high stress may turn to other methods to deal with their stress. Some examples of these methods are eating disorders, mental mental sickness and in extreme cases thoughts of or attempts at suicide. Students who are unable to cope with stress will develop tension in their lives, and if this stress is not confronted while the student is still young, the constant stress may lead to future mental problems.
Another aspect of high school that is a contributor to stress is the social aspect.Teens are more stressed out from the drama around them than the actual class work. Also, when they put homework off, they get more stressed out. In high school there are many kinds of people and there is always some kind of stereotype being assigned to someone. Those stereotypes can often put many students in seriously stressful situations.
For example, in books, in movies, and in many normal high schools, the popular kid often feels as though they are expected to keep up with current events and trends. They are more likely to be extremely self-conscious and their reputation seems to be everything they are concerned with. The "nerdy" kids are always being picked on and teased. As a result they may feel left out, worthless, and the stress of having to deal with bullying issues can often be overwhelming.
The lack of rest, free time, or play is also a great source of stress. An American Academy of Pediatrics report states that whereas play protects children\'s emotional development, a loss of free time in combination with a hurried lifestyle can be a source of stress, anxiety, and may even contribute to depression for many children.
Finally, students at either level experience stress from parental pressures. Parents want their children to succeed in school. They want to see good grades, but they also want to see success in life's other areas. In their attempts to guide their children, parents can become one of the