How Chapter 49 of Great Expectations Fits Into The Overall Scheme of the Text Essay Sample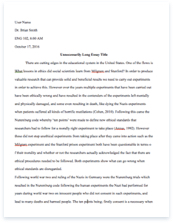 The whole doc is available only for registered users
OPEN DOC
Pages:
Word count: 1473
Category: novel
Get Full Essay
Get access to this section to get all help you need with your essay and educational issues.
Get Access
How Chapter 49 of Great Expectations Fits Into The Overall Scheme of the Text Essay Sample
In this essay I will explore how chapter forty-nine fits into the overall scheme of Dickens's 'Great Expectations'. In addition I will also describe how this chapter helps readers to understand two important themes of this novel: what it means to be a 'Victorian gentleman' and Dickens's comments on the role of women in Victorian society.
'Great Expectations' is a novel about what it is to be a true gentleman; it also explores the life of a young boy and his quest to become a gentleman. This can be illustrated by when pip explains to biddy his tutor " I want to be a gentleman… I am disgusted with my calling and with my life" this shows that pip is not happy with his life and wants to change it. He doesn't want to grow up to be a customary worker like Joe, his sister's husband; he wants to be a gentleman.
Chapter forty-nine is a crucial point in the development of the plot. At this point, Pip visits miss Havesham who feels guilty for having caused Estella to break his heart. She also realizes what she has done and what she has bought Estella up to be like ". 'I remarked a new expression on her face, as if she were afraid of me'. This chapter shows how much their relationship has changed through out the story, and in showing this, Dickens is commenting on how class distinction can be distorted and in particular, how a true gentleman should behave.
The themes explored through the novel and especially in chapter forty-nine echo most of dickens novels for example "Pickwick papers" and "Jane Eyre" focus on a young boy often orphaned who has to discover a place in the intimidating world. Further there may be an autobiographic element to this as Pips voyage from the marshes to the status of gentleman has a significant reference to Dickens own life as his own father was placed in a debtor's prison. Dickens was distraught by this and haunted for life by status and class. This was shown by dickens by setting the novel in the Victorian period when dickens was a small child.
Throughout the novel Dickens focuses on many different male characters from all different social classes. In Pip, we see a young orphaned boy whop tries to better him self and receive a high status in life. This voyage is essentially about Pip learning about the true concept of what a gentleman is meant to be. The reason dickens has used this theme is because it is from his past experiences, but also reflects Victorian curiosity in trying to classify what it meant to be a true gentleman. As Samuel Smiles discussed in 'Self-help', published in 1859 'Riches and rank have no necessary connexion with genuine gentlemanly qualities'. What's more, a 'true' gentleman will show 'a consideration for the feelings of others, for his inferiors and dependents as well as his equals, and respect for their self-respect'.
Pip has a role model to look up for gentleman qualities; the role model is compassionate and considerate and respects everyone around him regardless of their status or wealth. Joe, whose trade is a blacksmith is pips uncle and raises him as one of his own, Pip apprentices him and follows his gentleman examples. This is shown when Jaggers offers to pay Joe to take pip away to tutor him to become a gentleman, in doing this it leaves Joe devoid of a worker. After this offer Joe is outraged hence his comment "money – can make compensation to me- fur the loss of the little child – what come to the forge – and every the best of friends!" Here the loss of the worker means nothing to Joe and nor does the compensation, it's the loss of the child that he brought up to be his son that is the loss to him. This proves that money is not everything to Joe; this is showing gentleman properties to Pip that will follow his examples.
By the time of chapter forty nine pip had become a gentleman and is equal in the eyes of what a true gentleman should be, resembling Joe. When asked by Miss Havisham if he thinks he could ever forgive her, he replies '"O, Miss Havesham," said I, "I can do it now"'. Pip also comments 'I had said and done what I could to ease her mind'. By doing this he is showing true gentleman qualities, as this person he was forgiving made him feel inadequate and small at the start of the story. Dickens is starting to finally show pip in his true colours at this point in the novel- a true gentleman.
In contrast to Dickens's views on what it is to be a true gentleman his views on the role of a woman in Victorian society are depicted throughout chapter forty-nine. Dickens thoughts were the similar as those of Mrs Beeton's 'Book of Household Management' witch taught women on how to be a good wife and meet the needs of their husbands. Miss Havesham is not the typical woman of Victorian era in many ways; firstly she lives alone in an immense house with all the clocks stopped. She still wears the same wedding dress she wore on the day her husband didn't turn up for the wedding. All the tables remain the same and the cake is infested with rats. By the time of chapter forty-nine Miss Havesham has turned in to an unstable dreary old woman.
She on longer made pip feel inadequate as she realised what she had done with life and how she had bought Estella up to be. Pip releases this and tries to forgive her, as she has grown unstable and very lonely. " I remarked a new expression on her face, as if she were afraid of me". In this quote pip realises she has found the error of her ways. By the end of the chapter Miss Havesham has been devoured by her motives for revenge and has turned into a pathetic and sad lonely old woman wanting compassion and love. In this chapter I believe that dickens is suggesting that woman cannot keep control of property or live alone without a male figure in control. She tries to be the opposite of Mrs Beeton's book and fails. Dickens is trying to say woman cannot live without a man in charge or in control, which was the view of Victorian society.
Some critics of Dickens have argued that his female characters are one-dimensional, either sweet and innocent, or bad and evil. However, I disagree. I believe that Miss Havesham is multi layered and we have seen many sides of her. One side is bitter and is swelled with revenge however the other is desperate for love and compassion. As she says herself 'I am not all stone', Here if we focus on the word stone we soon realise that even she feels it is to late to soften her.
Dickens uses a writing style that is very recognisable, his writing has a big effect on the reader in many ways mostly is gives impact. This is shown in chapter forty-nine exceptionally by Miss Havesham when she cries out repetitively 'what have I done! What have I done!' This sentence shows the view that Miss Havesham is mentally unbalanced and has realised what she has become and what she done with her life. After this she cries out again " write under my name, "I forgive her!" Here she is begging for forgiveness for what she has done and wants to make her peace with pip so she has feeling of forgiveness in her.
The last piece of writing style in chapter forty-nine was cleverly written to make the reader want to read on and think something is going to happen towards the end of the chapter (Miss Havesham's death). When Pip walks to Satis house he remembers things from his childhood they may indicate something bad is about to happen for instance he mentions the bells sounding like funeral music. To explain, all these hints remind the reader that something is about to happen another "a new desolate in the desolate house had told me so". Here again imagery has been used to make the reader believe that something is going to happen and make them read on.
To conclude, I have explored how Dickens depicts the themes of a Victorian gentlemen and the role of women in contempery Victorian society in detail. Also I have explains some of Dickens styles of writing and how he uses them to keep the reader engaged and questioning the moral question he states; what defines a true gentleman.