How Different Materials Have Different Densities Essay Sample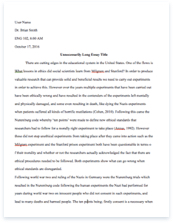 Pages: 3
Word count: 760
Rewriting Possibility: 99%

(excellent)

Category: experiment
Get Full Essay
Get access to this section to get all help you need with your essay and educational issues.
Get Access
Introduction of TOPIC
In this assignment I will be investigating how different materials have different densities. I will be performing an experiment to see if there is any rule which can be used to find out the density of the materials.
Risk Assessment.
Material
Hazard
What Could Go Wrong
Safety Precautions
What To Do In Case Of An
Accident
Risk Low/
High/
Medium
Glass Equipment
Sharp Glass.
The Glass Could Shatter And Be Quite Harmful.
Handle The Glass With Care.
Seek First Aid And Report The Accident To A Teacher.
Medium.
Can
Sharp Spout.
You Could Stab / Cut Yourself
Do Not Touch The Spout.
Seek First Aid And Report The Accident To A Teacher.
Medium.
Different
Materials
They Are All Quite Heavy.
You Could Drop It On Your Fingers.
Handle The Materials With Care.
Seek First Aid And Report The Accident To A Te
acher. Low. Equipment
style="text-align: justify;">Equal sized pieces of each of the following :
– Iron
– Steel
– Glass
– Copper
– Brass
1 Measuring Cylinder
1 Measuring Jug
1 Can With A Spout
Water
Method.
Step 1.
Measure the mass of the first material using a balance and record the results onto a results sheet.
Step 2.
Pour water into the can until it is level up to the spout.
Step 3.
Place the material into the water filled can. Once submurged some of the water will be displaced and will pour out of the spout.
Step 4.
Collect the displaced water in the measuring cylinder and measure the volume, record this value.
Step 5.
Repeat test for all other materials on the equipment list.
Step 6.
Calculate the densities* and write up the results in the table ready for analysis.
*Scientific Note.
To calculate the density of the materials, I had to use the following calculation :
Density = Mass
Volume
Results Table.
Material
Density
Volume
Mass
Iron
4.3256
31cm3
21.4gms
Steel
6.0728
70cm3
467.1gms
Glass
3.74
1cm3
37.4gms
Copper
10.32857
56cm3
578.4gms
Brass
11.22
85cm3
756.3gms
Conclusion.
In this experiment we found that different materials had different densities. The most dense metal was Brass and Glass was the least dense.