How does Charles Dickens make the characters in his novel, Great Expectations, memorable? Essay Sample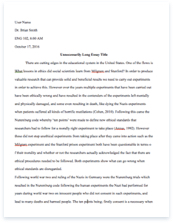 The whole doc is available only for registered users
OPEN DOC
Pages:
Word count: 3123
Category: dickens
Get Full Essay
Get access to this section to get all help you need with your essay and educational issues.
Get Access
How does Charles Dickens make the characters in his novel, Great Expectations, memorable? Essay Sample
Great Expectations the novel by Charles Dickens, follows a young orphaned boy's journey through life. The little orphan Pip, has an insignificant existence, just another common labouring boy, however a twist occurs with the discovery of a new fortune from a mysterious source and he becomes a boy of 'great expectations'. The novel is set in England in the 1800's it is made clear that the novel is set in this period as Pip states as a young boy, referring to his parents 'their time was long before the days of photographs'. This suggests that the novel is set roughly in the 1840's. Later, when Pip has grown up the story seems to be set at the same time as the novel was written, in 1860. Dickens uses many clever devices to make the characters in his novel come alive and stick in the readers mind. He uses vivid description and powerful language, striking dialogue and characters brimming with personality, to make them very memorable. He did this, because at the time, Great Expectations was not published as one whole novel, but as separate chapters in a magazine, as many people at the time could not afford to purchase a full novel.
Thusly in order to keep the readers interested and to make sure they kept buying the issues, he had to make the story exiting and interesting, as well as memorable, so that the narrative stayed bold in the readers mind. The novel begins with a narrative by the protagonist: Pip and continues this way throughout; this makes the reader feel more attached to him as it makes the book feel more personal, and because we feel attached to Pip, we remember him. He is an unforgettable character, as he plays the main role and tells his story to the reader, we are given an insight into his mind, conscience and deepest feelings, this makes us feel even more close to him. Dickens also makes us grow fond of Pip by creating sympathy for him. The reader feels sorry for him and immediately feels close to him and wants him to do well. We can see his vulnerability in the first chapter by the way he reacts to Magwitch; he is terrified ' "O! Don't cut my throat sir", I pleaded in terror, "pray don't do it sir"'.
It is clear that the reader would also develop a liking for Pip because he is polite and humble, we can see from this quote and throughout Chapter 1, during which, he calls Magwitch, a terrifying convict, sir. The name Pip suggests small, like a small seed, vulnerable, but with potential, just like Pip, who has 'Great Expectations'. Also the way that Pip struggles to pronounce his name 'Philip Pirrip' shows him to be small and vulnerable, and creates more sympathy for the character. Dickens named his main character carefully, because names of characters can have a big impact on the reader. He does this in his other novels also, take for example Mr Bumble from Oliver twist, a greedy, clumsy character. In addiction; the fact that Pip is an orphan relates to the readers at the time, because many children were orphans in the 1800's and the many were treated cruelly and unjustly. It is the fact that Pip is an orphan (this even more realistic for the time) that creates even more sympathy to be felt by the Victorian reader.
Dickens at the time wanted to reform society through the medium of his novels (he was influenced to do this because of feelings from his childhood- his father was imprisoned and he was forced to work in a shoe blackening factory) he uses his storytelling power to convey a powerful message, almost like a fable. He uses Great Expectations to question the structure of Victorian society. From the beginning of the novel, Pip is taken into our hearts, and therefore he remains in our hearts and minds. The atmosphere that Dickens surrounds Pip with adds to his overall character enormously. The impressively constructed and frightening environment that he is surrounded by, adds to the character as it creates a link between an environment and a character, for example the marshes remind us of him. The marshes are an effective backdrop for Pip; they are quite eerie and add to the atmosphere and therefore the character. For example the way that the marshes are described: 'The marshes were just a long black horizontal line then…. and the Sky was just a row of long angry red lines and dense black lines intermixed' Dickens personifies the environment 'angry red lines' to add extra effect and really bring Pips background a deeper effect, the frightening ethos that is created helps show how Pip is really feeling.
The use of powerful colours creates an even more powerful atmosphere, black is associated with darkness and death, and red is associated with anger and passion, these connotations help to build up the environment that Pip is in. Dickens creates this pathetic fallacy so the reader remembers the environment and therefore the characters. As aforementioned, one of the reasons Pip is remembered is because the reader feels sorry for him. His relationship with Mrs. Joe makes us feel even worse for him, and because she treats him so badly, and because the reader likes Pip, the reader dislikes Mrs Joe. Just the fact that she makes Pip call her Mrs Joe, shows that they are not close. They do not act it, but they are supposed to be brother and sister. We recall how she used to beat Pip with her devilish cane, ironically named tickler 'tickler', which we remember because of its clever name. 'Mrs Joe, throwing the door wide open…applied Tickler to its further investigation. Dickens uses Mrs Joe as a device to make Pip seem yet more defenceless and innocent.
The meetings with Miss Havisham are also an important part of Pip's development and are a standout part of the novel. The way he responds to Miss Havisham and Estella and how he interacts with these characters shows an important side to Pip's character. We see how he is still a polite and humble boy, yet he longs to be part of upper class society. He shares a great deal of admiration for Estella and Miss Havisham and also a degree of jealousy. A crucial part of the story is his love for Estella, who in turn shared little fondness for Pip. She dubbed him a 'common labouring boy' whereas Pip says that his admiration for her, 'knew no bounds'. This is memorable because the reader can relate to it, many people have experience unrequited love in their lifetime, perhaps even more common in our times, so is even more felt by the modern reader. Pip's naivety shows very clearly in this section, as we see the shy young boy fall into the trap set by the twisted Miss Havisham. She calls Pip simply by the name of 'boy' and this name she gives him becomes very distinct because of what it symbolises; the fact that she sees him as inferior, when ironically she is from lowly descent.
Another memorable thing about Estella is her appearance. She is portrayed as an icy beauty, a person with little compassion but one who is very beautiful and as Miss Havisham puts it is 'admired by all who see her'. The character of Joe Gargery is a very important one, especially while Pip is growing up, his gentle nature and kindness towards the little orphan Pip, makes him a hit with the reader, both modern and Victorian. It goes from their playful experiences together as Pip was growing up, such as the way that they used to eat the bread and butter together, to Joe protecting him from the fiery wrath of his older sister, to their awkward meeting in London ( where Joe still has an incredible amount of respect for Pip). For example when they meet, he takes no offence in the way that he is looked down upon by Pip this would take a great amount of respect and kindness. He still continues to call him 'Pip, dear old chap' which shows his affection for him, the reader likes Joe because we also share this affection for him.
This humbleness means that he is well liked by the reader, and characters that are well liked become unforgettable. Through the medium of Joe Gargery, Dickens is trying to convey a message. He is trying to show that although Pip has become a stereotypical 'gentleman' he does not show any respect to Joe, whereas Joe himself, is humble and respectful towards Pip. By using the interactions of these two characters, Dickens is trying to show how, being noble is not about what a person is in body but it is about what a person is like in spirit and that Joe Gargery is the true gentleman of the two. Another distinguishing feature of Joe is his accent, much like Magwitch, this helps to make him more distinctive. He misses f's from of's 'O' and saying things like 'elth' instead of health. His accent makes him into a more believable, well rounded character. He is also distinct because of his background, we recall him as a blacksmith and when the reader thinks of Joe we see him in the forge, with a hammer in one hand. As Joe Gargery says himself, the forge is where he belongs, and he feels 'wrong' anywhere else. The clear backdrop he is placed in makes him easier to remember.
Through the medium of Joe Gargery, Dickens is trying to convey a message. He is trying to show that although Pip has become Another particularly indelible character is Jaggers, he is Pip's guardian in London, while he is still young, and a well respected lawyer. His place in London as a lawyer makes him seem like a more real character, because his has a life prior to the events we see in the book. For example there are the face moulds of previous clients that show that he has a life outside the storyline, making him more realistic, it also adds to the overall atmosphere of Jaggers' office, filled with many strange things along with the casts. 'There were some odd objects about that I didn't expect to see, such as a rusty pistol, a sword in a scabbard, several strange looking boxes and packages and two dreadful casts on a shelf, of faces peculiarly swollen, and twitchy about the nose.' The word dreadful brings a slightly scary element to the atmosphere, which makes it stand out. It must also be noted that as explained previously, like other words the word dreadful would have had a bigger impact on the Victorian reader.
We also see him appear briefly while Pip is a young child; this again shows that he has a normal existence outside the plot. One particularly distinguished feature of Mr. Jaggers is the strange obsession with washing his hands, this feature may seem like a small touch but it adds a great deal to a characters personality, as it brings individuality and uniqueness and makes them even more memorable. Pip remarks on how, he could smell the sweet soap on his hands when they first met. There are many more even more brilliantly formed characters throughout the novel, and I think that is Dickens' developed characters that make his novel such a masterpiece. One of the techniques he uses is the striking appearance of his characters, made even more potent by the brilliant description that Dickens is so famous for. Take for example the convict Magwitch in the opening chapter; the description that Dickens uses really brings him alive, a vivid picture appears in the readers mind. 'Hold your noise, cried a terrible voice…….A fearful man, in all coarse grey, with a great iron on his leg. A man with no hat, and with broken shoes, and with an old rag tied around his head.
A man who had been soaked in water, and smothered in mud, lamed by stones, and cut by flints, and torn by briars; who limped, and shivered, and glared and growled; who's teeth chattered in his head as he seized me by the chin' This very long descriptive piece helps build very vivid image in the readers mind, and because it is a very strange and frightening image it is even more memorable. Dickens uses a long list of descriptive words to create a very powerful image. The use of a long list in the description of Magwitch is a metaphor for the struggle this man had endured, with his plight carrying on like an endless list of things. It is even more so to a Victorian reader, because for example a man with no hat, was a man with no self decency in those times, and many words have changed meaning slightly and were more powerful in Victorian times, for example the word terrible would have more impact on a Victorian reader, than one today. Magwitch makes an impact from the very beginning, making the novel more exiting and enticing us to continue on.
This fearful image stays in the readers mind, because it is so well described, so that even though Magwitch does not make any appearance after the opening few Chapters, he sticks in the readers mind, so that when he does make his appearance later on, it has a huge effect on the reader. There is also a comical side to Magwitch, which perhaps was more effective in Victorian times, as humour does change; nevertheless, readers often recall events that they found amusing. For example in the graveyard when The convict turns Pip on his head: 'The man (Magwitch), after looking for a moment, turned me upside down and emptied my pockets' This is more like what would be seen in a comic strip, rather than in real life, and is intended to be comical, even if it does not leave the reader in stitches, it is mild comedy. Another example of the use of comedy is when Magwitch attempts to run from a Victorian woman, because he is frightened of her, women in those days were not seen as strong, they wore tight dresses and were inferior to men, and readers would find it comical that a rough convict is running from a woman.
These comical instances (there are many more scattered through the book) often can be the most memorable ones because they make the reader laugh. Dickens gives Magwitch an accent, which can be seen by the way his speech is written, to imply that he is of a lower class. However it has another effect: it brings the character to life; it adds a great deal of personality. He says things like 'pint out the place' and 'tell us your name' he also shortens words, for example 'who d'ye live with'. It makes it seem like he has had a life prior to this book, making him much more or a full bodied, real character. The way that the speech of Magwitch is written gives added meaning to the character, the reader remembers his accent. Another character whose image is very potent is Miss Havisham. She is a very peculiar character and this comes across when she is described, she is also quite mysterious, which makes us want to know more about her. Her surrounding also adds to her overall persona, which I will discuss later, because Dickens uses environment to great effect. A beautiful piece of descriptive writing is used to create the image of Miss Havisham; I think it is the most memorable part of the novel.
'She was dressed in rich materials – satins and lace, and silks – all of white………… But, I saw everything in my view which ought to be white, had been white long ago , and had lost its lustre, and was faded and yellow…..Once I had been taken to see some ghastly waxwork at the fair, representing I know not what impossible personage lying in state. Once I had been taken to one of our old marsh churches to see a skeleton in the ashes of a rich dress…. Now that that waxwork and skeleton seemed to have dark eyes that moved and looked at me, I should have cried out, if I could. This passage is the first the we hear of Miss Havisham and the impression we get is very vivid, the first impression is usually the most important one; the first encounter of a character is the one that stays in the readers mind. Miss Havisham makes a dramatic first appearance, and Dickens uses strong language such as ' ghastly, and faded and yellow, she is also described in the same passage as having 'shrunk to skin and bone' I think the word shrunk is particularly effective here as it implies how she has withered and degraded in time, like a rotting fruit.
He also uses powerful comparisons like 'Waxwork and Skeleton' to create a very memorable image. The house of Miss Havisham is also a crucial part of her character, as it really personifies her inner feelings. The dingy, dank shuttered room full of cobwebs creates a dark atmosphere and shows how Miss Havisham is feeling. And because her feelings are shown in the atmosphere of the house, they are remembered- the reader recalls the gloomy house and links it in with Miss Havisham, this adds greatly to her personality, Miss Havisham, without her house, would not be half as effective. Lastly it is the moral story of the whole plot, and the comparison between morals and the class system which is illustrated very well by the characters and the style of the plot that make this novel stand out. It shows how the lowliest citizens can turn out to be the kindest (Magwitch the convict, who helps out Pip and leads him to a better life) in great contrast with Miss Havisham (who is very wealthy but turns out to be very cruel to Pip by conditioning Estella to break his heart).
This showing of an ethical, almost fable-like storyline makes the characters more meaningful, as the moral side of the novel is also remembered by the reader. Overall I think Great Expectations is a fantastically distinguished and memorable novel, containing unique characters that really bring it alive. It is has an array of momentous characters and is certainly a historic creation by a man accredited as being one of the greatest storytellers of all time: Charles Dickens.