How does Dickens create atmosphere and suspense in the first chapter of Great Expectations? Essay Sample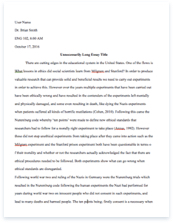 The whole doc is available only for registered users
OPEN DOC
Pages:
Word count: 1776
Category: dickens
Get Full Essay
Get access to this section to get all help you need with your essay and educational issues.
Get Access
How does Dickens create atmosphere and suspense in the first chapter of Great Expectations? Essay Sample
The chapter is written in the first person narrative, Pip as an adult looking back at his childhood. In the first paragraph there are examples of childlike humour in regards to his name and explaining how his nickname came to be.' My infant tongue could make nothing longer or more explicit than Pip'. This is very important as it portrays innocence, and we need to like the character, so we want to read on and find out more about him or her.
On Page one we learn that it was a 'memorable raw afternoon' dickens uses very descriptive phrases to help picture the time of day. We are told that it was ' afternoon towards evening' indicating it was the time shadows are most likely to be seen putting across a spooky atmosphere with objects taking different forms. Words like bleak and raw are important as they describe the extreme conditions. Dickens uses colour imagery well within his descriptive writing, phrases like 'long black horizontal line' to describe the marshes and 'a row of long red angry lines and dense black lines intermixed' works well because using colours increases intensity, as well as using adjectives creatively.
The setting is highly crucial to the chapter, setting it in a graveyard is isolated, lonely cut off and miles away from anything. This again builds suspense and is quite a scary place to set it.
The graveyard is described as 'bleak ' a very harsh extreme word pointing out how horrendous the place was. 'overgrown' 'wilderness' 'savage lair' 'dark flat' and 'scattered' are also used to describe the setting creating a black and an uncared for, cold, overgrown setting, but we get the impression Pip goes there a lot so we think he's quite lonely and sad. Also the fact that it's set in a graveyard is very depressing considering the situation.
Pip is a boy of six and he's alone in a graveyard on Christmas eve; these facts create sympathy for Pip. The marshes in general are a 'dark flat wilderness' but on the very last line of page one dickens describes describes the sea as a distant savage lair. The word lair implies a trap and savage is a very aggressive word.
On the last page we find Magwitch 'picking his way among the nettles, that had overgrown the graveyard' dickens sets in such a place because the setting almost mirrors the character. Magwitch is uncured for, messy, scary and he has just got out of a cold harsh prisons the setting is very similar to the character of Magwitch.
In the gloom Pip spots a beacon and a gibbet, he refers to Magwitch as the pirate come to life, and come down again, and going back up to hook himself up again' showing how low Magwitcht was at that time and how vivid Pip's imagination is.
Pip is ' a small bundle of shivers growing afraid of it all and beginning to cry.' This phrase creates pathos for Pip but we also come to see what a dramatic boy Pip was. Dickens is appealing to our sense of sympathy using this phrase. On the final page Magwitch's last words to pip are 'I wish I were a frog. Or a eel!' This shows how low Magwitch really has become. In the chapter Magwitch is put across as quite animalistic so saying that phrase is quite ironic. We are told while Magwitch says this he 'hugged his shuddering body in both arms' this is for comfort and reassurance and out emotional response is again one of sympathy and we feel sorry for him.
Dickens creates sympathy for Pip who is an orphan. He has lost his mother and father and five brothers. His sole surviving relative is his older sister. He refers to her as 'Mrs Joe Gargery'. This tells us without a doubt he does not have a close relationship with his sister. She has 'adopted' him and it is clear that he feels guilty for living and being a burden to her. We never actually find out his sister's real name and his closest friend/relative is his sister's husband Joe. The way the chapter is written is slightly unbelievable in that pip can read, write and speak properly with his upbringing, so maybe older pip has 'brushed it up?'
Pips sister has completely avoided telling him about his mother, father and brothers, indicating her harshness and stubborness, or maybe the experience of losing her parents and siblings has effected her personality and is too painful to talk about.
In paragraph two Pip uses his vivid imagination to describe his family. His descriptions were 'unreasonably derived from their tombstones' and he also uses the word 'fancies' meaning mad ideas. He describes his father as a 'square, stout, dark man with black hair.' His mother as 'a freckled and sickly woman' and his brothers as each lozenges about a foot and a half long. Pip has been going to the church for years but never really realised the significance.
Dickens uses black humour a lot during the first page. For example he believed his mother's name was actually 'also Georgiana wife of the above' and his fathers 'Phillip Pirrip, late of this parish' this allows us to feel sorry for Pip but be half smiling at the same time.
We get the feeling that pip misses his family even though he has never met them, and maybe he wishes he had gone with them.
The whole paragraph about his family steadily builds empathy, and poignancy. There is great tension between Magwitch and Pip. Pip is undersized and not strong the way he is described he comes across as vulnerable and we do feel extreme empathy for him. Pip's actions are very passive and he is responsive to magwitch's demands through pure fear. There is a complete contrast in the words used to describe Magwitch's actions to Pip's. For example 'timidly' for Pip and 'ravenously' for Magwitch. Threatening for Magwitch and pleaded for Pip. The way Magwitch is described we have mixed feeling towards him. The conversation introducing us to Magwitch leaves us thinking he's an aggressive, threatening, dangerous man but as we read on we see how badly society has treated him. We become aware of the physical torment that he has endured. Magwitch is a good man turned bad, turning to crime to survive. The choice of verbs is aggressive, done against the convict not by the convict.
Dickens gives Magwitch a speech impediment so we find a way of laughing at him and that he comes across less frightening. Dickens cant make him too despicable as we have to have time for him when he returns later in the book; there has to be a nice side to him the we see. Magwitch is not very well educated and he speaks in colloquial dialect- Local to his area (Kent) and he is not always grammatically correct.
Dickens employs the use of antithesis to balance the sentences a perfect example of this is 'so that his eyes looked most powerfully down into mine, and mine looked most helplessly up into his.' This is a very effective use of language.
Pip is confronted by magwitch and magwitch gives pip an ultimatum to get him the things he needs or he will kill him.
Magwitch constantly makes threats against Pip 'keep still ya little devil or I'll cut ya throat', ' you bring em both to me or I'll have your heart and liver out.' It is funny how even though he is being threatened pip still answers Magwitch in a polite way every time ' yes sir' 'oh please don't cut my throat sir'. This creates extreme empathy for pip and it also affects the way Magwitch acts, he is almost embarrassed.
Magwitch turns pip upside down to empty his pockets this puts across quite a comical visual image.
In the same paragraph the phrase ' when the church came to itself' is used, this is characterisation of the church. He also uses personification with the phrase 'the church jumped over its own weather cock.'
At some points in the chapter we feel almost terrified for Pip, Dickens uses repitition, the tripling effect on 'he tilted me again' and this builds tension. Also the listing effect is a very effective way of building pace in a story.
It is quite ironic when Magwitch is tilting Pip over the gravestone because Pip is clinging to Magwitch, clinging to the very person he wants to get away from. Pip uses the phrase 'he came closer to my tombstone' maybe he thinks his death is nigh?!
In the sentence 'after each question he tilted me a little more, so as to give me a greater sense of helplessness and danger' it is excellent descriptive writing to create good visualisation.
Magwitch uses actions that scare Pip for example 'with a threatening shake of his hand', ' he seizes me by the chin' but we are exposed to a more cowardly side to Magwitch when he asks where Pip's mother is. As soon as Pip replies 'there sir' Magwitch begins to get afraid and starts running away until he realises Pip is pointing at a grave. As soon as Magwitch realises Pip is an orphan he starts to change; he starts to feel sorry for Pip, Mainly because Magwitch was an orphan himself. Although Magwitch is concerned he never wants to show it and does his very best to hide it; e.g. ' who dye live with, supposing your kindly let to live, which I int made up my mind about yet.'
Sometimes I do feel that because Pip is beaten by his sister its not the physical aspect of the torment, its the mental and emotional due to the unreliability of a strangers threats.
In the paragraph at the bottom of page three Magwitch threatens pip with 'a dangerous young man.' This is primarily to scare Pip into pursuing his demands and also to keep up his 'hard man' act. It is so ironic that Magwitch should make up such a ghost story because there really is another convict in the graveyard so when Pip sees him and tells Magwitch the next morning Magwitch is left in a state of confusion, which is really quite amusing.
All in all I think Dickens uses an array of techniques very well which create tension in many aspects of the first chapter especially between the characters.