How Dreams and Dreamings Affect Individual Characters in of Mice and Men Essay Sample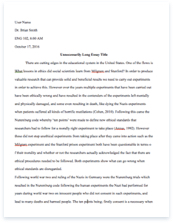 The whole doc is available only for registered users
OPEN DOC
Download Essay
A limited time offer!
Get a custom sample essay written according to your requirements urgent 3h delivery guaranteed
Order Now
How Dreams and Dreamings Affect Individual Characters in of Mice and Men Essay Sample
The American dream ideally complements life and the pursuit of happiness. This vision has been extremely distorted within the 20th century to fit the new variety of Americans whom were greedy and selfish. Of Mice and Men was set during the Great Depression. The American Dream was no more; the land of opportunity was now the land of failure. George and Lennie, the two are best friends, however different they may seem both share a common goal. Their main ambition is to purchase land they can call their own; to work for themselves, and live a simple life. Candy also is intrigued in the pair's vision. Curley's wife longs for is to experience the world for herself, she feels she is a prisoner within he own home. In this essay, I will explore how dreams and dreaming affects individual characters in the novel. George's life revolves around Lennie. George may sometimes seem as if he detests Lennie's company, we actually see George's devotion to Lennie is eternal. Their goal is to "get the jack together," and buy a few acres of land they can call their own, " an' live off the fatta the lan'". To own a content home, where they can work for themselves and be free of the scrutiny of society.
Lennie is amused by the dream, whenever George speaks of it; Lennie goes into a blissful sort of day dream. After Lennie kills Curley's wife and runs away to the brush where George told him to meet him if he were ever to be in trouble, George reminds Lennie of their dream and how happy they will be when he has to shoot him. George knows how excited Lennie gets about their future plans. He wants Lennie to die peacefully, in happy thoughts. Candy is a much older worker, who has lost his hand. He isn't worth as much to the ranch's employer as the other men, so he fears unemployment. He has always dreamt of a better life. Whilst in the bunkhouse, he overhears George and Lennie speaking of their future plans. "You know a place like that?" George immediately has suspicions of the man, defending the idea. Candy explains that how he hasn't much time left before he's 'canned' and he has no place to go.
Candy offers his life saving to the pair, and asks only to live there until he dies. George and Lennie accept his offer and become even more optimistic about it. Their dream was slowly becoming a reality. During conversation with Crooks and Lennie, Crooks mocks them and tries to put down their plans and ambitions after seeing many people never reach their goals. Candy and Lennie refuse to take any notice or nonsense from Crooks. They never stop being positive. Curley's wife is the main figure of temptation within the novel. She equally has dreams of her own. For many years, she has badly craved and aspired to become an actress and work in show business. She met an actor when she was fifteen and he said she was a "natural". Ever since she met him she has wanted to be "in the movies". Her cruel mother never let her pursue her dreams. Instead of achieving her dreams, she went onto marry Curley; A possessive self-centred man.
"I don't like Curley. He ain't a nice fella." She is lonely and isolated. Curley bans her from speaking to everybody on the ranch. She desperately wishes for a different life, the one she had always longed for. Another person who has a dream is Crooks. His wishes to be treated as an equal with white people and to have the same rights. He feels excluded just because of the colour his skin is. He seems a little drawn to George, Lennie and Candy's dream for a little while but then withdraws, because he remembers they probably wouldn't want him and also he has "never seen a guy really do it," and "seen guys nearly crazy with loneliness for land, but ever' time a whore house or a blackjack game took what it takes." He disapproves even thinking about it.