How Prejudice Is Portrayed Towards Women Through Their Society In The Withered Arm and Turned Essay Sample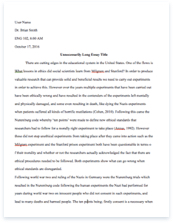 The whole doc is available only for registered users
OPEN DOC
Pages:
Word count: 1316
Category: women
Download Essay
Get Full Essay
Get access to this section to get all the help you need with your essay and educational goals.
Get Access
How Prejudice Is Portrayed Towards Women Through Their Society In The Withered Arm and Turned Essay Sample
Over time the position of women in society has greatly changed. They were long considered a weaker and inferior sex with little, if any rights. If a woman was to be respected there were many expectations to be met. The Withered Arm was written in the 19th century by Thomas Hardy and expresses the attitudes against women of that time and the expectations of their biased society which live by strict paradoxical opposites.
The two main characters portray two extreme contrasts of social status. Firstly Gertrude Lodge, a pure innocent victim, and Rhoda, a woman who had made a name for herself as a bitter, ill-favoured, malevolent floozy.
Turned, written by Charlotte Gilman, approaches the subject of male superiority far more directly, with strong intellect from a controversial female character such as Mrs Marroner.
Mrs Marroner is a women loyal to herself; you cannot help but admire her self control and have the up most respect for her modest pride.
Again, in Turned we have a vast contrast between the two leading ladies. Gerta a maid to the Marroner household is yet to mature into a woman. She is described as ignorant and childish her juvenile personality is venerable and pure, her innocence almost alluring.
Girls such as these quite often became victimised by chauvinist men, who abused the position in their society. Their willing ways invited men's curiosity, such as Mr Marroner.
Mr Marroner, fit's the perfect male stereotype for the 19th century. His prejudice devotion towards female inferiority is typical of that time. Gerta and Gertrude have both been victimised because of their virgin charm, both torn by mans desire.
Turned and The Withered Arm were written no more than 16 years apart, yet they both tell a story of two very different worlds. Rhoda and Gertrude are considered inferior to their male counterpart, The Withered Arm is set when women had to earn a respected status. A "lady's" character is expected to be flawless, with both inner and outer beauty to make a suitable candidate as a future wife for a man of high calibre. Turned is very much ahead of its time, Gilman is aware of the change in times and how things "used to be". The character of Mrs Marroner is a new breed of women, they will be the indomitable generation to take on the change that has already begun. But will this male dominated society change with them?
When Farmer Lodge brings his new wife Gertrude home, the whole village begins to make the comparison between herself and Rhoda. No one more so than Rhoda herself.
Farmer Lodge is the father to her only son, who is a forgotten result of their past affair. His illegitimate son and the mother to his child were both easily discarded by Lodge's affection.
Farmer Lodge "hasn't spoke to Rhoda Brook for years", and it is clear time hasn't been kind to her, bitterness has grown with age, inside and out she has "faded". She is no competition for the fresh young trophy wife hanging from Farmer Lodges arm.
A true beauty inside and out, Gertrude has all the modesty a young lady should have. Farmer Lodge, does not have a impeccable history with women, but for a woman to be his wife, she must be monogamous to him, and only him.
What is considered acceptable behaviour for a man would be unacceptable and condemned in a woman in 19th century society. One rule for one gender, the adverse for the other.
Rhoda is driven by jealousy, she is well aware that she is past her prime. The arrival of Gertrude puts salt in her wounds. Rhoda is not generally a unpleasant woman, but the years of mental torment have hardened her, she has become hostile, quickly judgemental, easily begrudging.
Without even meeting Gertrude, she uses her as a source of blame, for every wrong doing Farmer Lodge and her culture has put her through.
What irritates her more is that Gertrude is not a dislikeable person, quite the opposite.
But before they have even met Rhoda has built a image as clear as a "realistic photograph".
Rhoda's envy is always in her subconscious, until one night it gets so intense that she has a dream where all the pent up animosity from the years of loneliness is unleashed, she dreams of hurting Gertrude. She afflicts her with a handprint across the arm, the ugly form of jealousy branded on her skin.
Mrs Marroner unlike Rhoda, is a attractive and intelligent woman, but she also has been betrayed. Her young maid Gerta, is at the heart of her husbands temptation. Gerta has a charm, as a servant, she has a dependence which appeals to Mr Marroner's power, his position as her employer leaves her an easy victim. Mr Marroner's abuses his astute position in society, and in his home. Gerta's loyalty left her cornered at the mercy of Mr Marroner's discretion.
Mr Marroner's actions have insulted his wife's intelligence, "he knew, he understood. He could fully foresee and measure the consequences of his act." when she discovers Mr Marroner's well formed affair, she suddenly begins to feel the humiliation running through her veins through her affection she feels she has become blind to how foolish she has become.
For the first time in her adult life, she failed to be capable of swallowing her emotions, unable to even "cool her feelings into thoughts". She crumbles, a turbulent mountain of emotions falling around her.
To make things worse, Gerta is pregnant, carrying Mr Marroner's child. Mrs Marroner "had never experienced jealousy in her life – till now". Like Rhoda Mrs Marroner suddenly despised the cause of her anguish. Envy consumes the soul, but what these two women make of these uncontrollable feelings achieves two remarkably different results, one of defeat and another of triumph, and hope.
Mr Marroner carries one fundamental difference in her personality, in the face of adversity, Mrs Marroner has no fear in meeting the challenge face on. She realises that she does have a choice. Faced with devastation, she is not obliged to let it overcome her.
After releasing her deluge of feelings, she uses her well disciplined strength of character to overcome her initial feelings, and to put right her husbands wrong doing.
She sees the bigger picture, "the offence is against womanhood. Against motherhood. Against – the child" Gerta's child symbolises the hope. The new generation, the opportunity to make a change.
Mrs Marroner has the strength to see past the problem to a brighter future. She believes in woman's ability to take control in a male dominated world, its is just a question of mind over matter.
Mrs Marroner was just one of many women who soon realised that they all had a choice in their circumstances, the refusal to sub miss to what is statutory, but not moral, has given hope of a finer future.
Farmer Lodge and Mr Marroner, are two very similar characters. Essentially what they did is very similar, but their cultural circumstances make their wives reactions highly contradistinctive.
As the women of their culture are changing, no longer satisfied with the lack of courteous regard given to them by their society, so will their husbands.
Rhoda and Mrs Marroner are two adverse characters, who both suffered from the prejudiced society they live under, the men they love, the stereotypes of the time. The 16 years passed between the times when each book was written displays a dramatic change in culture. With such changes taking place, their can be faith that the children of these woman will be born into equality. Gerta's child will be born into a world of equal opportunity.