How the Above Policy and Procedures Help Children/Young People Essay Sample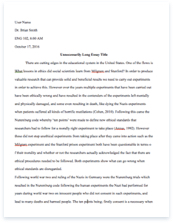 The whole doc is available only for registered users
OPEN DOC
Pages:
Word count: 1091
Category: abuse
Download Essay
A limited time offer!
Get a custom sample essay written according to your requirements urgent 3h delivery guaranteed
Order Now
How the Above Policy and Procedures Help Children/Young People Essay Sample
Analyse how the above policy and procedures help children/young people and their families whilst the child is being looked after. In this assignment, I will be analysing how the above policy and procedures help children/young people and their families whilst the child is being looked after in recommendation to a child protection policy of a setting in health and social care sector. In addition to identify what are the advantage and disadvantages of the children's protection policy. A children's protection policy is a document guiding all service provider on the ways and how they can safeguard children from being harm or exploited. A policy is a file or document that guides the service providers with principles on their how the ways to put their work into practice when working with service users. E.g. behavioural policy A procedure is stages to achieve an end such as ways to take to discipline an individual. "If children need assistance with toileting, the toilet door is left open and other staffs are made aware of what is happening"
The advantage of this is there is a high chance of the child not endangering themselves, the child will not get locked in the toilet which could result the child being exposed to danger or even hazard substances in the toilet as they do tend to touch substances not being aware of the danger it is for them. However, the disadvantages are that the children could face invasion of privacy, may encounter discomfort and the state of feeling embarrassment. Also, having been assisted in the toilet by a worker may possibly put the children at a great risk of being sexually abuse or even physically abused. "A record will be kept of any incidents or accidents that happen whilst in our care" The advantage of recording incidents and accidents could be good as it can be later used and see what the problem is. In addition, the advantages of keeping records of incidents and accidents is so that the people in the workplace are fully aware of what is going on, how many incidents and accidents that occur every now and that.
Also, the advantages are that the organisation can monitor the hazard that are being exposed to workers and service users which can be prevented and reduced. Having records of accidents and incidents enables the employer to asses and spot out the risk of health and safety in the environment. In addition, the advantage of recording of incident and accident as it can be used as a reference to be able to back and have evidence of the report. The disadvantage of recording incidents and accidents is that all incidents and accidents are been recorded and taken seriously even though the occurrence of minor accident and incidents. Also, not all incidents and accidents are recorded because it may be regarded as unimportant and not a serious incident. "Adults respect children's privacy and personal space. They should not touch or pick up a child who does not wish adult contact" The disadvantage is that what if the child is putting themselves in danger or putting others in danger by throwing heavy objects. Also, the disadvantage of this is that a child may require adult contact but is not been given to them in the appropriate time.
The disadvantage of the workers not touching or picking up a child who does not wish adult contact can be abused; although, leaving the child alone may be more of a risk of being abused, leaving them as they wish may result to the children throwing an tantrums, become physical violently and harming themselves. The advantage is that all the children are given privacy and personal space in order to make them feel comfortable and reassured. However, this gives children the rights to have their own privacy and space they need as well as feeling empowered. This also enables children to have their needs taken into consideration and encouraged by the service providers. Also, the advantage of adults (service providers) respecting children's privacy "If any adult suspects that a child may be suffering from abuse or neglect, the Nursery Manager must be informed and the concerns will be recorded and reported to the local safeguarding board and Ofsted"
The advantage of an adults suspecting that a child may be suffering from abuse or neglect is by being able to identify that a child is being abused them this could help prevent any further abuse taking place. Also, that the policies encourage service providers to monitor every child and be more alert and aware of any their signs of abuse or neglect such as a child not being given adequate amount of food, care, being cleaned and recognise physical abuse such as marks or burns. The disadvantage is that not every staff member is able to identify and in some cases they will turn a blind eye.
On the other hand, a service providers may not being be fully competent and trained to spot a child experiencing abuse or neglect. However, the disadvantage of an adult suspecting a child may be suffering from abuse or neglect is that they may not be aware and alert of the behaviour of a child such as children withdrawn from others or even notice the marks or bruise on a child's body which they may look at it as minor harms instead investigating the what actually to the child. In contrast, by not reporting the suspicion of abuse, taking further investigation and action; then this could have a serious effect on the child such as having severe fractures or even death. "Any unchecked person will never work unsupervised"
The advantage is that the unchecked person working in the nursery without thorough the CRB procedure will not be working without supervision. The advantage of any unchecked person working in the nursery will not be left unsupervised ensures that a person without a CRB check will not be allowed to work alone which make sure that they do not harm or abuse children and they are not a risk to vulnerable children. The disadvantage of any unchecked person will never work unsupervised is due to the lack of employees the unchecked person may work in Nursery unsupervised or the staff may forget to consistently supervise the person. Also, the disadvantages of this that the workers may leave the person unsupervised for a while and lose focus on monitoring the person which gives the person an opportunity to harm or exploit the children.