How to Be a Better Person Essay Sample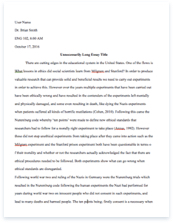 The whole doc is available only for registered users
OPEN DOC
Pages:
Word count: 435
Category: homework
Get Full Essay
Get access to this section to get all help you need with your essay and educational issues.
Get Access
How to Be a Better Person Essay Sample
If I were to be anyone, I wouldn't want to be anybody else. Instead, I would want to be a better person. We're humans, we make mistakes. We may not be perfect but we will always try to be our best at all times. If you look at someone beyond their imperfections, you might find something. Everyone would want to be a better person. It depends on that person themselves to make it happen. It would be meaningless if a person does not put in the effort and commitment into what they want to achieve. Everyone has their own unique way to become a better individual. You can better yourselves in many different aspects. The common aspects that people want to better themselves in are education-wise, fashion-wise, attitude-wise, health-wise and many more. Being a better person is one of my resolutions. I want to change my way of studying. I used to study the last minute during my primary days. As I increase my level, I knew that I couldn't study that way anymore. It would be difficult for me. So I thought, I should start planning ahead on my studies. And so, I did. I made a timetable with the subjects that I want to study and also with the date and time.
I also thought that I need a new technique of studying. I figured out a new way which was "survey, question, read, recite, review" technique. We get homework very often from our teachers. When I was in my primary level, I used to procrastinate on my homework. It will pile up every single day. I end up doing all of them in one day which made my brain cramp. The key to studying is paying your full attention during classes so therefore, I have to focus and concentrate when studying. I learned that I cannot study in a noisy environment especially when I'm doing my mathematics and when I'm writing compositions. Effective studying doesn't only matter on how you study but also concerning your mind. You will need motivation and inspiration. People share ideas to inspire others. Set your goals high and don't stop until you get there. You will get lost if you have a life without goals. Positive visualization is very important. Don't go around thinking that you will never be good in anything and thinking that you are hated and worthless. Those are my ways of being a better person education-wise. Others may also find it very effective while some may find it not suitable for them. Like I said, it's all up to you.