How to Be a Successful Entrepreneur Essay Sample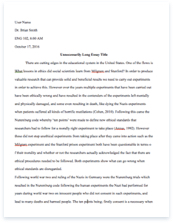 The whole doc is available only for registered users
OPEN DOC
Download Essay
A limited time offer!
Get a custom sample essay written according to your requirements urgent 3h delivery guaranteed
Order Now
How to Be a Successful Entrepreneur Essay Sample
An entrepreneur is someone who is a risk taker in the market, a person who never gives up on their lifelong work, and someone who owns their own business. Bill Gates is extremely intelligent in many specific areas, and one of those is computers. Gates is an entrepreneur who started his own business named Microsoft. Microsoft is a software for computers, including its own, and has several partnerships with companies like Xbox. He is said to make two-hundred-fifty dollars every second, which is about twenty-million dollars a day. He is the third richest man in the world, but how could a college dropout achieve this much success? Bill Gates is successful because he was introduced to computers at a young age and took a great deal interest into his work. Today, he is determined to never give up on making his business, and thats why he is here, because he will continue to expand, and improve Microsoft.
Bill Henry Gates III was born in Seattle, Washington on October 28, 1955 to a very wealthy, and intelligent family. He has two sisters: one older sister named Kristianne, and younger sister named Libby. Gates had attended a public elementary school, until his parents, Sr. Mary Gates and William Gates II recognized his stupendous intelligence and enrolled him, and his sisters, in a highly academic private school named Lakeside Private School in Seattle. Lakeside Private School is where Gates was first introduced to computers. At only 13 years old, Gates started to program computers, and become very interested in them.
At age 14, he took on a project involving computers that earned him twenty-thousand dollars. After he graduated in 1973 from Lakeside Private School, he was enrolled in Harvard, a college in Cambridge, Massachusetts. He was planning on receiving a degree in law, but then after deciding in 1975 that he wanted to start his own business with Paul allen, co-founder of Microsoft, he dropped out of Harvard to pursue his dream: computers. Microsoft was established in 1976 as a trademark, and four years later, gave Gates the 'National Medal of Technology for Technological Achievement' from George Bush in 1992. Gates' early life was a huge component to where he is now; therefore, making him one of the richest people in the world.
Bill Gates, and his friend Paul Allen created one of the biggest software companies in the world according to Barber Verberne. Allen and Gates created a world-class masterpiece and then they decided to not just create and improve software for computers, but to create phones, and partnerships with other major corporations like Xbox, or in other words: expand. As an example, they created a windows 7 phone, which is based on the same idea as the iphone, made by their main competitor: Apple. Apple is one billion dollars in revenue behind Microsoft's whopping 14.5 billion dollar revenue in 2010, except how could Microsoft be so successful? This is not only because of all the hard work, and dedication put on by Bill Gates, but because of the expansion, and advertising of the company. For example, Microsoft put a commercial on television saying that students need computers to be organized in school and achieve good marks. Even though Microsoft is making loads of money, this bring us to the question, will Microsoft be consistent with their income in the future, or will they fall behind?
Bill Gates and Paul Allen run a business which is in a very secure field: electronics. Electronics, like computers, are very important for people not just for entertainment, but for emailing or even typing reports for your work or school. Microsoft is a big company that will continue to do well because of all the expansion they have. They just recently released the Xbox Kinect, which is a motion sensor add-on to the Xbox that has the ability to read your movements and sounds, and apply them to the game your playing. Xbox Kinect is one of the top christmas presents available for kids at christmas. This increases Microsoft's income immensely. The more products that they release that are big hits, the more profit and revenue they will earn.
To be a successful entrepreneur, you have to have years of experience in your field, have the courage to take big risks. You also have to have determination, and the ability to not get frustrated in bad times. All of these components are very important to become a successful entrepreneur. I think that Bill Gates was most effective when he spent most of his time on computers, and when he continued to expand his products when he was behind Apple in revenue. What do you think it takes to become a successful entrepreneur?
References
Bill Gates Biography.(2010).Retrieved Dec 12, 2010 from woopidoo.com
Bill Gates Investments.(2010).Retrieved Dec 15, 2010 from yahoofinance.ca
Partnerships.(2010).Retrieved Dec 15, 2010 from microsoft.com
Verberne, B.(2010).CRM SHORT LIST.Retrieved Dec 15, 2010, from softwaretop100.org
Where Was Bill Gates Born?.(2010).Retrieved Dec 13, 2010 from wanttoknowit.com
William (Bill) H. Gates.(2010).Retrieved Dec 15, 2010 from thocp.net