How to Prepare a Powerpoint Presentation Essay Sample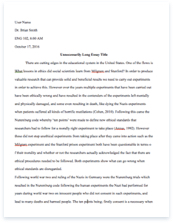 The whole doc is available only for registered users
OPEN DOC
Get Full Essay
Get access to this section to get all help you need with your essay and educational issues.
Get Access
How to Prepare a Powerpoint Presentation Essay Sample
1Launch PowerPoint on your computer. You will see a blank PowerPoint slide with text placeholders.
2 Click the "Designs" tab to browse the template themes.
3 Click the theme you would like to apply to your PowerPoint presentation. This will change the design for all slides you create.
4 Click inside the text placeholders and type your text. The first slide should include the presentation's title and any important information.
5 Click "New Slide" from the "Slides" group in the PowerPoint toolbar to create a new slide after your title slide.
6 Pick a layout for your new slide. Layouts allow you to place a template with pre-created text boxes or media boxes for images, charts, graphs or other media.
7 Click on the text boxes to type your slide text. This will often be in bulleted format by default. You should limit your number of bullets to no more than five points per slide.
8 Insert media into the slide by clicking on the media placeholder in your slide's template. You can import pictures, tables, graphs, clip art or movie media.
9 Add new slides and content until you complete your slide show.
10 Click the "F5" button to view your slide show. This allows you to review the slide show and the pacing of your information.
11 Press the "Esc" key on your keyboard to return to the PowerPoint program.
12 Click the "Save" icon to save your presentation as a file on your computer.