How to Survive High School Essay Sample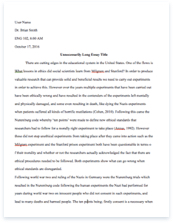 The whole doc is available only for registered users
OPEN DOC
Pages:
Word count: 1174
Category: college
Download Essay
A limited time offer!
Get a custom sample essay written according to your requirements urgent 3h delivery guaranteed
Order Now
How to Survive High School Essay Sample
Make sure you have all the supplies you need. I suggest 3-ring binders for your core classes and folders with prongs for any elective classes. Make sure to have college ruled paper and dividers if the teacher asks for you to have them. If your teacher likes to lecture, like most of mine, have a spiral notebook for notes. The pages are less likely to rip out than loose-leaf. Keep papers in chronological order, they'll be easier to find later when studying. If your binder starts to get full, take out the old papers and put them in another binder to keep at home. This way you won't have to lug them around, but they will be there when studying for semester tests.
School DOES matter.
Most high schoolers believe that school doesn't matter. That they can fail a class or slack off and it won't affect them in the future. The truth is, school IS important. You need it to have a good resume, and you need it to get into a good college and later get a good career that will support you for the rest of your life. It's important to have fun and have lots of extra-curricular activities, but school should always be your number one priority. With that being said, extra-curricular activities are also good with college resumes as well such as Student Senate, FBLA, Teachers of Tomorrow, and pretty much any club your school offers.
A social life is just as important.
You endured 5 painful days in a place some call prison, and the time has come to cut yourself some slack. During the weekend go somewhere fun and have a blast. Even if you don't have many friends, spend the weekend relaxing and doing what you like to do. Let yourself loose and revitalize yourself so when Monday comes, you're all partied out and ready to focus again. But remember that school is your top priority, so don't do this if you have piles of homework on the weekend. Otherwise you'll end up like me trying to cram a giant essay in one night. Exactly, it's not fun
Have School Spirit.
You don't have to wear spirit colors everyday or be a cheerleader to do this. All you need to do is to stay on top of things. Keep up with your schools current events such as who won the football game last Friday. Attend school functions like pep-rally's and dances. Just like your parents keep up with current events and politics, you should do the same at your school. Not only will it bond you with other people, but it's always good to have knowledge over the student body. It shows that you care about the learning environment that you're in and that you support all the organizations on the campus.
Find a club.
Not being a athlete is no excuse for not having something to do after school. If you're artistic, join the art club. If you like music, consider trying out for band. Make sure to join something and stick with it for a long time, it will look good on your college applications. If you can't seem to find anything that interests you at your school, consult a teacher to start a new club.
College is near.
As soon as sophomore year, start visiting colleges. Trust me, its always better to get a head start rather than cramming your senior year confused on where you want to go. You don't need to decide on anything yet, but it will help you decide if you want to attend a large university such as U of A, or a small one such as Hendrix. Visit your counselor, a lot, they're going to help you as much as possible on your road to college. Therefore the closer you are to them, the better.
GPA GPA GPA!
Your GPA is as important to you as your parents credit score is to them. Your parents credit score is their lifeline. It opens doors and closes doors. Your GPA is your lifeline! With a HIGH GPA many options are available after graduation. You will have many choices regarding which colleges you can attend. A low GPA limits your options. There is a program out there for everyone but having a choice makes the walk across the stage a sweet victory!
Procrastination is poison to you.
This is probably the #1 downfall of all high school students. It's hard and it's okay if you do it every once in a while. But when big tests, exams, and essays come, don't make it a habit. You'll be very sorry in the end, especially in college with giant papers and insane amounts of reading will become the norm. It's best to accustom yourself to getting things done early and out of the way rather than waiting until the very last minute.
Don't compare yourself to others.
It cannot be stressed enough that there's already too much on your plate to worry about stupid stuff like this. High school should only be a competition with yourself. Everyday you should only be trying to improve yourself, not worrying about how the guy sitting in front of you has 200$ Rock Revival jeans, has a brand new Mercedes, has the perfect relationship, etc. Ten years from now, none of this will matter. Focus on yourself. Focus on what you can do to make yourself better.
Don't follow any trends except for your own.
This doesn't mean you should then go to school the next day wearing just your underwear and sandals. It means (if you go to a school that allows it) you should have your own style and have your own identity, so that you make your mark in high school the right way and not as a cliché polo and jeans frat looking douchebag. Be original, and don't be afraid to be yourself. People are more likely to remember you and want to be friends with you if you are intriguing and different.
Finally, never give up.
High school is all about making a ton of mistakes but picking yourself back up, trying again, and gaining friends along the way. People will come and go but try to stay true to you and not get sucked into pointless drama. Learn to giggle at your mistakes and move on. Don't beat yourself up over the occasional C or D on a test or quiz. Think of ways you can help yourself and strive for an A the next time. If your team loses a game, tell yourself to push yourself a little harder at the next practice. This will soon apply outside of school and into other parts of the life ahead of you. High school is a very confusing and hazy time but if you stay true to yourself and learn from your mistakes you will go a long way.