How Trade Barriers Affect The Costs Of Production Essay Sample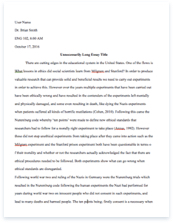 The whole doc is available only for registered users
OPEN DOC
Pages:
Word count: 460
Category: trade
Download Essay
Get Full Essay
Get access to this section to get all the help you need with your essay and educational goals.
Get Access
How Trade Barriers Affect The Costs Of Production Essay Sample
Acme's international trade and costs of production are affected by many factors.  The first affect is the nature of the markets and their accessibility to their market.  Although we live in a technology driven society, Mother Nature can also play a great impact in the area of quotas to affect the equation.  The second factor is the telecommunications sector, this helps determine needs and demands globally for each individual product within Acme's line of production.  I also establish and monitor any sanctions and trade restrictions with regards to the specific product.  The third is regulatory transparency.  "Regulatory transparency influences the time, quality and cost of providing services (Schmid, 2005)".  The greatest obstacle affecting international trades are the rules, laws and regulations that are within the foreign government that the company is looking into investing in.  The markets nature and validity within the economy are the deciding factors to whether cost of production is within a profitable range or not; competitiveness within the market is also a factor.  Government hearings, collaboration and consultation can help with any sanctions, tariffs or trade restrictions that are involved.
Auto engines must be geared to U.S. regulatory standards.  This means that Acme would be better off importing major components of the engines from foreign countries to save on labor and cost.  It also will leave behind less red tape to be conquered in order to get the components that cost more to make here due to worker laws and regulatory standards.  Japan has always been one of the hardest countries with regards to automotive trade of any kind due to their massive place within the market.  Acme would be better off just allowing pieces to be made and assembling them here in the U.S. not only for the sake of profit but to ensure that U.S. regulations are being met with the ever changing standards of vehicle safety and emission regulations that are being passed.
I am in favor of trade restrictions.  It is in the best interest of all nations and globalized companies to have trade restrictions.  A good example would be mad cow disease (agricultural and food trade).  By allowing a ban or restriction on products such as beef from entering a market in foreign land that could potentially be tainted by the product they are alleviating panic and unlawful and unnecessary harm to others.  Due to competitiveness, it would logically be normal for any country to restrict items of any kind that could have a negative impact on their markets as well.  This could also affect the global community for the product and the price of it.
References
Linda Schmid, ITC (2005).  Identifying Business Interests in WTO Services Talks.  International Trade Forum- Issue 2.