HR Management: 7-Elevens Management of Discrimination Essay Sample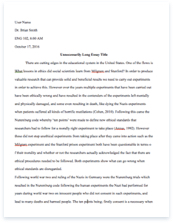 The whole doc is available only for registered users
OPEN DOC
Download Essay
Get Full Essay
Get access to this section to get all the help you need with your essay and educational goals.
Get Access
HR Management: 7-Elevens Management of Discrimination Essay Sample
Introduction – Convenience stores, through the years, has become the symbol of the first small door that people with different ethnic and cultural background looking for job opportunities in the United States always has the chance to open. Rags-to-riches success stories of the reach and famous often include a life working on convenience stores, while popular media bombard the consciousness of the viewers about the stereotype on convenience stores and how it is manned by foreign immigrants in the effort to indicate the flexibility towards multiculturalism of the employment in convenience stores. Is this a mere symbolism or is there a spec of reality in what the popular media is trying to portray, especially in the case of 7-Eleven?
For their part, 7-Eleven always trumpets at their action on providing employment opportunities for everyone, regardless of race, ethnicity and other socio-cultural factors that are present in cases of bias and discrimination in the workplace and on the select workforce. When 7-Eleven talked about how they provide "opportunities for quick advancement" (7-Eleven, 2008), the company neither provided specifications that will indicate ethnic and racial preferences, nor were there any conscious effort to inform the public that the company is encouraging the growth of multiculturalism inside its workforce across the globe. This puts them in a position wherein they are passive about their role in the society; they do not fully and openly discriminate as they are not exerting any effort to encourage the participation of people from different cultural and ethnic background to participate in the employment processes and opportunities inside the company, and for this, 7-Eleven can neither be blamed nor be praised when its multicultural employee recruitment effort is assessed.  The company's handling of current employees with different cultural and ethnic background is another thing, though.
Considering that other individuals such as Bennet (2005) considers the company as a "good place for minorities to work (Bennet, 2005)" is something that can be used to compensate for the lack of sensitivity in its employment opportunity campaigns online as mentioned earlier in the paper.
A good point that 7-Eleven earns in the battle to prove the company's practice of non discrimination across all avenues possible is the recognition of groups, such as Equality Virginia, of the company and its non-discrimination policies during the campaign for the abolition of parameters leading to discriminatory actions in the workplace. Operation PUSH, an organization focused on minority employment and minority businesses, also holds 7-Eleven in good standing when it comes to equal employment opportunities and improving employment discrimination, especially after "PUSH succeeded in negotiating covenants with firms such as…7-Eleven Stores (Stanford, Walters, 1997, p. 44)".
The fact that the company provides an open atmosphere for the discussion of sensitive issues in the workplace like multiculturalism and ethnic diversity so that there can be a "discussion of cultural differences (Dicker, 1998, p. 291)" also speaks well of the efforts of 7-Eleven to be more sensitive to the needs of its employees who have different cultural and ethnic background.
            Conclusion – The truth is there is no perfect company that can demonstrate a perfect employment management system that has no incidences of employment discrimination and direct or indirect attack on an employee's ethnic or cultural background, simply because the frameworks, however perfect, are being enforced by humans who are also vulnerable to make slips, slips which may or may not be a direct result or reflection of ethnic discrimination, since it is impossible for any company to say that their employees are all non-discriminatory. In the assessment of multicultural and ethnic diversity human resource management like in the case of 7-Eleven, the focus should put importance to the efforts being done by the company to make its ranks as sensitive to multiculturalism and as receptive to the entry of differences brought by cultural dissimilarities.
References 
Bennet, Julie (2005). Recruiters Use New and More Subtle Tools to Reach Minority Job.
            Candidates. Retrieved June 15, 2008, from
            http://www.latinoworkforce.com/diversity_apr05.pdf
Dicker, Susan J. (1998). Adaptation and Assimilation: US Business Responses to Linguistic
            Diversity in the Workplace. Journal of Multilingual and Multicultural Development.
            Vol. 19, No. 4.
7-Eleven.com (2008). Opportunities. Retrieved June 29, 2008, from
http://www.7-eleven.com/Careers/Opportunities/tabid/206/Default.aspx
Stanford, Karin L. and Walters, Ronald W. (September 1997). Beyond the Boundaries:
            Reverend Jesse Jackson in International Affairs. State University of New York Press.
Virginia Should End Discrimination for All State Workers. (April 2008). Equality Virginia.
http://www.equalityvirginia.org/site/pp.asp?c=dfIIITMIG&b=2388313