Human nature in the novel 'The Strange Case of Dr. Jekyll and Mr. Hyde' Essay Sample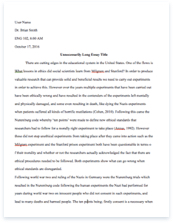 The whole doc is available only for registered users
OPEN DOC
Pages:
Word count: 1361
Category: fiction
Download Essay
Get Full Essay
Get access to this section to get all the help you need with your essay and educational goals.
Get Access
Human nature in the novel 'The Strange Case of Dr. Jekyll and Mr. Hyde' Essay Sample
R.L Stevenson's novel, 'The Strange Case of Dr. Jekyll and Mr. Hyde', has been described by many as a parable of the struggle between good and evil, a story of mystery. The single dominant theme in this noel is that of the double, the divided nature of man and that things are not always what they appear.
Although the setting for Stevenson's novel appears to be Victorian London, it is clear to see that Stevenson has Edinburgh in mind with, like Jekyll, its twin identities, the prosperous and rich 'New Town' and the 'Old Town' of poverty and desperation.
The Victorian Era was a big time of change for scientists and religious followers the world over. Scientific experiments were becoming much more common, and, as with anything which involved science, religion played a big part. Stevenson taps into these changes in his novel, as Dr. Hastie Lanyon, a good friend and fellow scientist of Dr. Henry Jekyll, soon becomes both suspicious and worried about Jekyll's mysterious scientific experiments. Stevenson also taps into the fears and concerns of people living in the Victorian age; using topics such as poverty, death, murder and desperation.
Stevenson's novel links with other 19th century Gothic novels, such as 'On the Origin of Species', one of many books which tried to explain the theory that mankind was, in fact, descended from apes ('the beast in man.') Krafft-Ebing's 'Pyschopathia Sexualis', published in 1886, attempted to analyse the topic of sexual desires.
In this novel, Mr Utterson is presented a largely unexciting man, 'cold, scanty and embarrassed in discourse' but also as a 'somehow lovable' man. Utterson represents the perfect Victorian gentleman, he can be described as a responsible, modest man. He also seems to be quite a caring person, as this quotes shows, 'the last good influence in the lives of down-going men.' He is also described as being 'undemonstrative' and having an 'approved tolerance for others.' Even when he suspects Jekyll of criminal activities, such as blackmail or the sheltering of a murderer, he keeps these suspicions to himself rather than bring ruin upon his good friend. I think the quote that highlights Utterson's morale personality most is this, 'in any extremity inclined to help rather than to reprove.'
Dr. Lanyon is described as a 'hearty, healthy, dapper, red faced gentleman' whose 'geniality… was somehow theatrical to the eye'. This suggests that he can cover up his inner feelings easily, meaning he is slightly superficial in his emotions. Lanyon is a traditional Victorian scientist, very much against anything out of the ordinary, leading him to refer to Jekyll's experiments as 'unscientific balderdash.'
Before his confession, Jekyll is described as 'a large, well-made, smooth-faced man of fifty', he is also a respected physician and chemist. Within the community, Jekyll is well known for his decency and kindness towards others.
Sir Danvers Carew is described as being a well liked figure within the community. He is a member of parliament and also a client of Utterson. He is obviously rich and extremely successful, hence his title 'Sir' Danvers Carew.
All of these characters can be described as moral human beings. During Victorian times, all people were what we now describe as 'Christians.' This was because there was no other way; it was accepted that God created the world in seven days and that we were all descendants of Adam and Eve.
There are a couple of characters presented as good-natured who also seem to have an evil side attached to them. The first, obvious one is Dr. Henry Jekyll. The doctor is described as being 'smooth-faced', seeming to represent an almost flawless appearance, therefore an air of mystery surrounds him. Although Jekyll recognises and enjoys the evil side of his nature, he is in fact a hypocrite, as he fails to accept that it's a natural part of himself. The other, not so apparent character is Mr Utterson. Although is a respected and obviously very successful man, he is also 'cold.' He seems to have little regard within him for company and conversation.
The evil side of Mr. Utterson is repressed, as is Jekyll's. The evil side of Jekyll is concealed/disguised within his appearance, represented as almost the perfect gentleman, there seems to be nothing evil about the man! However, Jekyll's evil side is thrown wide open with his transformation from the good-natured Jekyll into the ugly, immoral Mr. Hyde.
This evilness links to the Victorian fears relating to the new theories- regarding evolution. Charles Darwin's 'theory of evolution'- the theory than humans had slowing evolved from earlier, simpler life forms- was greeted with huge shock by much of the Victorian society. The idea that humans were suddenly just one species among many was beyond them, perhaps leading to these ideas of evilness and 'the beast in man' shown within 'The Strange Case of Dr. Jekyll and Mr. Hyde.'
Edward Hyde clearly represents 'the beast in man'. He is shown to be without conscience and completely evil. There are frequent references within the novel to Hyde's devil-like qualities- Enfield describes him as 'like satan' and Utterson as 'having Satan's signature' upon his face. Hyde is also described as having a 'displeasing smile', 'a ghastly face' and 'pale and dwarfish.' On top of this, the word deformity is often used when describing his appearance. In the first chapter, Mr. Enfield tells Utterson of his witnessing of a horrible act carried out by the evil Mr. Hyde. Stevenson creates a setting of serenity and peace before the act is performed, 'there was literally nothing to be seen but lamps.' The act is also described in this way, 'trampled calmly over the child's body' 'left her screaming on the ground.'
Jekyll conducted his experiments in order to discover more about the deeper subjects of life, he concludes in his 'Full Statement of the Case', 'my scientific studies, which led wholly towards the mystic and the transcendental..' His experiments eventually led him to bring Mr. Hyde into being, finding a way to transform himself in such a way that he fully becomes his evil, darker half. Mr. Hyde is described as violent, cruel, ugly and somehow deformed, although no one can quite say how. Although Hyde was a lot smaller, slighter, younger and uglier than Jekyll, he felt brilliant, possessing no conscience, doing as he pleased. Evil was written all over the face of the man, but this didn't seem to bother him. This line states how Jekyll feels in the form of Hyde, '..it bore a livelier image of the spirit, it seemed more express and single..'
However, soon enough, Jekyll began to lose control of the transformations. The first instance occurs during his sleep, as this quote shows, 'clearly enough in the yellow light of a mid-London morning, lying half shut on the bed clothes, was lean, corded, knuckly, of a dusky pallor, and thickly shaded with a swart growth of hair. It was the hand of Edward Hyde.' This is Jekyll's account of the event, as he rose from his bed to discover that he had transformed into Hyde unwillingly. Jekyll soon realises that he cannot separate his good and evil sides, he eventually accepts that it's just a part of human nature. However, he still feels he has to choose between continuing life as the destructive, evil Edward Hyde or death. As he states in his confession, he eventually chooses death over evil.
In my opinion, R.L Stevenson wrote this story to explore the conflict between good and evil in human nature, as well as writing an exciting mystery/horror novel. We can clearly see that he wants to explore the conflict between good and evil, as the main character is in a constant battle between both sides of his human nature. There is also a strong moral message in this story, as Jekyll eventually chooses to die, rather than continue life in the form of pure evil.
The novel can be relevant to readers today as the struggle between good and evil is as strong nowadays as it always has been.