Human Resource Management Free Essay Sample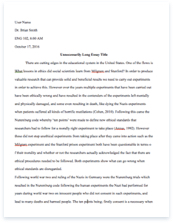 The whole doc is available only for registered users
OPEN DOC
Download Essay
A limited time offer!
Get a custom sample essay written according to your requirements urgent 3h delivery guaranteed
Order Now
Human Resource Management Free Essay Sample
Human Resource Management or HRM is the process of managing people in a company as well as managing the existing inter-personal relationships. These two processes are key in the success and growth of a business. HRM includes conducting job analyses, planning personnel needs, recruiting the right people for the job, orienting and training, managing wages and salaries, providing benefits and incentives, evaluating performance, resolving disputes, and communicating with all employees at all levels. Examples of core qualities of HR management are extensive knowledge of the industry, leadership, and effective negotiation skills, formerly called personnel management. When viewing HRM from the point of ensuring that structures and processes are identified and instituted to manage an organization's personnel, the following elements are included. Staffing is the core component of HRM. Staffing is about setting guidelines and procedures to guide recruiting and placement.
The presence of these staffing procedures will aid in the effective advertising and reaching out to potential employees. On top of this, the person interviewing and selecting new staff should be able to identify candidates who are suitable for the various roles. The interview should be structured to ensure the success of the interview process as well as the candidate selection. Apart from hiring new employees, staffing also involves the management of existing employees. It touches on issues like disciplinary matters, monitoring of leave, absences and health and safety. Letting employees go is also covered under staffing. Therefore, an organization needs a strong system needs to make sure that all these elements are covered. Another key element of HRM is retention. The training of employees to enable them to improve their career paths is very important. In some situations where an employee is undergoing through a difficult time in his or her life, an effective Human Resource Department should offer suggestions for support and counseling where appropriate.
According to a Survey of Global HR Challenges: Yesterday, Today and Tomorrow, conducted by PricewaterhouseCoopers on behalf of the World Federation of Personnel Management Associations (WFPMA), the top 3 challenges were Change Management, Leadership Development, and HR Effectiveness Measurement, but taking into account reviews and examination, over the most recent two decades, there has been an extraordinary build in the quantity of associations that have internationalized their operations. The worldwide development of work that has been connected with such extension of universal business has implied that issues connected with the administration of human assets crosswise over International outskirts are progressively critical to global human asset directors and scholastics. This represents a ton of difficulties to HR chiefs. The normal HR director is confronting a mixture of difficulties to meet these difficulties for the future, tomorrow.
HR chief or division must be highly refined than their ancestors. Since an one universal or multinational association cannot perform their exercises well when their HR administrator knows the differences of procedure to hack it with these issues and to how they can arrange an agreeable energy for the association to face the quick aggressive business word and to work in the circumstances. All the associations ought to set up their human assets individuals well keeping in view the worldwide environment or commercial center further bolstering guarantee good fortune. Human asset supervisor will need to assemble or created such a casing work, to the point that permits adaptability to create such a workforce, to the point that will be the work power for tomorrow. The fundamental point of the paper is to advertisement dress the HR issues and difficulties in the light of assortment of writing work by distinctive writers.
References:
PricewaterhouseCoopers LLC. , Survey of Global HR Challenges: Yesterday, Today and Tomorrow, Retrieved from http://www.iftdo.net/Articles/2006-maywfpmahrglobalchallenges
Ruth Mayhew, Demand Media, Contemporary Issues Faced by Human Resource Managers Today, Retrieved from http://smallbusiness.chron.com/contemporary-issues-faced-human-resource-manag
ers-today-1875.html
Susan M. Heathfield, What Is Human Resource Management? , http://humanresources.about.com/