Human Resources Brochure Essay Sample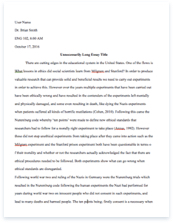 The whole doc is available only for registered users
OPEN DOC
Download Essay
Get Full Essay
Get access to this section to get all the help you need with your essay and educational goals.
Get Access
Human Resources Brochure Essay Sample
In 1992 Hancock Manufacturing started producing and distributing medical devices intended for the therapeutic market in the medical industry. Hancock's main focus of business included devices for hip and knee replacements in the United States. The company's newly devised strategic plan reaches out to new technologies and global expansion. The human resources management (HRM) department entails assisting Hancock manufacturing in their direction of the strategic plan. The HRM department consists of several functions requiring different sets of skills. These functions include staffing, training and development, compensation and benefits, diversity, employee relations, and maintenance. The strategic plan includes outsourcing the legal function to a firm experienced in international manufacturing laws. The HRM department's priority is to focus on addressing changes in technology, diversity, globalization, and ethics to ensure Hancock manufacturing's new direction is successful. Technology
Hancock manufacturing strives to stay abreast of new technologies in the medical field. Hancock has invested millions of dollars in manufacturing equipment for bio-engineered prosthetics. Biomedical engineering requires the application of engineering principles and design concepts to medicine and biology. Technology breakthroughs such as 3-D printing and the development of biocompatible prosthesis is the direction Hancock manufacturing wants to lead in the 21st century. This advanced technology requires skilled employees. Hancock is placing a concentrated emphasis on training and developing its employees. To ensure the success of future employees Hancock has implemented a step by step training and development program that will shape any entry-level employee into a director in five short years. The culture and environment at Hancock Manufacturing is safe, fun, and welcoming to a diverse workforce.
Diversity
Dealing with diversity in the workplace is essential in the HRM department. It consists of dealing with different people and the cultures and lifestyles they have. Hancock Manufacturing is in the business where diversity has become part of their business when dealing with employees, customers, and suppliers. In 1960 the U.S. federal legislation provided a law that prohibits employment discrimination. This created diversity among organizations giving minorities and women a chance at different careers. In today's workforce minorities and women have grown and advanced in the workforce.
Hancock manufacturing has contributed to the advancement of many qualified people. HRM department focuses "to make the organization more accommodating to diverse groups of people by addressing different lifestyles, family needs, and work styles" (DeCenzo & Robbins, 2007). The HRM department provides workforce diversity training to employees to help each other understand the differences in many values, cultures, and lifestyles within the organization. By providing diversity training it provides a positive environment and understanding to each individual. Globalization
Hancock Manufacturing is expanding their boundaries and becoming a global organization. Our products are innovative and groundbreaking so developing branches to market and produce the products more effectively is essential to the growth goals of the business. Hancock's HRM is versed in the complexities of staffing internationally and understands the need of greater emphasis's on things such as training and development styles (DeCenzo & Robbins, 2007). The company has invested in the best tools to do this for the team. With innovations in communication, transportation, and information technologies, Hancock operates as one company regardless of the locations where our employees are located (Stanford University, 2010). The initiative to become a global company will be essential to becoming sustainable and the industry leader.
References:
DeCenzo, D. A., & Robbins, S. (2007). Fundamentals of Human Resource Management (9 ed.). (J. Heffler, Ed.) Hoboken: John Wiley & Sons, Inc.,. Retrieved November 19, 2013
Stanford University. (2010, June 4). Globalization. Retrieved November 23, 2013, from Stanford Encyclopedia of Philosophy: http://plato.stanford.edu/entries/globalization/