Human Resources Management Essay Sample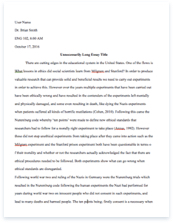 The whole doc is available only for registered users
OPEN DOC
Download Essay
A limited time offer!
Get a custom sample essay written according to your requirements urgent 3h delivery guaranteed
Order Now
Human Resources Management Essay Sample
Introduction: Morrison's PLC is one of the largest food retailers in UK. It has changed a lot over the last 8-10 years. Thanks to HR guidance it has improved all his sections and departments. To maintain this growth Morrison's has to offer new services and products by using new selling strategies. To improve Morrison's performance the HR changed the internal and external factors. Internal factors that HR has changed:
Organisational needs and skills requirements: organisational needs are constantly changing that is why Morrisons's HR has to training the employees as far as they can keep their position. The organisation must watch the marketing in order to open new stores in other countries or in other regions. In this way the business will need to expand its organisation needs(which are also called workforce) and these new people must be trained and also must be able to speak other languages(if the store will open in different countries). However, nowadays the technology that Morrisons had include in its supermarkets, has affected the organisational needs because by using the equipment customers do not need more than two people to help them.
Workforce profiles: As any business Morrisons has got workforce profiles which include information such as: gender, age, ability and ethnicity. In fact, if Morrisons had people who retire at the same time, Morrisons would be able to cover them by introducing new employees. In order to have the equality at work, Morrisons also have ethnicity as a paragraph within the workforce profiles. By using this method Morrisons may assemble the same ethnicity together to obtain better performances. External Factors
Supply of labour: To cover all the new markets demand Morrisons's HR has to cover all the gaps by training the new employees and by making them flexible within the shift hours and within the market demand. Demand for products and services: Morrisons has started to grow. In fact, Morrisons's demand has increased in the last few years. To cover this demand Morrisons has improved its technologies in order to make the payment quicker and started to introduce new products which are requested from the customers. The HR used a strategic guidance which improved the HR with a new business programme and also included the recruitment of a senior HR leadership who manages the Human Resources staff and programmes planning process to achieve the company's aim. The Human Resource also organised
•Strategic HR guidance – supported the development of a new HR model as part of the business change programme, which included the recruitment of a senior HR leadership team. •Talent management – implemented a talent management system and embedded an internal and external succession planning process, which included talent mapping the competition. •Organisational design and development – implementation of job profiles, performance management processes, competency based assessment and leadership development plans. •Vision and values – Independent helped define and deliver the organisation's vision and values to all Morrison's' employees. •Training and coaching – an embedded Independent consultant is leading training in Morrison's' manufacturing and logistics divisions and introducing a new management trainee scheme.
In addition, Independent is working with the supermarket chain to measure the impact of its coaching programme on personal performance. The results will be used as a platform to extend coaching throughout the company, with the goal of creating a coaching culture focused on improving performance and ultimately customer service. •Social mobility – Independent has been working with Morrison's and Leeds Metropolitan university on a research project exploring how social mobility impacts on staff development, particularly for those who have progressed to management level. Independent liaised with Leeds Met to design the methodology, conduct the research and prepare the report with recommendations for further action. The outcomes of the research will directly affect the future development of the company's HR strategy.
M1 – Explain why Human Resource planning is important to an organisation Subject: Morrisons's HR systems.
Human Resource is important to a business because it manages 10 specific areas. Morrisons need the HR planning to succeed because it trains new employees by improving their skills and giving them new criteria which are need by the business. In fact, by having the right staff within the store the business will improve its performance. What constitutes effective HR planning?
An effective HR planning it is constitutes by: improving productivity, giving trainings, increasing quality, improving the ability of the store to bring new products into the market, supporting the changes within the store by motivating the employees. Also, by using new technologies and train the employees in how them. A good effective HR planning is also when it produce surveys to have response from the employees to know what could be improved and also from the customers. If there will not be an effective HR planning the business will reduce its performance, will lose the employees and the customers and in few months (or weeks) it may close.
Strategy
HR improves the company's bottom line with its knowledge of how human capital affects organizational success. Leaders with expertise in HR strategic management participate in corporate decision-making that underlies current staffing assessments and projections for future workforce needs based on business demand. Compensation
HR compensation specialists develop realistic compensation structures that set company wages competitive with other businesses in the area, in the same industry or companies competing for employees with similar skills. They conduct extensive wage and salary surveys to maintain compensation costs in line with the organization's current financial status and projected revenue. Benefits
Benefits specialists can reduce the company's costs associated with turnover, attrition and hiring replacement workers. They are important to the organization because they have the skills and expertise necessary to negotiate group benefit packages for employees, within the organization's budget and consistent with economic conditions. They also are familiar with employee benefits most likely to attract and retain workers. This can reduce the company's costs associated with turnover, attrition and hiring replacement workers. Safety
Employers have an obligation to provide safe working conditions. Workplace safety and risk management specialists from the HR area manage compliance with U.S. Occupational Safety and Health Administration regulations through maintaining accurate work logs and records, and developing programs that reduce the number of workplace injuries and fatalities. Workplace safety specialists also engage employees in promoting awareness and safe handling of dangerous equipment and hazardous chemicals. Liability
HR employee relations specialists minimize the organization's exposure and liability related to allegations of unfair employment practices. They identify, investigate and resolve workplace issues that, left unattended, could spiral out of control and embroil the organization in legal matters pertaining to federal and state anti-discrimination and harassment laws. Training and Development
HR training and development specialists coordinate new employee orientation, an essential step in forging a strong employer-employee relationship. The training and development area of HR also provides training that supports the company's fair employment practices and employee development to prepare aspiring leaders for supervisory and management roles. Employee Satisfaction
Employee relations specialists in HR help the organization achieve high performance, morale and satisfaction levels throughout the workforce, by creating ways to strengthen the employer-employee relationship. They administer employee opinion surveys, conduct focus groups and seek employee input regarding job satisfaction and ways the employer can sustain good working relationships. Recruitment
HR recruiters manage the employment process from screening resumes to scheduling interviews to processing new employees. Typically, they determine the most effective methods for recruiting applicants, including assessing which applicant tracking systems are best suited for the organization's needs. Selection
HR professionals work closely with hiring managers to effect good hiring decisions, according to the organization's workforce needs. They provide guidance to managers who aren't familiar with HR or standard hiring processes to ensure that the company extends offers to suitable candidates. Compliance
HR workers ensure that the organization complies with federal state employment laws. They complete paperwork necessary for documenting that the company's employees are eligible to work in the U.S. They also monitor compliance with applicable laws for organizations that receive federal or state government contracts, through maintaining applicant flow logs, written affirmative action plans and disparate impact analyses.