Ian Rankin's "Dead Souls" and P.D. James' "Unnatural Causes" Essay Sample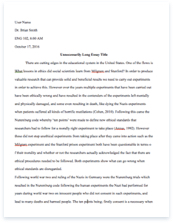 Pages: 5
Word count: 1,238
Rewriting Possibility: 99%

(excellent)

Category: novel
Get Full Essay
Get access to this section to get all help you need with your essay and educational issues.
Get Access
Introduction of TOPIC
Escapism in the Crime Novel With Reference To Characterisation, Setting and Language
In my essay I will look at how a writer creates successful escapism through characterisation, setting and language.
I have chose two books to study. Ian Rankin's "Dead Souls" and P.D. James' "Unnatural Causes." Each book portrays different social classes and settings, and both create powerful images. The reader is drawn in by the vividness of both.
<quote – IR – characterisation of stereotypical characters>
– one industrial sub-urban working class and the other middle-class rural.
Introduction – 'Murder'
Small introduction here
"The blue room had heavy curtain of a rich, faded blue brocade that must have been, Miss Marple, thought, fifty years old. The furniture was mahogany, big and solid, and the bed was a vast mahogany four-poster. Miss Bellever opened the door into a connecting bathroom. This was unexpectedly modern. Orchid in colouring, and with much in dazzling chromium."
The paragraph's descriptive nature appears commonly in Christie's books. The meticulous approach to description of the room reflects very much the crimes committed in the way they are depicted, and investigated, in her books. Use of characterisation is also heavily used to create realistic characters that are the constant factor which can be used by the writer as providers of information or red-herrings. Their roles are in fact a bit two-dimensional and almost theatrical in style. The detective can move amongst them being able to use them well as sources.
However, this reliance on the characters has gradually faded into the darkness along with the Miss Marple figure. A new breed of detective, more solitary and independent has risen to dominate the vast majority of crime fiction today.
The John Rebus character, a prime example, shows us all he is quite capable of 'nailing' a killer, as Miss Marple may have done eighty years ago. His work is not simply a round of mental 'gymnastics', like a crossword. For him, it is a quest, like Sir Bors of the Round Table searching for the Holy Grail. Rebus' quest becomes, over a matter of days, a consuming passion. The controlling factor in his life, he becomes obsessed with finding a solution. Like the hopeful gambler increasing his wager little by little until 'make or break', Rebus gambles with time for a big solution, the big prize, the jackpot.
Somewhere in the middle is a chap called Dalglish. He manages to mix character mingling with hard-edged solitary detection. One minute we find Dalglish in his London watering hole, the 'Cadaver Club':<
/p> "The library room was probably the most attractive room of
the house… There were notable text books on medical jurisprudence, and top psychology…"
The next minute we encounter him discussing with well-to-do locals about the murder over a roast pork dinner in his home village of Monksmere.
'Motive'
In this essay my intention is to trace this change in style within popular crime fiction through the years; using "They Do It With Mirrors" by Agatha Christie, "Unnatural Causes" by P.D. James, and "Dead Souls" by Iain Rankin.
Beginning with the theatrical style of class whodunnits', I will look inside the text and decipher what makes it so different from today's crime fiction.
The settings Agatha Christie picks are so clinically and visually precise. The descriptions of setting seem to assume the format of a crime report. Like the previous 'blue room' description appearing earlier in this essay. Because of this sound description, an aesthetic base arises, allowing a good foundation for the writer to build a story on.
P.D. James later style seems to take a 'cinematographic' slant, balancing images and characterisation differently, but with equal potency. This imagery leaves a more haunting image that lingers, unlike the spontaneous and rapid transfer of information found in Christie's book.
Also James, like Christie, writes a murder similar to a scene. James' murders are a bit more simpler in plot, but with a little more graphic detail.
Instead of James' victim being simply 'shot', they are butchered then set sailing on a dingy.
"The right hand had been taken off cleanly… The left hand had been bodged, and the jagged splinter of bone, needle sharp, stuck out from the receding flesh."
Iain Rankin, seems to lavish even more description on the 'modus operandum.' In 'Black and Blue,' we hear of a particular man's fate, beginning with his intoxication through alcohol. He is led away by two colleagues back to a flat, where he is bound to a chair. Realising his situation, he hobbles out of a window and falls six floors, where he meets the flat's perimeter fence on the ground floor.
This novel, compared to Christie's 'early' and P.D. James' 'intermediate' strikes me as the most visually graphic and shocking. However, only the murder is the most graphic thing about each of the books. In fact, it actually becomes less of a shock because of its explicitness. Not a lot of information is with-held, unlike Agatha Christie's book, and less so in James', where the with-holding of information acts as an alienation device, evoking fear in the reader. In the most recent novel, 'Black and Blue' we get more chance to go personal with Rebus. The reader doesn't feel as disoriented as in the other books, even though the content may be cruel and horrific.
Fluent and formal speech is used to create this 'friendlier' atmosphere by Rankin. It is realistically used, so it helps the reader both feel 'at home', and also this technique helps the realism of the story.
Summary
Over the years we have seen crime fiction develop. It has moved from theatrical style 'whodunnit' through the mixed, but balanced, visual permanence of James, finally ending up with something by Rankin that looks designed for an addictive and entertaining television series.
My favourite of the three books was Rankin's 'Black and Blue.' I was encapsulated by its gritty realism. It transported me to Rebus' domain, where I had to draw on my memory of places and conditions to try and best fit Rebus' world.
This is an entirely different type of mental gymnastics. No longer is the average reader prepared to sit down and work out a complex murder. Nowadays, we would rather have our minds enriched with powerful imagery – something James began to create – and be whisked off into Rebus' world of underground scum, where the only shining chrome is the murder weapon found next to the body in a room with fading paint and mouldy wallpaper.