IBM Analysis Case Essay Sample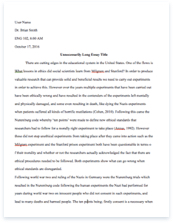 The whole doc is available only for registered users
OPEN DOC
Pages:
Word count: 408
Category: computer
Download Essay
A limited time offer!
Get a custom sample essay written according to your requirements urgent 3h delivery guaranteed
Order Now
IBM Analysis Case Essay Sample
IBM is a multinational computer and IT consulting firm that focuses on selling computer hardware, software, and other technology services. They primarily focus on their software and IT services units, which account for roughly 80% of their business. Furthermore, IBM competes to some degree with all IT companies, but is specifically a member of the Diversified Computer Systems Industry. Due to its large software unit, IBM competes directly and intensely with other software giants such as Microsoft and Oracle. Further, its large IT services unit has IBM competing with firms such as Accenture and HP, but IBM's large market capitalization differentiate it from these relatively smaller firms.
The threat of new entrants in IBM's industry is low, primarily due to the high capital requirement for entrance. Also, there are high switching costs in the industry, which make it difficult for customers to leave their current suppliers. Consumers also have long relationships with certain companies and a preference for established brands such as IBM, making it difficult for new entrants. Similarly, the threat of substitutes is relatively low due to high switching costs and also the high level of performance of many high end IT firms. High switching costs again help the industry because buyers lose some power after they have made their initial decision, but overall buyers have high bargaining power because there are several highly functioning firms to choose from. Supplier, on the other hand, have low bargaining power because many of these IT firms have over a couple dozen suppliers. Having said that, many firms (specifically IBM) have long, trusting, and mutually beneficial relationships with their suppliers. These type of relationships give suppliers a mid level amount of bargaining power, but nonetheless create are beneficial to the companies in the industry.
Not only does IBM appear to be in a very profitable industry, but they appear to be one of the most profitable firms in the Diversified Computer Systems industry. For one, economies of scale enables them to have a cost advantage against competitors. Secondly, they have achieved product differentiation because their products are extremely functional and perform exceptionally well. In addition to this, they have created a strong brand name and have loyal individual customers who have adopted the nickname "True Blue". IBM is not only at the top of a profitable industry, but they have put themselves in an enviable position because they are likely to remain there for awhile.