ICT at the Place of Employemnt Essay Sample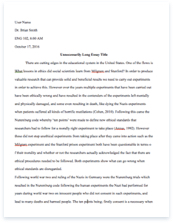 Pages: 6
Word count: 1,502
Rewriting Possibility: 99%

(excellent)

Category: computer
Get Full Essay
Get access to this section to get all help you need with your essay and educational issues.
Get Access
Introduction of TOPIC
In this piece of coursework I will be looking at how a particular adult uses ICT at their places of employment. My study will concern my Uncle. He works as an accountant for an insurer's representative company – The Association of British Insurers (ABI).
ICT at Work
Company building Access Smart Card
For a start, to enter into his work building he needs an electronically recognised card which grants him and his fellow colleagues' instant access through the doors. This is a simple and smart way developed by the company to allow access for its employees, while at the same time restricting access for any unauthorised persons.
Telephone line
In his office my Uncle has a telephone for internal and external phone calls. This is there so that there is a quick, timesaving and effective way of communication throughout the company. This can also be used to phone outside the building for other uses e.g. such as phoning home.
ICT Personal
Personal Computer
My Uncle's computer is a Dell Dimension. It features a fast processor speed of 2.8GHz, a Ram Memory of 512Mb and a hard drive of 80GB. My Uncle's computer comes with a 17″ TFT Flatscreen monitor.
At home my Uncle can use the PC for receiving e-mails from work.
He uses Microsoft Outlook, a program designed by Microsoft that comes with Microsoft Office Professional Pack. Microsoft Outlook is a program that synchronises with the World Wide Web and any E-mail address. Microsoft office is an advanced program that lets you do a range of creative things with your email such as adding emoticons (although this has function has to be downloaded separately).
Microsoft Excel – My Uncle uses the Microsoft Excel spreadsheets for keeping track of his financial and business records and for doing complicated calculations. Microsoft Excel is an effective and efficient program that has multiple useful functions and updates calculations as soon as you type them in.
DVD's – at home my Uncle computer is fitted with a DVD drive enabling him to watch DVD's on his computer. The software I use to play DVDs are either Sonic DVD; Windows Media Player; or Cyberlink Power DVD. I normally use the Power DVD as it is much easier to use, although it may have a few less features then the other two programs.
Landline Telephone
My Uncle can make cheap telephone calls from the home telephone and can receive formal phone calls.
A landline is a non-wireless phone connection that has regional, national and international area codes whereas mobiles have only international codes and are connected via wireless transmitters, satellites and receivers. A landline number is based on area codes e.g. area you live, whereas your mobile usually depends on your network.
A land line is also usually used to increase the security of communications, as it can not be intercepted by a receiver without physi
cal access to the line. This does not, however, mean that a telephone company will not send the call
over the air on some point in the journey.
Television
My Uncle uses TV as a means of leisure and entertainment, but also as well as a means of receiving news and learning in the form of documentaries.
Television is a telecommunication system for broadcasting and receiving moving pictures and sound over a distance. A television normally receives its programmes via an antenna which picks up broadcast signals.
However nowadays TV is going digital and there are now much more channels available to view, if you subscribe to one of these.
At home my Uncle is subscribed to Ntl. Ntl is a cable operated digital television service that allows us access to a wide range of channels. Ntl is now changed to virgin media.
The TV we have is a Samsung LCD flatscreen (pictured). An LCD is a Liquid Crystal Display television as indicated by its name, a television using LCD technology – generally TFT(Thin Film Transistor), as opposed to cathode ray or plasma for its visual output.
PSP
At home my Uncle has a PsP games console so that when he is bored or at the weekend, he can relax and play on his portable PsP multimedia gaming console. The PSP is a revolutionary device combining almost the power of a 333 MHz that out competes all other handheld consoles and a memory of 4 MB fast DRAM and 32 MB of embedded RAM, as well as graphic capabilities almost competing with the PS2. The PSP is generously appointed with built-in stereo speakers, as well Dolby Digital 7.1 surround sound capability. The PSP also has a bright; 4.3-inch LCD sports a 16:9 aspect ratio and 480-x 272-pixel resolution screen.
ICT Social
Msn Messenger
Msn Messenger is an instant messenger service that enables my Uncle to have real time conversations with his friends and contacts. This instant messenger service is provided by Microsoft, which allows you real time talk with his contacts. The latest version of MSN allows you to do so many things from sending normal messages to sending emoticon pictures. Other things include: sending winks – an animation; sending Live feed video; sending information files; sending Live audio; sending pre-recorded Video; playing games; sending handwritten messages and some more other things like this etc.
My Uncle has the one of the latest versions of Msn – Msn 7.5
Mobile Phone
My Uncle has a mobile phone to keep in touch while on the move (i.e. while travelling to work). The phone he has is a Motorola L6.
This information about the phone I extracted from: www.motorolal6.com:
Size
* Dimensions: 113 x 49 x 10.9 mm, 56 cc
* Weight: 86 g
Display
* Type: CSTN, 65K colors
* Size: 128 x 160 pixels – Scratch-resistant glass – Downloadable screensavers, wallpapers
Ringtones
* Type: Polyphonic (24 channels), MP3
* Vibration: Yes
Memory
* Phonebook: 500 entries, Photo call
* Call records: 10 dialed, 10 received, 10 missed calls
* Card slot: No – 10 MB shared memory
Data
* GPRS: Class 10 (4+1/3+2 slots), 32 – 48 kbps
* EDGE: No
* 3G: No
* WLAN: No
* Bluetooth: Yes, v1.2
* Infrared port: No
* USB: Yes, mini USB
Features
* Messaging: SMS, EMS, MMS, Email, Instant Messaging
* Browser: WAP 2.0/xHTML
* Games: Yes + downloadable
* Colors: Silver
* Camera: VGA, 640�480 pixels, video – Java MIDP 2.0 – Push to Talk – T9 – Calendar – Currency converter – Calculator – Stopwatch – Built-in handsfree
Battery
* Standard battery, Li-Ion 820 mAh
* Stand-by Up to 345 h
* Talk time Up to 5 h 50 min
Evaluation
I think that although there is not much in the ways of ICT, the technology that he uses is sufficient enough for his job and lifestyle, for e.g. The mobile phone that he uses, although average, have all the useful features he needs for communicating; the telephone lines at work do their job allowing communication throughout the company and at home he has a line for people to contact him at out-of-work hours. The messenger service is also reliable for his social needs. The Samsung flatscreen TV is a great way to watch TV/movies in his personal time. Also in his spare time the Playstation Portable multimedia gaming device is an all-round entertainer allowing him to play games view pictures and watch videos.