Implication of the Title a Farewell to Arms Essay Sample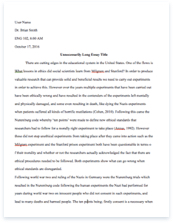 The whole doc is available only for registered users
OPEN DOC
Download Essay
A limited time offer!
Get a custom sample essay written according to your requirements urgent 3h delivery guaranteed
Order Now
Implication of the Title a Farewell to Arms Essay Sample
Ernest Hemingway's choice of title for his novel, A Farewell to Arms, perfects the full meaning of the book. This classic love story shows the typical Romeo and Juliet scenario. Lieutenant Henry, an American ambulance driver for the Italian front, falls head over heels for Catherine Barkley, an English nurse. These two placed against the odds of war, try to keep loving each other and stay together. The title A Farewell to Arms illustrates significance through Lieutenant Henry's abandonment of the war and the death of Catherine Barkley.
Lieutenant Henry's desertion of the war explains his hatred for the violence, attitudes of other soldiers, and the war itself. This expresses the significance of one of the title's meanings. A Farewell to Arms is literally Lieutenant Henry's goodbye to weapons. His view on weapons and the war is absolute hatred. He hated being forced to carry an automatic pistol on his back let alone actually firing it. Even his good friend Rinaldi, though required by law to wear one, just stuffed a gun holder with toilet paper. Frederic hides his attitude towards other soldiers. Other soldiers brag and tell stories of how they earned and deserve their awards, whereas he does not want any pity or special treatment for his duties. For example, Rinaldi says, "Did you refuse to be medically aided before others?" and Frederic replies, "Not very firmly." (Hemingway 63). This implies that Lieutenant Henry definitely did this, but does not want to be recognized for it at all. So after seeing and being around all of the arrogant soldiers, Fredrick becomes completely disgusted.
A Farewell to Arms could also refer to the loss of the loving arms of Catherine Barkley. Throughout the novel Catherine supports and loves those around her. She becomes very crucial to Frederic later in the novel because she takes him physically and mentally away from the ruthless, cruel realities of the war. Frederic quotes, "I could remember Catherine but I knew I would get crazy if I thought about her when I was not sure yet I would see her" (Hemingway 231). However, Ernest Hemingway is frank, realistic, and unforgiving writer, neither afraid nor embarrassed to expose any subject matter. Therefore, one of the kindest people in the novel dies giving life to another human being, who also dies, leaving Frederic in a state of depression. This demonstrates the authenticity of his style of writing because it shows that real life will not hold back for anyone. This event also agrees with some of the themes in the novel such as, reality of death, loss, and pain during war.
The title A Farewell to Arms expresses significance through Lieutenant Henry's absconding of the war and the passing of Catherine Barkley. These two key events show the significance in the title A Farewell to Arms. This classic Romeo and Juliet story shows how two people can help and depend on each other even under the odds of war. The title refers to Lieutenant Henry by him leaving the war literally meaning goodbye to weapons) and Catherine by her dying, therefore no longer supportive, embracing arms to love.
References:
Hemingway, Ernest. A Farewell to Arms. New York, NY: Scribner, 1957. Print.