Importance of Internet Essay Sample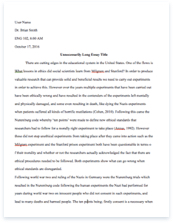 The whole doc is available only for registered users
OPEN DOC
Pages:
Word count: 530
Category: literacy
Download Essay
Get Full Essay
Get access to this section to get all the help you need with your essay and educational goals.
Get Access
Importance of Internet Essay Sample
In era of technology, computer has become an important part of everyone's daily life, be it children, students or workers. However, it is not common for some still have no knowledge of computer at all. Most of these comprises of the elders who have never had access to computers in their life before. Many who are not computer literate are seeking help in these matters as they believe that without at least a minimum knowledge in computer, life will be difficult. Well to some extent their belief is true as the computer has been constantly progressing and now offers so many opportunities and advantages that it almost impossible to progress without it. However, the fact e cannot survive without computer literacy depends on several factors.
Computer and technology are so much incorporated in our daily life as well as in the workplace that people find it difficult to obtain a proper job if they are not computer literate. Almost every job requires its workers to have at least minimum knowledge in matters of computers. Nowadays, even accounts are kept on the computer, thus along with qualifications in accountancy, accountants need to be computer literate. That was just one example but many other jobs are now done with the help of the computer . small jobs such as keeping records of transactions for small shops are included. Even in big libraries record of borrowed books are kept on the computer instead of on paper as was previously done. Thus, how can we expect to find a job without certain knowledge in computers.
While appearing for a job interview, a person with experience in using a computer has more chance of being chosen rather than a person who is not computer literate. Moreover, it is not common knowledge that computer brings a lot in terms of efficiency, be it at home or in the workplace. Shopping are now carried out through the internet and thus, with the help of the computer. It helps save time for other things. What with our hectic life that almost all of us lead in today's era, people have so much to do and so less time. Thus, doing these tasks online alwys help. But unluckily people who are not knowledgeable in computers do not have these opportunities. Moreover the internet now offers a great amount of information as well as entertainment.
For people who do not have access to these, they may not be able to do a lot of things, it may be impossible for students to complete researches and school work if they are not computer literate. However, we always do ask ourselves if computer literacy is that necessary to survive. Some people may deny the fact that one cannot live intoday's world without being computer literate. The mai n reason for this is because for some people computer does not have any use. What would an elder with knowledge in computers when they have already lived and managed without it. To some people computers are really just a waste of time. To some extent this is true. Often instead of being a help, computer is just a problem.