Importance of Nursing Theory Essay Sample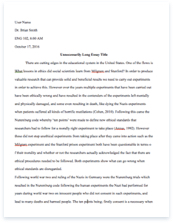 The whole doc is available only for registered users
OPEN DOC
Download Essay
A limited time offer!
Get a custom sample essay written according to your requirements urgent 3h delivery guaranteed
Order Now
Importance of Nursing Theory Essay Sample
In today's society, the lack of knowledge involving nursing theories is present. Theorists began discoveries in the early 1800s with Florence Nightingale and have continued to expand ever since (Hegge, 2013). "Nursing theory is defined as an organized framework of concepts and purposes designed to guide the practice of nursing" (nursingtheory.org, 2013). Nurse theory guides the practice of the nurses. There are three different categories for nursing theories; grand theory, nursing-practice theories, and middle range theories. The introduction to nursing theories seems to be minor in associate and bachelor's degree programs compared to a master's degree program. Nursing theory is the basis of care for patients.
The outcomes of the patient depend on the practice given by nurses. Studies show that those nurses who have a background associated with theory, practice, and research give the best practice. Orem's Self Care Deficit theory discusses the fact that illness or problems arise with patients. As people are presented with situations that decrease their ability to care for themselves, it is beneficial for a nurse to step in and be involved in their care. This paper will discuss the importance of nursing theory, summary of Orem's Self Care Deficit Theory, and the views of nursing education involved with Orem's Self Care Deficit Theory. Importance of Nursing Theory
Theory is defined as "a belief, policy, or procedure proposed or followed as the basis of action" (Nursingtheory.org, 2013). Nursing theories were and are still developed to improve nursing care, policies, and procedures. Without the theorist in the past and present, nursing would not be the profession that it is today. The importance of theories has evolved as the nursing theories have developed over many decades. The lack of education across the nursing spectrum has caused many nurses to be blind to the importance of including theory into their practices. The discussion of nursing theories is missed in the associate degree programs. This is also a reason that the lack of education is present. "Providing a definition of nursing theory also helps nurses to understand their purpose and role in the healthcare setting" (Colley, 2003).
It is also important to know what nursing theories are important to individual practice. Depending on the work that you perform, different theories will have a stronger threshold than others. Practice-based theories affect the staff nurse and it is important to focus on the quality of care given. Those nurses that have a strong background in theory have a solid platform to begin their practice as a nurse. Developing new, up-to-date skills is also an important practice that needs to be the center of care. Common goals need to be made with nurses who work together and theories can be used to ensure that these goals are met. It is important to remember that the care of the patient needs to be the focus of care as well. Summary of Selected Nursing Theory
The Self-Care Deficit Theory was developed by Doreothea Orem with hopes to improve the quality of care of individuals who were lacking the ability to care for themselves. The theory takes place when it is noted that a patient is struggling to care for himself or herself or can not complete processes that they normally could. A baseline of a patient is needed to compare the patient's deficits. Activities of daily livings are a way to assess the patient's abilities to function on a regular basis. An assumption of Orem's Self-Care Deficit Theory is that a person's knowledge of potential health problems is needed for promoting self-care behaviors (Nursingtheory.org, 2013). Orem's also presents that a patients needs to be accepting and able to care for themselves and others.
Self-care needs to be identified as an action that needs to be performed to achieve a satisfying overall health. According to Comley (1994), when therapeutic self-care demands are higher than what the patients can handle a self-deficit occurs. As nurses it is important to identify self-care deficits in early stages so that treatment can begin as soon as possible to help ensure that the deficit does not worsen. Reason for choosing Orem's Self-Care Deficit Theory involved the drastic amount of patients that I see that experience self-care deficits without any attempt of correcting the problem prior to my involvement with the patient. Nursing home patients and elderly patients that are taken care of by family members aren't always the center of attention. The patients that I see are not limited to this type of patient. The increase risk for self-care deficits to arise is on the prowl.
Elderly patients are sensitive with care and the problems at risk for increasing risk for self-care deficits need to be identified and a plan of action needs to occur. The plan of action needs to be patient-centered, focused and geared for a quick and steady recovery. Encouraging self-care behaviors is an important factor in Orem's Self-Care Deficit Theory. As nurses, interventions should be performed for the patient and encouragement and involvement of the patient with appropriate should be a focus. The nurse and the patient play major roles in this theory. The nurse steps in and picks up the slack when an individual cannot complete tasks on his or her own. Being healthy can mean different things to different individuals. Some patients live with everyday pain that may be considered normal, others may experience pain that alters their abilities to function at baseline.
Some have illnesses that are chronic and others have acute illness that will eventually become better with proper treatment. As a nurse, the main factor to realize is that everyone's needs are different and will vary even with the same diagnosis. Self-care deficits will present with varying degrees of complexity. Critical thinking needs to be involved to ensure that all patients will be treated the way that they need to be treated. Including Orem's Self-Care Deficit theory into everyday practice would be a good way to ensure that satisfying practice was being implemented. View of Orem's Theory on Education
Guidelines for practice can be identified when considering the use of Orem's Self-Care Deficit Theory. Orem's Theory can be involved in many nursing settings such as but not limited to medical surgical, critical care, emergency, and long term. In many nursing education programs, Orem's theory is implemented. One of the first things taught in many nursing programs is nursing diagnosis. Self-care deficits are always a focus when instructing students in the beginning phases of school. Identifying deficits in early stages is important for the patient's outcomes.
When a patient has issues with self-care deficits it is important to get the patient to return to baseline as soon as possible. An example of self-care deficits and practice that comes to mind is outpatient surgeries. Over the years, surgeries that were in-patient based post-operation are now going home on the same day that a surgery was performed. If the surgeries are not outpatient based the recovery time for the patient's have also improved drastically. The procedures have evolved and are less invasive due to the evolution of technology and research. Laparoscopy has been an evolution for the surgery world. The one surgery that comes to mind is a cholecystectomy. Removal of the gallbladder can be done with small incisions if surgery goes without any complications.
This results in a decrease amount of pain and a decreased recovery time for the patients. These two factors are big indicators for self-care deficits. The quicker the patient is pain free the faster the patient will be able to return to his activities of daily living and complications from operations are decreased. If a cholecystectomy is complicated then the patient will have to be "opened up" and a longer recovery time for the patient is present. Orem's theory needs to be activated on all patients and a return to normal needs to be in place as soon as possible. Enhancing education, research and practice has all been a part of improving post operation surgery care.
Another example that comes to mind that has resulted in a change of care due to research and practice is the use of foley catheters. Self-care deficits occur when a patient is not able to ambulate to the rest room, unable to urinate or is incontinent of urine output. The use of foley catheters used to be much greater before research was done to prove that foley catheters increase the risk for urinary tract infections in patients.
Foley catheters were used to prevent embarrassment of patients who were incontinent, prevention of skin breakdown was a focus, and care for the patient was easier with the use of catheters so that frequent bed changing did not have to be done. Nurses believed that they were doing a good practice but in reality they were causing further complications for the patient. Complication of care was then in place and a decrease in a return to baseline was present. Because of the research and practice that was in place, identification of bad practice was identified and changed. Conclusion
Nursing theories have become an important part of nursing and everyday practice. Nursing theories are important to implement into practice because they improve patient care, patient outcomes and nurse practice. It is a nurses' priority to care for a patient when he or she cannot perform activities or a self-care deficit has become present. Interventions that nurses perform can help a patient return to baseline. It is important to remember that all patients are different and need different approaches of the Orem's Self-Care Deficit Theory to return to the normal state of health or wellbeing. Research, practice and theory are the root of the development of nursing practice. Without theory, the nursing profession would not be where it is today. Focus on theory needs to be involved in all educational programs and needs to be continued throughout the span of a nursing career.
References
Colley, S. (2003). Nursing theory: its importance to practice. Nursing Standard, 17. Retrieved from http://www.ncbi.nlm.nih.gov/pubmed/12961951 Comley, A. (1994). A comparative analysis of orem's self-care model and peplau's interpersonal theory. Journal of Advanced Nursing, 1994(20), 755-760 Hegge, M. (2013). Nightingale's environmental theory. Nursing Science Quarterly, 26, 211-219. http://dx.doi.org/10.1177/0894318413489255 (2013). Nursing Theory. Retrieved from http://nursing-theory.org/articles/nursing-theory-definition.php