Importance of Team Work Essay Sample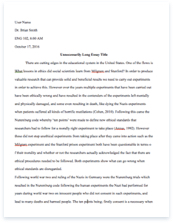 The whole doc is available only for registered users
OPEN DOC
Pages:
Word count: 2763
Category: teamwork
Get Full Essay
Get access to this section to get all help you need with your essay and educational issues.
Get Access
Importance of Team Work Essay Sample
Introduction
"Coming together is a beginning. Keeping together is progress. Working together is success"-Henry Ford The quote by the founder of the Ford Motor Company clearly highlights the importance and relevance of working together in a team. A team is a group of different peoples, with different ideas and skills, working towards common goals, common objectives and more or less think on the same lines. Teamwork is the fundamental requirement of every organization. To develop a better understanding of what the purpose of this essay is, a proper definition of a team is due. A team is a collective of people with different or same abilities working together to achieve a particular goal. It's not necessary that every individual has the same abilities but rather they should have similar goals and similar objectives. Team management is a vital tool, which should be taken into consideration and given extensive thought. This is precisely what this essay critically discusses. An investment in teams refers to analyzing each individual separately and predicting whether they will work efficiently together or not.
This is a highly debatable topic because there is no definite technique through which we can determine whether a set of individual's will be productive together or not. As quoted in business dictionary -"An organization is a social unit of people, systematically structured and managed to meet a need or to pursue collective goals on a continuing basis. All organizations have a management structure that determines relationships between functions and positions, and subdivides and delegates roles, responsibilities, and authority to carry out defined tasks.
Organizations are open systems in that they affect and are affected by the environmentbeyond their boundaries."Moreover, decrease in productivity, conflicts and hostility amongst employees, apathy and lack of involvement, ineffective staff meetings, and decisions misunderstood, low quality of work. Investments in teams is an invaluable part of an organization as a manager or an employee alone cannot do anything, the entire organization as a whole works together in a team to achieve the target goals. Teams are an inbuilt part of the organizational structure and it plays a fundamental part in helping the organization to achieve its goals. So in this essay I am discussing the importance of teams, its advantages, disadvantages, team effectiveness, team performance, team establishment and everything about team work and in the end conclude with the fact that investments in teams should be seen as invaluable in achieving organizational goals.
Teamwork
There are a lot of advantages of teamwork. Teams work more efficiently when problem solving involves innovation, brainstorming and motivation. All individuals can brainstorm and discuss their ideas and shape a better solution to a problem. Load balancing is also achieved by teamwork. All the work is not focused on one individual rather it is distributed between individuals. The structure of the essay kicks off with an elaboration of a team and how they are established. A team is made from its team members. The members of the team should be such that they complement each other and add to the benefit of the team. They should all work together and help each other. Group interest and needs should be prioritized over individual preferences. Organizations have a sales team, administration team, human resources team operation team and so on. All the members of the sales team would work together to achieve the sales target and generate revenues for the organization.
An Effective Team
Now that the fundamentals have been established, the essay moves on to team effectiveness and team establishment in organizations. Firstly, an ideal criterion should be established. An effective team is a consequence of a good investment in teams. The types of investments are discussed in detail in a later portion of the essay. The first and foremost requirement is the willingness to achieve a common goal and purpose. Everyone should be clear about the tasks they have been allotted and avoid any overlapping of tasks. This being done, the team can move on to actually initiating the task. All individuals in a team should have a particular set of values and beliefs, which everyone should respect. It should be analyzed that where problems in coordination are occurring and an attempt to solve it should be made. Another important factor that should be considered is how the team is managed and controlled. Since every individual has a different response type to every action, the team managing style should be chosen very carefully. Some people like to be lead in a very directive and formal style while others prefer a more informal approach.
Therefore, there should be a proper hierarchy within the team. It is important that teams which are formed by an organization are formed keeping the following points in mind so as to be able to achieve the goals .If an effective team is not formed and the management doesn't support the team and help it then all the benefits of a team are lost. Larson and LaFasto in their book titled Teamwork: What Must Go Right/What Can Go Wrong, proposed following characteristics for a good and effective team: 1. The team must have a clear goal. – The goals of a team should be clear ands specific according to the objective. They should not be confusing and should be understandable
2. The team must have a results-driven structure. Teams should be given the freedom to work in a way, which they think would produce the desired results. If they are required to develop a structure for the same then they should be allowed. 3. The team must have competent team members. A team should be educated and trained properly so as to be able to solve the problem that they face. They should be competent enough to do the level of work required. 4. The team must have unified commitment. The team and its members should all work towards the same goal and not towards their personal interest. It means that all individuals must be directing their efforts towards the goal.
5. The team must have a collaborative climate. There should be trust, honesty, openness, respect and consistency in the team. There should be a positive climate for the team to work in. 6. The team must have high standards that are understood by all. All the members of a team should know what is expected from them personally and as a team so that there is no confusion later. 7. The team must receive external support and encouragement. Management should always be active and keep supporting and encouraging the team so as to motivate them. . 8. The team must have principled leadership. A leader should always be there to lead and guide the team .He should possess leadership qualities and should work for the team. The team members will be less supportive if they feel that the team leader is putting him/herself above the team, achieving personal recognition or otherwise benefiting from the position.
Earlier we have mentioned the characteristics of an effective team. Now using these characteristics and after going through the following steps an effective team can be formed.
Team Establishment
A group of highly competent individuals working together does not create an effective team. For the development of a strong team, a group has to pass through clearly defined stages of development along with keeping in mind some of the basic fundamental elements.
The stages of team development are:
First and foremost stage of team development is forming, where members join a team. Forming is difficult as the team members are in the process in knowing each other and there is less frequent communication. Then storming is the stage, where conflicts may arise as the group begins the actual work with group members starting to express their different ideas and interests. After that comes the stage of norming where member settles their differences and starts finding ways of working together, thus there is conflict resolution. At this stage there is greater involvement of team members. Later comes the stage of performing, where team members are trained and competent. The members understand all the roles and responsibilities, and they are able to do their own problem solving. Finally the adjourning stage, where the task is completed and the team disband at this stage. Lessons for future tasks are identified at this stage. (Tuckman and Jenson,1977)
The teams that survive till the end has to undergo all the above stages again and again with new members joining in as the old members keep quitting slowly.
Following are the fundamental elements necessary to begin creating a high-performing team:
[pic]
Team Performance =supportive environment + clear goals + operating agreements + competent, dependable, trusted team members (R. Brenowitz, 2002)
Supportive Environment- All the teams need the support of the management and the internal support to be able to perform efficiently. Management needs to provide the team with the essential tools and material to perform the task. They also need to review all the tasks done by the team and guide them on the right path. Any team effort is doomed from the beginning if it's not receiving internal support from management. When the team members receive moral support from the management and are appreciated for the work that they do it helps in achieving the corporate strategy. Clear goals – It is important that the goals of each individual member of the team and the team as a whole are clear. Clear goals help to direct the team and provide a clear path, which they need to achieve.
When there are cross-functional teams clear goals are most important as in that case each member has to answer to their leader and their functional boss. Team needs to have well defined goals and vision from the very beginning for them to be effective. Operating agreements – The operating agreements lay down rules and regulations for the teams and each member, on how they should behave and how the team will work together. It also talks about things like the meeting times. Behavior code, the decision-making pattern, communication forums, information sharing guidelines, confidential information and how to help each other. These agreements can be team specific also according to their personal needs. These agreements need to clear about all the details so that there is no confusion.
With the creation of agreements the entire team-building process itself can be served, as the team will experience working together, communicating, and making decisions. This experience of working together can serve as a future model for the team. Competent, Dependable and trusted team members- Competent teams are those teams, which are well trained and have expertise in their field. A team needs to be well aware of its competencies so that they are given the required training in advance. Completing the task on time and not giving away any confidential information is where trusts and dependability come into picture. It is important that teams keep their agreements over time and should be trustworthy enough not to break the agreement in the middle. This is how a successful and competent team is formed which has all the characteristics to help an organization to achieve its goals.
Team Investment and Development Strategies
Establishing an effective team requires a lot of analysis and thought as to how each individual will respond to other team members. Team investments are an important aspect when it comes to successfully achieving organizational goals. Types of investments in teams include extensive training, individual analysis of team members, bonus payments etc. these factors contribute a lot to how effective a team can work together. If a group of individuals are randomly integrated into a team, there is a very low probability that they will succeed in achieving the task they have been allotted. Therefore, when a new team is put together, they usually go through some form of training according to the fragility of the task that they will be allotted.
They are trained on the actual work they have to do as well a coordinating with other members and keeping impersonal issues at a distance and acting professionally at every step of the journey. A team leader is a very important part of a team. According to the personal preferences of each individual, a team leader should have an idea as to how to manage all members effectively without any injustice. Deciding a team leader is also a very big investment. Usually, the team leader is also trained on team management and is required to extensively evaluate the personality and skills of each individual and according to that, decide which technique should be used to handle every member adequately. Outcomes (Positive and Negative)
Positive Points:
Investing in teams can help an organization to achieve a higher quality outcome, as teams bring different professionals from different groups, with varied ideas, skills, talents and many different ideas. Working in team motivates, inspires and encourages its members to speak up, hence increasing responsiveness and thus reducing costs. Individuals rarely possess the wide variety of skills needed, teams do. Cross-functional teams provide the wide variety of skills needed. Team activities reduce the chances of confusions, misunderstandings and in a way making the communication effective. While working in a team, goals are easily achieved as everyone contributes their parts, providing variety of perspectives. Teams enable the intelligence and creativity of many to be used to solve a complex problem. In a team, the other team members can perform and manage the work in the absence of any member and hence work is not affected much. Teamwork teaches an individual how to identify differences and find compromises. In total, it enables individual to make use of synergy.
Negative Points:
Teams can also obstruct organization's performance. Team discussions lead to wastage in a lot of time. As a lot of time is taken up in discussing the topics and negotiating with all the members and then coming to a final conclusion to form and organize a line of action. There can be a lot of disagreements in a team due to different opinions of members because of which to come to a final conclusion it takes a lot of time. A team is successful only when all its members work in coordination with each other. Even if one member doesn't work the project suffers. A lot of time is consumed in talking about general and unproductive stuff, which leads to delay in execution of main product.
Conclusion
Efficacy of any Organization has its sole criteria, i.e. the workforce or the Team. They facilitate in streamlining the process and increasing its efficiency and effectiveness. Teams are particularly good at combining talents and providing innovative solutions to possible unfamiliar problems; in cases where there is not well-established approach; procedure, the wider skill and knowledge set of the group has a distinct advantage over that of the individual. In general, however, there is an overriding advantage in a team-based work force, which makes it attractive to Management: that it engenders a fuller utilization of the work force. It is often under estimated that team investment is not that important factor that it can affect the outcome of an organizational objective.
But, team is a self-managing unit in itself. The range of skills provided by its members and the self-monitoring, which each group performs, makes it a reasonably safe recipient for delegated responsibility. Over the years, remarkable outcomes have stemmed from teams. From the individual's point of view, the team provides an environment where the individual's self-perceived level of responsibility and authority is enhanced, in an environment where accountability is shared. a new recognition and appreciation of individuals and groups are emerging Market at today's scenario has become a turf for the fiercest battle to resent talents. Attrition rates have skyrocketed for some but for some has dwarfed, and the major deduction to explain this would be the management in building a good team.
References
1. Boddy D, 2009. Management- An Introduction. (Pages 514-534), 5th ed., Prentice Hall.
2. Business Dictionary, Available at http://www.businessdictionary.com/definition/organization.html
3. Larson and LaFasto, 1989. Teamwork: What Must Go Right/What Can Go Wrong, Sage Publications. Available at http://www.ndt-ed.org/TeachingResources/ClassroomTips/Teamwork.htm
4. R. Brenowitz, (2002). "Team Essentials", available at http://www.brenowitzconsulting.com/pub/article_11.html
5. Team Building – http://www.managementstudyguide.com
6. Vineet Bajpai, 2011.The Street to the Highway. Jaico publications.
7. A.Paul Hare, 1992. Groups, Teams and Social Interaction. Praeger
publications