How Important Is The Role Of The Supernatural In This Play Essay Sample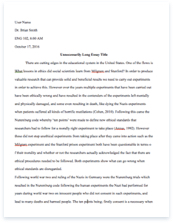 The whole doc is available only for registered users
OPEN DOC
Get Full Essay
Get access to this section to get all help you need with your essay and educational issues.
Get Access
How Important Is The Role Of The Supernatural In This Play Essay Sample
The supernatural, obviously including the witches, has a huge role in Macbeth, the play; if not in history. Their role is to interest the audience of the time, to add a twist, and also to lead the play on – as such narrating it.
The play is about power; getting and abusing it – hence why it is in a black and white fashion; and ambition. The witches have power, Lady Macbeth has power over her husband, but is ambitious – craving more, and Macbeth also seeks more power through ambition.
The power the witches have is one for corruption, and they manage to corrupt Macbeth. They seem to know their victims very well, and can derive their deepest desires. The image Shakespeare is trying to portray is one where witches are evil, devil praising, and dangerous – being able to read minds. They manage to bring to life the ambition of their victim so vividly that the victim can do nothing but desire even more than previously. It the case of Macbeth, it drove him to murder.
The witches are put in the play simply because of the beliefs of the time, and because of James I's personal interest in witches. The witches in the first scene casting a spell would really enthral an audience, making them both comfortable and uncomfortable simultaneously – they can relate to their own time through the play, yet they are also frightened out of their wits by it.
The witch beliefs of Shakespeare's time, in the early 17th Century were that of:
'They could predict the future, fly, sail in sieves, bring on night in daytime, cause fogs and tempests, and kill animals. They cursed enemies with fatal wasting diseases, induced nightmares and sterility, and could take on demonic possession of any individual they chose. Witches could raise spirits by concocting a horrible brew with nauseating ingredients.' Quotation from Ideas and Activities; Witches and Witchcraft – p166.
Everyone of the above, the witches mentioned or performed during the play, and to the audience of the time, they would scare and strengthen people's belief. The witches in the play predicted Macbeth's rise to the throne:
'All hail Macbeth, that shalt be king hereafter!' (Act 1 Scene 3).
Quotations from the play showing the witches powers:
'Hover through the fog and filthy air.' (Act 1 Scene 1) – demonstrating flight.
'But in a sieve I'll thither sail,' (Act 1 Scene 3) – sailing in sieves.
'And yet dark night strangles the travelling lamp (sun).' (Act 2 Scene 4) – an eclipse – darkness in daytime.
'Our chimneys were blown down,' (Act 2 Scene 3) – a tempest.
'(Horses) Turned wild in nature, broke their stools, flung out,
Contending 'gainst obedience, as they would make
War with mankind.' (Act 2 Scene 4) – killing animals.
'Weary sev'n-nights nine times nine
Shall he dwindle, peak, and pine.' (Act 1 Scene 3) – the witches cursed a sailor so he was unable to sleep – nightmares induced and insomnia.
'A falcon towering high in her pride of place
Was by a mousing owl hawked at, and killed.' (Act 2 Scene 4) – demonic possession.
'Scale of dragon, tooth of wolf,
……
For th' ingredients of our cauldron.' (Act 4 Scene 1) – a disgusting brew which brings on premonitions.
Shakespeare also knew of King James I's beliefs and encounters with witches. He understood how interested the King was, and so wrote it for his enjoyment. The King had, in 1590, discovered a witches' plot to kill him, and the accused were stood on trial. Indeed, one with, Agnes Sampson, claimed to do many unholy and supernatural acts. In 1597, King James wrote Demonology – a book about witchcraft. With such a frenzy about the supernatural going on in the early 17th Century, Shakespeare had the good sense of mind to introduce this phenomenon into his play – everyone at the time was very interested, and so drawn to watch it.
Shakespeare also seemed to have an advanced knowledge of the effects of stress for his time. Macbeth is obviously very stressed with the idea of killing, and his inner self, at least, knows that what he is doing is wrong. Hallucinations, and the Ghost Scene, are a big part of this – today we know that stress may well promote hallucinating. In Act 2 Scene 1, before the murder of Duncan, the realisation of what he is about to do reaches Macbeth:
'Is this a dagger which I see before me,'
Macbeth knows that he will use a dagger to perform the dreadful deed. It is covered with blood, and the sight of this shocks him greatly. He seems to have an idea that maybe it is not real, but it still scares him.
The Ghost Scene, Act 3 Scene 4, appears to be very real and dangerous to Macbeth. His conscience is unable to cope with the culmination of stress and wrong doing, and now threatens to reveal all. It is completely supernatural for there to be a ghost, and Macbeth is the only one to see it. At this point Macbeth's courtiers get worried about the stability of their new king. The ghost could also be sign of cosmic disorder. Duncan should still be the rightful king, and when dead, the throne should be passed on to Duncan's son, Malcolm. The cosmic order has been interrupted, and so many adverse things happen to Macbeth, until the rightful king is crowned:- Macbeth was not chosen by God.
The second visit to the witches, where they feed him a brew to see the future, also influences some hallucinations – the concoction could perhaps consist of hallucinogenic drugs; i.e. magic mushrooms. Much of the supernatural, besides the witches, appears to be in Macbeth's powerful mind.
There are many parts of this play which would, in the 17th Century, be classed as supernatural, but today they would be a simple explanation. The ghost could be classed as a hallucination, and all the hallucinations could have been brought on by stress – we now know that to be quite possible. There are also natural phenomena, which today is perfectly normal, but was considered to be connected with witches then. One example is that of an eclipse:
'An yet dark night strangles the travelling lamp.' (Act 2 Scene 4).
This would have been presumed as a sign of witchcraft, yet it is just a coincidence. In Act 2 Scene 3, Lennox talks of a bad storm – another unfortunate coincidence with Duncan's death. The characters of the time would consider the events to be cosmic disorder.
The are occurrences in the play, however, when even today the phenomena would be classed as unnatural. From Act 2 Scene 4, an old man and Ross discuss strange events, which neither can really explain – they blame the supernatural. The old man explains how:
'A falcon towering in her pride of place
Was by a mousing owl hawked at, and killed.' (Act 2 Scene 4).
This event is very strange. The owl, who is a low flyer, should be killed by the falcon circling overhead, but against the laws of nature, the owl kills the falcon – there is no plausible explanation. Ross then details how Duncan's horses turned wild and began to eat each other. This is certainly unnatural, and demonic possession could be believed to be the cause.
Another happening in Macbeth, which is now accepted as ordinary, is that of sleepwalking, which Lady Macbeth does in Act 5 Scene 1. The characters in this part of the play, a gentlewoman and a doctor, watch as she proceeds to reinact her performance of the night of Duncan's murder. The doctor seems to have some idea of what is happening. He believes that she has done unnatural things, leading to sleepwalking, which is classed as supernatural:
'Foul whisperings are abroad. Unnatural deeds
Do breed unnatural troubles; infected minds
To their deaf pillows will discharge their secrets.' (Act 5 Scene 1).
The doctor certainly seems to believe that there is nothing he can do for her, suggesting looking for a priest, rather than a doctor:
'More needs she the divine than the physician.' (Act 5 Scene 1).
There are also many references to dreams. Banquo says:
'I dreamt last night of the three Weird Sisters.' (Act 2 Scene 1).
He shows that he is obviously troubled by the fact that the prophecies have come true, and some of his sleep is being taken over by the witches. Macbeth is also deprived of sleep – perhaps by the witches:
'In the affliction of these terrible dreams
That shake us nightly. Better be with the dead,' (Act 3 Scene 2).
Macbeth is very troubled by the fact that he would prefer to be dead than have these nightmares. Lady Macbeth also tells of her husband lacking sleep:
'You lack the season of all natures, sleep.' (Act 3 Scene 4).
Other possibilities of the supernatural are also in the riddles which Macbeth is given the second time he sees the witches, in Act 4 Scene 1. The first apparition here says a simple statement, but the other two apparitions have deeper meanings:
'…for none of woman born
Shall harm Macbeth.' (Act 4 Scene 1).
Macbeth should know not to take the prophecies at face value, but he still does. This strengthens his belief that he is safe, whereas the actual meaning is that no one born naturally can kill Macbeth. Macduff, who finally disposes of Macbeth, was:
'…from his mother's womb
Untimely ripped.' (Act 5 Scene 8).
The third apparition gives this riddle:
'Macbeth shall never vanquished be, until
Great Birnam Wood to high Dunsinane hill
Shall come against him.' (Act 4 Scene 1).
Macbeth now presumes his safety, because it would take a very long time for a wood to grow up a hill. Once again though, he is misled, and when the rebel army climbs the hill, camouflaged, Macbeth realises that his time has come.
In this play I believe that the supernatural plays a vital part. All the witches and the supernatural seem to have much to do with power, which is what the play is firmly based on – the whole idea of cosmic order, and how it has been interrupted. God did not choose the King, and so powerfully wrought his revenge, with raging tempests, and other strange phenomena. Much of the supernatural in the play is now laughable – although it would not have been then – but there is still the symbolism involved, and all that points to power, and mistreating it; and ambition.