In What Ways Does George Eliot Elicit Our Sympathy For Silas Marner? Essay Sample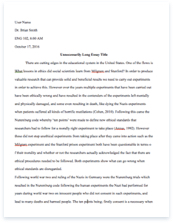 The whole doc is available only for registered users
OPEN DOC
Pages:
Word count: 1835
Category: eliot
Download Essay
Get Full Essay
Get access to this section to get all the help you need with your essay and educational goals.
Get Access
In What Ways Does George Eliot Elicit Our Sympathy For Silas Marner? Essay Sample
Throughout the nineteenth century, there were habits which all writers followed. They are called literary traditions. Throughout this coursework, I will try and weave in the ways in which the literary traditions of the nineteenth century are embedded in this novel. It was very rare for women to have their work published in the nineteenth century so the author of this novel had to change her name to a mans name. The original name of the author of this novel is Mary Ann Evans. Women's work took a great change to men's writing because, as it is known, women include their own psychology in their writing, which is different to the way men think and write. Also women are more emotional in their writing, which tends to emerge during the course of their novels.
This entire novel is about a man named Silas Marner. At the beginning of the novel he lived in a small town called Lantern Yard, and the reader immediately notices that he is living a normal and relaxing life. One can see this from the immediate words 'in the days when the spinning wheels hummed busily.' This instantly implies an atmosphere of relaxation, so the by the end of the first page, Eliot has already set a relaxing scene.
Nevertheless this is all about to become insignificant because as the story continues, he loses his faith in god, and is banished from his hometown. Silas was given an important job of watching over the deacon, and even at this crucial time when the deacon was sick, he fell into a deep trance and when he was 'restored' back to his current surroundings, he notices that the deacon has died and a bag of gold had gone missing from the deacon's house. It turned out that that Silas's good friend stole the gold, and when it was recovered from Silas's house, and lots were drawn against him, the result is, as I said before, banishment from the town, which he had loved so much. At this point, I think it is safe to point out, that his faith in god has been lost. I think this way because Silas knows that he did not do this dreadful act, but Silas thinks that god has falsely pointed the finger at Silas. This then causes him to think that god is against him, which results in a loss of faith in god.
When Silas was banished he moved to a town called Raveloe. He was evidently a loner, a recluse and a social outcast. Despite this though, he is a straightforward person, spending his days weaving and we can see that he has gathered a small amount of gold over his years of weaving, which seems to be Silas's closest friend! The novel advances into chapter 3 and says that 'the greatest man in Raveloe was Squire Cass.' Dunstan, also known as Dunsey, who is the son of Squire, stole Silas's only friend-his gold, and the novel explains how Silas is completely agitated and distraught by his loss.
The novel now reaches its climax and Silas finds hope again, when he discovers a young girl, who he names Hephzibah. Also Silas becomes friendly with a kind woman called Dolly Winthrop, and it seems to the reader that since his gold was stolen from him, his life has been improving increasingly. He eventually adopts this beautiful young girl, whom he has evidently become very attached to, and returns to his old home, Lantern Yard, to discover it has been totally destroyed, and has transformed into a terrible place.
The ways in which people react to Silas draws out our sympathy for him. When Silas leaves his hometown of Lantern Yard, we see that he has been framed. William used him as 'bait,' which really made me feel sorry for him. It surely was not his fault, and the whole time he was merely minding his own business. When he is banished, the words 'poor Marner,' suggests that even the author felt sorry for the character. Another case is the robbery on Silas's house by Dunsey, because Dunsey is again taking full advantage of Silas being there, when all Silas wants to do is live his life, secluded from all other beings.
I have, however, only mentioned the bad things that happen to Silas Marner. But, there are good things that happen to Silas Marner, that also draw out our sympathy for him. We seem calmed finally, when Silas builds a friendship with Dolly, who is a pleasant person. He has finally found that life is not all about money, but rather improving ones own character, and building solid friendships with people who care. Silas has surely done this, and we feel happy for him that he has made a friend, even though he had his money stolen.
The whole novel engages the reader in the increasing interest in human motivation. Guilt at the beginning of the novel when he was accused of stealing the gold. Despair when he loses his own gold. Hope when he finds Eppie, and creates a friendship with Dolly. And finally love, which he feels towards Eppie.
We see that Silas is extremely sensitive and was a religious person with full faith in god. When he is banished from Lantern Yard though, he goes through a complete loss of faith in god. He knew he was innocent and he felt that if god could not find him innocent, then either there is no god at all, or even god did not trust him.
A very basic and noticeable way that George Eliot brings out our sympathy for Silas Marner is by involving him in terrible happenings, the worst one being that his life savings were stolen from him. Eliot describes Marner's reaction in comparison to an animal, and said that he 'stood motionless' because he was totally gob-smacked by what had happened. He was so convinced that this had not happened that he ' passed his trembling hand all about the hole, trying to think it possible that his eyes deceived him.' In Silas's mind, he knew that he was not deserved of these terrible happenings, and that he was a mere weaver who did not mean any harm to anyone. This is one of the main ways in which George Eliot elicits the sympathy of the reader, because when we see that Silas is experiencing these matters in his life, we can feel the pain too, and not only is this drawing out our sympathy for Silas, but it is also a very clever technique that is used throughout the course of this intense novel.
Authorial comment was also a known device used in nineteenth century novels, and George Eliot also adds in her own occasional authorial comment. This is when she stops, and recaps what is happening in the story. It is a good way of clarification because it elucidates what is happening in the story. George Eliot, whilst writing the novel, is expressing her own opinion on Silas Marner's life, which brings out our sympathy for Silas, in yet another effective way.
Social change was another tradition in writing that was practiced by the majority of nineteenth century authors. George Eliot decided to involve current happenings of England in her novel. English people realised that England was changing due to industrialisation, and this is shown in Eliot's writing when Silas goes to Raveloe after being banished, and the people did not want to accept him in their community because he was a newcomer. People of that time felt like this toward strangers, thinking that they have connections with, as it says in the novel, 'the evil one.' Also, at the end of the novel, when he returns to Lantern Yard, he found that factories had ruined the whole settlement. This is another way that George Eliot made use of the traditions of the nineteenth century, and the example of banishment is another way in which George Eliot brings out our sympathy for Silas Marner.
Religious beliefs are also a main factor of this novel. When Silas was in Lantern Yard at the beginning of the novel, we see that he is a fairly religious man, even being trusted with the honour of looking after the sick deacon. We can see that the community of Lantern Yard taken religion and belief in god quite seriously. Yet there was no affection and hospitality in the faith of the people of Lantern Yard. Although they have deep trust in god, they still turned Silas away from his dwelling, on a permanent banishment. The love that Silas did not receive from Lantern Yard is what he sought though, and eventually he found this in the generosity of Dolly. George Eliot involves a lot of religious beliefs throughout her novel, and the whole fact that Lantern Yard's community banished Silas from his home because of lots, which is god's decision, brings out our sympathy for Silas.
The novel also involves a lot of questioning in social status. Chapter two begins by saying,' the greatest man in Raveloe was squire Cass.' Quite evidently from their behaviour, the Cass family seem like the nasty people of the novel. Silas, who we are being sympathetic to, is a good person, and George Eliot approves of Silas Marner, who socially is of a lower class than the Cass family.
When Silas lived in Lantern Yard, it was evident from the description that it was a closed community. A closed community is a plant community that does not allow for further colonization, because all the available niches are already being occupied. This is also a good way to describe Raveloe, since they were so unwelcoming to Silas. Another main theme in the novel is hope, which Silas finds, when he discovers Dolly and Eppie. Different themes were also a classical way of capturing a reader's attention in the time of the nineteenth century. And George Eliot makes use of this tradition to bring out sympathy for Silas Marner.
It was a tradition in the nineteenth century to close the novel on a happy note. This was a relatively common practice throughout all novelists in that time and George Eliot followed the trend of closing the novel with a happy ending. Common day authors tend to vary between happy and sad endings, but closing the novel on a happy note, capped off a very good novel for George Eliot. Whilst it involved the reader in a very clever and well-structured piece of writing, it also taught me a lesson that I will use in the future; don't live a simple life, befriending yourself from others, but rather enjoy life to the maximum, and even if something which is precious, is taken or stolen from you, just have faith in god and he will be there for you to return something even better!