Inclusive Learning and Teaching Essay Sample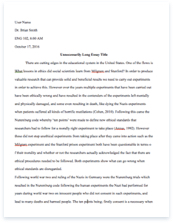 The whole doc is available only for registered users
OPEN DOC
Download Essay
Get Full Essay
Get access to this section to get all the help you need with your essay and educational goals.
Get Access
Inclusive Learning and Teaching Essay Sample
Theories and principles for planning and enabling inclusive learning and teaching. This assignment aims to identify and discuss learning and teaching strategies that are particularly effective in meeting learner needs within the military environment. It will review some of the five main areas Behaviourism, Neo Behaviourism, Gestalt, Cognitive, Humanist, and how these can be exploited within our delivery of learning and teaching, that the delivery strategy adopted is suitable to meet the needs of our learners with in the military environment, and to make sure the correct resources are available and ensuring the delivery of well-structured lesson. Reece and Walker (2006) discuss learner and learning: principles and practises and analyses these areas breaking them into four parts. What I will do is look at how these break down and incorporated along with the five main theories and how these can be adopted in teaching and learning within the military.
Principles of Learning.
Learning within a military environment learning it takes two very distinctive routes. Due to the fact the military is an autocratic society and to the nature of its training and learning it could be perceived that Soldiers are treated Neo–behaviourists and certainly a lot of military training would fit the Gagné (1975) eight types of learning. This is true for some of the basic fundamental and core military subjects. However I must also understand that outside of these core fundamental's we need to be more reflective of the learning Domains. When I look at the delivery of training to soldiers I can see that it falls mainly with in the psychomotor domain and behaviourism, and only as the rise up the ladder of responsibility does the method and delivery model change to incorporate cognitive and affective domains, and a more andragogical model of delivery.
The Domains.
Bloom (19five6) recognises that there are 3 learning domains and classifies certain styles into particular domains. Within the military I can clearly see a distinct pattern with in the delivery and teaching process of soldiers during their career path. Commencing with Psychomotor Domain and then moving onto the cognitive domain, this can be easily identified in military instruction technique EDIP (Explanation/Demonstration/Imitation/Practise) and is associated with basic military training and repetitive instruction this is one of the most exploited domains with in the military examples of this are foot drill/weapon drill through the physical learning spectrum up to and including going into battle, the majority of which is also covered by behaviourism. As a Soldier progresses with in their chosen career specialisation they start to fall into the Cognitive Domain this can easily be seen in military teaching on more in depth course and instructional courses. If we look at Krathwohl et al., (1964) we can see how progression within the military changes how our soldiers learning needs and styles change. I see little of the Affective Domain within Military teaching until the Soldier is getting towards the end of his career and needs to consider life outside the military or seeking promotion to the middle management elements of the military.
Motivation.
The delivery of work based learning with in the Military has many benefits both for the learner and for the tutor, as the majority of the learners have requested to be on program. This is reflected in our success rate as the learners predominantly wish to progress and continue their learning once they have completed the basic level, meaning that most of our learners are highly motivated, and adopt a healthy attitude towards learning. Maslow's (1962) hierarchy of needs is suggests that there are five basic needs, with in a military environment we can quickly see that of these, four are quickly adhered to or reached. The last one of these needs "Self-actualisation" is normally a result of the previous four being meet and identified and additional responsibilities or promotion being given, fulfilling the fifth need.
Curzon (1990) Extrinsic motivation is very much a teacher driven, our learners are catered for throughout this area as they are predominantly being taught within a familiar environment and subjects that they have already dealt with. This will involve several styles of learning and allow the learners to dictate their own learning pace. ILT has become the accepted way of delivery and recording of work produced by our leaners, this initially slowed down our delivery due to a variety of reasons. I deal with a multi-national learner base that speak read and write and multitude of languages. This pose's its own problems but when this is added to ILT is basically means to achieve anything the teacher first has to teach the learner how to use the ILT. Many of the newer frameworks which we deliver have ILT as an integral part of it. I also assess and verify a ILT based qualification these learners generally are ahead of the game with the use of ILT.
Other Theories of Learning.
There is a great deal written about other theories of learning the main five of these being Behaviourists, Neo-behaviourism, Gestalt, Cognitive Development and Humanists. We also have to consider lifelong learning or third age learning and the work carried out by Knowles (1983), Kolb (1984) and then the learning styles advocated by Honey and Mumford (1986). The delivery of lessons to a military audience predominantly use's three main theories behaviourism, humanistic and cognitivism. Curzon (1990) learning continuum suggests that we have a choice, which allows us to include differentiation within our delivery and chose the most appropriate method for our students and the subject being delivered.
Our selected method needs to meet the requirements of the subject and the level at which the subject is being delivered at. We can see from Knowles (1983) identified six assumptions about adult learning, our students in a military environment and in the "third age" meet most if not all of these criteria. If this is true of our military learners then as delivers we need to be aware of the "Charter for Andragogy " Mezirow (1981) which set out what we teachers of adults need to be aware of to teach our learners. If we look at the Kolb (1984) explained how learning has four stages as well as Honey and Mumford learning styles we can see how this can be incorporated into our delivery models. The use of tests for example during the assessment process or conclusion activities in the classroom or assessment can be directly reflected into the Kolb model. Knowing how our students learn will ensure I am delivering my lesson at the right level to our audience using the correct teaching strategies.
Conclusion and Recommendations
You can see that throughout this assignment I have identified a number of deferent principles, teaching and learning styles. How these can and often are incorporated into the delivery of lessons in a military environment. We have also seen the importance of knowing how our learners learn and how we can best adapt our delivery to suit their needs. As a teacher or deliverer of education I need to be aware various teaching methods and how I can best deliver the lesson to my learners. Receiving and giving of feedback from learners is an excellent way to move forward and enhancing our delivery model and strategies.
References
Armitage A., Bryant R., Dunhill R., Hammersley M., Hayes D., Hudson A., Lawes S. (2001) Teaching and Training in Post-Compulsory Education. Open University Press
Armitage, A., Evershed, J., Hayes, D., Hudson, A., Kent, J., Lawes, S., Poma, S. and Renwick, M. (2012) Teaching and Training in Post-Compulsory Education. 3rd ed. Buckingham: Open University Press
Bloom B.S. (Ed.) 19five6 Taxonomies of educational goals: Handbook I, Cognitive domain. Longmans Green, New York.
Curzon, L.B. (1990) Teaching in Further Education Fourth Edition Cassell Education Limited
Gagné, R. (198five). The Conditions of Learning (4th ed.). New York. Holt, Rinehart & Winston
Honey, P and Mumford, A (1982) Manuel of Learning Styles.
London: P. Honey
Maslow, A. (1970). Motivation and Personality. 2nd edition. New York: Harper and Row.
Reece I and Walker S (2006) Teaching Training and Learning Sixth Edition Gateshead: Business Education Publishers Limited.