Incorporation of Basic Mathematical Skills in Lesson Planning Essay Sample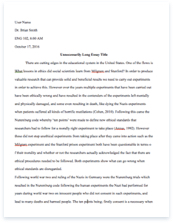 The whole doc is available only for registered users
OPEN DOC
Download Essay
A limited time offer!
Get a custom sample essay written according to your requirements urgent 3h delivery guaranteed
Order Now
Incorporation of Basic Mathematical Skills in Lesson Planning Essay Sample
As education is the key for the attainment of knowledge of most people, it is important that every lesson that will be given to the students regardless of their ages and courses must be given or discussed with a good preparation. Lesson plans are necessary tools in the field of teaching.
A lesson plan is a detailed program of lectures and supplementary activities specifying the objectives or desired comprehension results of a particular session. It usually involves discussion plans and strategies designed to effectively attain the targeted results per session. It often finds great utility in supervised activities where comprehension progress is being gauge from time to time.  Thus, lesson planning has become a custom practice among educational institutions, particularly in the primary and secondary levels, where accuracy, speed and quality of lectures are essential.
Lesson planning may involve different elements and may require various media which are dependent on the subject of discussion. Some lectures can effectively be carried out using simple discussions and text materials. However, some domains inherently involve ideas and concepts which are too abstract and complicated to be explained accurately by typical discussions. One example of such domain is Social Studies. Due to its wide scope, it often involves quantitative information such as time-series, rankings, proportions, deviation, distributions, and some abstract concepts. Presenting such information using plain discussions may compromise the accuracy of the lecture and may result to poor comprehension. Thus, lecturers may opt to incorporate basic mathematical skills such as graphing and tabulating in making a plan of lessons.
            Visual representations are powerful learning devices. Visual aids such as tables and graphs are more effective media in communicating quantitative information. Information such as population growth rate and economic trends can hardly be expressed using in-text discussion. Graphical images were also found to have particular relevance in honing problem-solving skills among students. A study comparing the performance of students who were presented material with and without graphic displays provide convincing evidence that comprehension was improved for those who were taught with graphics (Cited in Arnold and Dwyer 1975; Booher 1975; Decker and Wheatly 1982; Holiday, Brunner, and Donais 1977; Rigney and Lutz 1976).
Graphical images or graphics are classified as Sequential, Quantitative, Tables, Maps and Diagrams. Sequential graphics includes flow charts, time lines, organizational charts and process charts. This type of graphical representation is used to communicate trends and relationships of certain quantity with respect to time. Population and economic growth are examples of data which are often presented using sequential graphics. Examples of Quantitative graphics include number lines, bar graphs, pictographs, and pie graphs. Graphs are graphic forms that illustrate trends, patterns, nominal comparisons, distributions, co-relationships and deviations among variables at least one of which is continuous. Thus, a plot of height with age (two continuous variables) or a histogram showing the Gross National Products of different countries (one continuous and one categorical variable) are both referred to as graphs (Duplass,1996). Tables are use when individual values or data are intended to be emphasized or when comparisons between data values are to be done. It presents data in row by column matrices. Characteristics of particular domain or territory are usually presented using maps. Maps can either be political maps, physical maps and special purpose maps.
            The use of graphical images in lesson planning should be guided by: the descriptions and functions of the kind of graphics to be use; the medium of display (for example, a table or a graph, and the appropriate kind of either), and the different visual components of the chosen display medium. Incorporating appropriate graphics to Social Studies Lesson Plans, coupled with sufficient skills in accurately interpreting such graphics, promises greater facility in lectures and better comprehension of students.
References
Few, S. (2004). Designing Effective Tables and Graphs. Perceptual Edge.
Duplass, J. (1996). Charts, Tables, Graphs and Diagrams: Social Studies. An Approach for
Social Studies Teachers, 32.
Doyle C and Robson K (2002) Accessible curricula: good practice for all UWIC Press: Cardiff.