Independent Study Essay Sample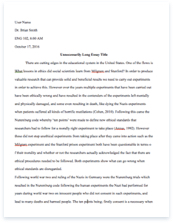 The whole doc is available only for registered users
OPEN DOC
Download Essay
Get Full Essay
Get access to this section to get all the help you need with your essay and educational goals.
Get Access
Independent Study Essay Sample
Does homebirth increase the risk of a negative maternal and fetal outcome in primigravida women than birth in a hospital setting?
Word count: 3,284
Submission date: 5th April 2013
This study intends to examine current evidence and literature on maternal and fetal outcomes in relation to birth setting. The student aims to critically analyse the findings of up to date research studies and make recommendations for change where necessary, whilst concluding whether homebirth is a safe option for primigravide women.
In Britain today all women have the right to choose where to birth their baby. For many the decision will be based on convenience, their lifestyle or medical factors with some feeling that a birth at home is a more natural and relaxed place for their baby to be born. Primigravida women have the same right as primiparous women to choose between a birth at home and a birth in a hospital setting even though evidence has suggested that primigravida's are at an increased risk of a negative perinatal outcome (Brocklehurst et al, 2011). The student has chosen to discuss the safety of homebirth for primigravida women from her experience of a negative perinatal outcome while in attendance of a planned homebirth. This experience has made the student question how safe a birth is outside of a hospital setting for low risk primigravida women. For this independent study the student intends to research quantitative evidence from UK and European based studies to evaluate if there is a correlation between homebirth and negative maternal and neonatal outcomes for low risk primigravida women in comparison to outcomes for primigravidas birthing in a midwifery or obstetric led unit. The student aims to answer:
• Is homebirth a safe option for low risk primigravida women?
• Does place of birth have an impact on maternal and fetal outcomes?
• Are primigravidas more likely than primiparous women to have a negative outcome regardless of birth setting?
By answering these questions the student hopes to conclude whether the evidence suggests that homebirth should remain an option for all low risk pregnant woman regardless of parity or whether in the interest of patient safety the guidelines on homebirth in the UK need to be reassessed to put in place additional safety measures or an exclusion criteria to make homebirth a safe option for primigravida. The aim of this study is to assess whether the home is a safe place for a primigravide woman to birth her baby with the aim of achieving a positive maternal and neonatal outcome. By drawing a conclusion midwives should be able to offer primigravide women evidence based advice and make recommendations based on the findings of the research in order for women to make an informed decision about their planned place of birth.
At present homebirths account for approximately 3% of births within the UK but they are increasing in popularity amongst women who perceive homebirth to be a convenient option that fits in to a busy lifestyle. The birthplace in England national prospective cohort study (British Medical Journal, 2011) was a large study in to perinatal and maternal outcomes by planned place of birth that encompassed all NHS trusts across England. A total of 64,538 women with low risk pregnancies, as defined by NICE intrapartum care guideline 2007, and included nearly 17,000 planned homebirths were recruited over a 2 year period with the study comparing results from home, midwife led unit and obstetric led unit births with researchers primarily focusing on rates of mortality and morbidity in relation to the birth setting. The study found that overall the rate of a negative maternal outcome occurring which included serious maternal complications and death was 4.3 per 1000 women and that no difference was noted between obstetric led units and non-obstetric led settings (Brocklehurst et al, 2011).
Researchers then looked at their results in relation to parity alongside birth setting and found that primigravide women who had opted to birth at home had a greater incidence of neonatal complications arising when compared with primigravide women who had opted to birth in an obstetric or non-obstetric led unit. The risk of an adverse perinatal outcome was almost double for the homebirth group with 9.3 per 1000 births having a poor outcome compared with 5.3 per 1000 for those who chose to birth in a hospital setting (Brocklehurst et al, 2011). For multiparous women there was no significant differences in primary neonatal outcomes between birth settings, which suggests that a homebirth is as safe an option for birth than hospital for women who have previously had uncomplicated spontaneous births.
Furthermore the study revealed that 45% of primigravida who had opted for a homebirth were transferred to hospital either before or after birth due to maternal or neonatal complications arising compared with 12% of multiparous women who had opted for a homebirth (Brocklehurst et al, 2011). This research was undertaken by experienced and skilled people whose professional backgrounds were of relevance to the study. The study had a large sample size and was able detect adverse perinatal outcomes through large volumes of statistical information. The study highlighted that although the incidence of an adverse perinatal outcome in all birth settings is small for healthy low risk pregnancies, this risk is increased for nulliparous women for planned births at home. Research has previously shown that intra-partum related perinatal mortality (IPPM) rates defined as deaths from asphyxia, trauma or anoxia as classified by CEMACE (2004) are relatively low overall for England and Wales with a rate of 0.79 per 1000 births being recorded over a 10 year period, however the same study found that this rate is dramatically increased to a rate of 6.05 per 1000 when transfer to hospital was required during or following a planned homebirth and that this rate has increased from previous years (Mori et al 2008).
These findings are of particular concern when the results are viewed alongside studies such as the previous study noted, that conclude that the transfer rate for nulliparous women from home is at an alarmingly higher rate than that for multiparous women. This evidence is drawn primarily from data within the CEMACE report and the researchers acknowledge the limitations of their study and conclude that all data should be interpreted with caution due to conclusions being drawn on incomplete data with comparison groups that were fundamentally different. The increased risk of perinatal mortality linked to homebirth is not limited to the UK. The Netherlands currently has one of the highest homebirth rates in Europe with approximately 30% of women giving birth at home, but it also has one of the highest national perinatal mortality rates in Europe which has raised anxiety levels about homebirth. The Dutch maternity services have therefore come under scrutiny in recent times and so a nationwide cohort study encompassing 529,688 women over a 7 year period was commenced to provide an evidence base on how best to manage low risk pregnancies.
The research found that planned homebirth in a low risk population did not increase the risk overall of perinatal mortality or show an increase in admission to Neonatal Intensive Care Unit (NICU) however it did conclude that the research showed that primiparous women were associated with higher rates of adverse perinatal outcomes regardless of birth setting and therefore had an increased risk of requiring admission to NICU (De Jonge et al 2009). This study is the largest of its kind within the Netherlands and provided important evidence in to the safety of birthing at home. The research was not approved by an ethics committee and the researchers are aware of limitations that include incomplete data and the planned place of birth not always being recorded and so conclude that more research is needed in to the high rates of perinatal mortality within the Netherlands.
An American based review by Wax et al (2010) further highlights the poor perinatal outcomes associated with planned homebirth. In the US approximately 25,000 women annually birth their babies at home (Martin et al 2006) and whilst the majority of these births have a positive outcome for mother and baby, many do not. Although planned home and hospital births had similar perinatal mortality rates, planned home births exhibited almost a doubling in neonatal mortality rates associated with respiratory distress and failed resuscitation (Wax et al 2010).
The findings from these studies are particularly concerning when it is perceived that women opting for a planned homebirth are usually considered to have lower obstetric risk factors than those who opt for a hospital birth. The studies used to get data on maternal and perinatal outcomes related to birth setting are very often nationwide cohort studies, which is itself a limitation to obtaining accurate findings. Ideally randomised control trials would provide more comprehensive results regarding the safety of homebirth however for the nature of the research they remain to be impractical and therefore all studies should be viewed with caution.
Whilst recent research has highlighted the less favourable outcomes for the neonate in relation to homebirth for the nulliparous woman, consideration must also be given to the individual choice of the woman and the implications of this choice on her health and wellbeing. The Royal Collage of Obstetricians and Gynaecologists (RCOG) supports homebirth as a viable choice for women with uncomplicated pregnancies as it can have considerable benefits for them and their families and increase the likelihood of a safe and satisfying birth (RCOG 2007). Literature has shown that women experience less pain in their own home surroundings, use less pharmacological pain relief and have minimal levels of intervention such as episiotomy, perineal trauma and instrumental delivery (Wax et al 2010; Janssen et al 2009).
A Canadian prospective cohort study by Janssen et al (2009) included 2889 homebirths over a 4 year period which aimed to assess the outcomes of planned homebirth with planned hospital birth. The study concluded that the risk of all obstetric interventions and the risk of all adverse maternal outcomes assessed are significantly lower in the planned homebirth group when compared with those who had a hospital birth. The postnatal rate of infection was also lower in the homebirth group than in both the obstetric and midwife led units. The student feels that is an important positive aspect of homebirth and vital to the health and wellbeing of the women particularly at a time when sepsis is the leading direct cause of maternal death in the UK (CEMACE 2011).
The study by Janssen et al (2009) was a peer reviewed article researched by a number of appropriately qualified individuals, however by comparison of other studies on the outcomes of planned place of birth the study had a relatively small number of participants which might have limited the accuracy of the results as they may not have been fully representative of the population. As the student has previously mentioned a proportion of women who have opted for a homebirth will require transfer to hospital due to complications arising pre or post birth with higher transfer rates being associated with nulliparous women. The most common cause for maternal transfer is haemorrhage (RCOG 2007) with any delay in transfer likely to have severe consequences for the health and wellbeing of the women.
The latest CEMACE report concludes that 2 women died of direct causes following births at home out of a total of 79 maternal deaths by direct causes (CEMACE 2011). However it does not indicate the parity of the women or if the deaths occurred partly as a result of the place of delivery and so an assumption cannot be made whether homebirth was a factor in these events. The risk of a serious maternal complication is a relatively rare occurrence regardless of birth setting and observational data obtained shows that lower intervention rates and increased maternal satisfaction with homebirth make it an increasingly popular choice for women. The small risk of maternal complications arising does not warrant the guidelines to be changed for nulliparous women who wish to birth their baby at home (RCOG 2011).
In light of the recently publicised evidence on the potential risks of homebirth many have begun to question the safety of birthing a baby out-with a hospital environment. Whilst some would say that by having your baby at home is putting yourself and your child at unnecessary risk of complications arising, advocates of homebirth would reply that home is a calm, natural place to birth with fewer interventions. Indeed there is evidence to support both sides of the argument. Women who opt to labour at home are more likely to achieve a spontaneous birth without medical intervention than if they were labouring in a medical setting regardless of parity (Lindgren 2008; RCOG 2007). Evidence does suggest that there is less incidence of perineal trauma, augmentation or instrumental delivery (De Jonge et al 2009; Janssen et al 2009; Lindgren 2008).
However Brocklehurst et al (2011) found that although interventions in labour were substantially lower in all non obstetric unit settings for women, they were more frequently required for nulliparous women (36%-45%) than for multiparous women (9%-15%). There is conflicting evidence on the safety of homebirth for women but when research assesses the risk based on parity primigravidas are more likely to experience a negative maternal outcome regardless of birth setting. This fact is largely undisputed amongst professionals but what is disputed is the safety of the neonate. As the student has previously discussed, there have been a number of studies conducted that conclude that the neonate is put at an increased risk of disability or death. All evidence accessed by the student concluded that there was an increased likelihood of a negative perinatal outcome when birth was chosen to take place at home compared to the national average rate in the most recent years (De Jonge 2009).
The research was also conclusive that again this was increased when home delivery took place by a primigravida. This could be argued that this is due to the slight increase in women advocating their right to choose where to birth their babies with more first time mothers opting to labour and deliver at home. Rather than focusing on the place of birth research should be conducted more thoroughly in to who is giving birth and associate these rates with parity rather than place. Labour is unpredictable regardless of whether a woman is categorised as low risk or high risk and so it is impossible to predict whether complications will arise throughout the course of the birth wherever it may take place.
Recommendations for clinical practice
The RCOG (2007) and NICE (2007) continue to support home as a planned place of birth for women at low risk of complications as evidence suggests that there is a higher likelihood of women achieving a normal birth with fewer interventions. Evidence suggests this statement to be accurate but with more up to date research becoming available it is fundamental that midwives are aware of recent studies that highlight concerns for the safety of the neonate and in particular the safety concerns surrounding nulliparous women (Brocklehurst 2011).
Informed choice is a fundamental aspect of midwifery practice (NMC 2008) and it is therefore a vital aspect of a woman's care to ensure that she is aware of all available information on her chosen place of birth. Midwives must take in to account the distance from the woman's home to the nearest maternity hospital when booking a homebirth and ensure the woman is fully aware of the consequence this could have if such a transfer was needed. It may be of benefit to inform emergency services of an impending birth in particular by a primigravida so if an emergency situation were to arise they would be prepared to act as quickly as possible to reduce the incidence of neonatal mortality.
Currently all low risk women irrespective of parity have the option to birth their baby in their home environment with the support and assistance of registered midwives. It is important that midwives continue to enable women to have fully informed choice and to do so must remain fully informed themselves. With the increased risk to the neonate highlighted midwives and in particular midwives within the community should have appropriate, regular neonatal resuscitation training in order to maintain clinical expertise in this field (NMC 2008). Midwives should be encouraged to use their instincts and experience in a potential adverse situation and be willing to act early if they feel that assistance may be required.
It is clear from the research on perinatal and maternal outcomes by planned place of birth that birthing at home has an increased risk of a negative outcome than a birth in an obstetric or non obstetric led unit. Negative maternal outcomes are found to be relatively similar for all groups with only a slight increase in the homebirth groups which has been attributed to the need for transfer.
The studies have highlighted that the risk to the neonate is often doubled. More research needs to be carried out in to why this rate is so high by comparison so a measure can be put in place to make birth at home for low risk women as safe an option as birthing in hospital. Primigravide women are at a greater risk of having a negative outcome regardless of birth setting and so place of birth should continue to remain a choice as long as the woman is fully informed about the increased risks to herself and her neonate and aware of the possible consequences of her decision. By ensuring staff are fully competent and confident in the management of all possible situations arising in a home setting homebirth should continue to be promoted as a positive, natural birthing experience.
References
Blix E, Oian P, Kumle M. Outcomes after planned home births.2008. [Available online: http;//www.ncbi.nlm.nih.gov/pubmed/19096465]
Brocklehurst P et al. The birthplace in England Collaborative Group . BMJ 2011;343:D7400. [Available online: www.bmj.com]
Cresswell JL, Stephens E. Home births. London (UK): Royal College of Obstetrica and Gynaecology. [Available online: www.rcog.org.uk/womens-health]
De Jonge A, van der Goes BY, Ravelli AC, Amelink-Verburg MP, Mol BW, Nijhuis JG, et al. Perinatal mortality and morbidity in a nationwide cohort of 529,688 low-risk planned home and hospital births. BJOG2009;116:1177-84
Gyte G, Dodwell M, Newburn M, Sandall J, Macfarlane A, Bewley S. Estimating intrapartum related mortality rates for booked home births: when the 'best' available data are not good enough. BJOG2009;116:933-42
Hodnett ED, Downe S, Walsh D, Weston J. Alternative versus conventional institutional settings for birth. Cochrane database Syst Rev2010;(9):CD000012
Janssen PA, Saxell L, Page LA, Klein MC, Liston RM, Lee SK. Outcomes of planned home birth with registered midwife versus planned hospital birth with midwife or physician. CMAJ2009;181:377-83
Lindgren HE, Radestad IJ, Christensson K, Hildingsson IM. Outcome of planned home births compared to hospital births in Sweden between 1992-2004. A population-based register study. Acta Obstet Gynecol Scand2008;87:751-9
Mori R, Dougherty M, Whittle M. An estimation of intrapartum-related perinatal mortality rates for booked home births in England and Wales between 1994-2003. BJOG2008;115:554-9
National Institute for Health and Clinical Excellence (NICE). Intrapartum care of healthy women and their babies during childbirth. National Collaborating Centre for Women's and Children's Health. RCOG, 2007. [Available online: www.nice.org.uk]
Saving Mothers Lives. CEMACE. 2011. [Available online: www.rcog.org.uk]
The Code: Standards of Conduct, Performance and Ethics for Nurses and Midwives. NMC 2008.
Olsen O, Clausen JA. Benefits and harms of planned hospital birth compared
with planned home birth for low risk pregnant women. Cochrane database2009.[Available online: http://sumaries.cochrane.org/CD000352]
Walsh D, Downe S. Uncertainty around home birth transfers. BJOG 2008;115:1184-5
Wax JR, Lucas FL, Lamont M, Pinette MG, Cartin A, Blackstone J. Maternal and newborn outcomes in planned homebirth vs planned hospital births: a meta-analysis. Am J Obstet Gynecol2010;203:243.e1-8