Industrial and Organizational Pyschology Term Paper Essay Sample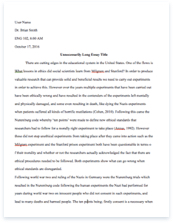 The whole doc is available only for registered users
OPEN DOC
Get Full Essay
Get access to this section to get all help you need with your essay and educational issues.
Get Access
Industrial and Organizational Pyschology Term Paper Essay Sample
Introduction
Job analysis is a fundamental part of the practice of industrial/organizational psychology. Analyzing a job involves the determination of what tasks make up a job, the tasks' relative importance, and what knowledge, skills, and abilities are necessary to successfully carry out those tasks. Job analysis results may be utilized for a variety of personnel management purposes but are especially important for selection and promotional decisions. Job analysis is undertaken prior to selection and promotional testing in order to determine what attributes qualify an individual for a specific job. In other words, the aspects identified through comprehensive job analysis serve as the criteria for tests and other assessments used in selection or promotion.
The process of job analysis can involve several methods of information-gathering, including observation, group meetings, interviews and surveys. Diversifying the sources of information helps obtain more accurate representation of the entire job. For the same purpose, as well as in order to ensure fairness, a representative sample of job incumbents (representative of the organization in terms of location, division, type of job assignment, race and gender) is utilized. The I/O Solutions job analysis process typically begins with review of any pre-existing materials such as past job analyses and job descriptions.
Next, interviews and job observations are conducted with a representative sample from the organization, with the purpose of obtaining task-level information about the job in question. The interviews and observations are complementary, as something that is accidentally omitted during an interview may be easily observed, and rarely performed but critical tasks that are not easily observed can be discussed in an interview. Job incumbents as well as supervisors – who may be more familiar with all aspects of the job – are interviewed. Interviews and observations provide I/O Solutions with a preliminary understanding of what skills and abilities are needed for successful performance in the specific job.
Information gathered through interviews and observation informs the creation of the Job Analysis Questionnaire (JAQ), a multisection survey instrument aimed at determining the knowledge, skills and abilities suitable for selection or promotional testing. Job incumbents' ratings of task statements are obtained in the first section. The task statements are written to summarize major aspects and activities of the job and are organized by duty area (meaningful groupings of similar tasks). Some examples of duty areas include "Management and Leadership Activities" and "Training Activities." Using five-point Likert rating scales, respondents indicate which tasks are important and used frequently in their job position. They also indicate whether the tasks are applicable to their job. The essentiality of each task is then calculated by using a proprietary formula that combines importance and frequency ratings for each task.
Criteria is important to industrial and organizational psychology because it reflects organizational and individual performance. The criteria evaluates standards that can be used as yardsticks for measuring an employee's success or failure. Here are the…. Ultimate crierion is a theoretical construct encompassing all performance aspects that define success on the job. Actual criterion is, the our best real-world representative of the ultimate criterion, which we develop to reflect or overlap with the ultimate criterion as much as possible. Criterion deficiency is a condition in which dimensions in the ultimate measure are not part of or are not captured by the actual measure. Criterion contamination is a condition in which things measured by the actural criterion are not part of the ultimate criterion. In the method section, describe who you interviewed, where the individual works, and the job title. Describe how you gathered the job-related data in detail.
In the results section, describe the tasks of the job and the work environment.
In the discussion section, summarize the project and talk about any limitations with the analysis. For example, if you could not observe the SME on the job that would be a limitation.
————————————————-
Appendix A…. Job and Description
Description: Key Accounts Manager
Accounting Manager Job Purpose: Establishes financial status by developing and implementing systems for collecting, analyzing, verifying, and reporting financial information; managing staff. Accounting Manager Job Duties:
* Accomplishes accounting human resource objectives by recruiting, selecting, orienting, training, assigning, scheduling, coaching, counseling, and disciplining employees; communicating job expectations; planning, monitoring, appraising, and reviewing job contributions; planning and reviewing compensation actions; enforcing policies and procedures. * Achieves accounting operational objectives by contributing accounting information and recommendations to strategic plans and reviews; preparing and completing action plans; implementing production, productivity, quality, and customer-service standards; resolving problems; completing audits; identifying trends; determining system improvements; implementing change. * Meets accounting financial objectives by forecasting requirements; preparing an annual budget; scheduling expenditures; analyzing variances; initiating corrective actions.
* Confirms financial status by monitoring revenue and expenses; coordinating the collection, consolidation, and evaluation of financial data; preparing special reports. * Maintains accounting controls by establishing a chart of accounts; defining accounting policies and procedures. * Guides other departments by researching and interpreting accounting policy; applying observations and recommendations to operational issues. * Maintains financial security by establishing internal controls. * Avoids legal challenges by understanding current and proposed legislation; enforcing accounting regulations; recommending new procedures. * Protects organization's value by keeping information confidential. * Updates job knowledge by participating in educational opportunities; reading professional publications; maintaining personal networks; participating in professional organizations. * Accomplishes accounting and organization mission by completing related results as needed. * Other duties.