Inequity In Sport Essay Sample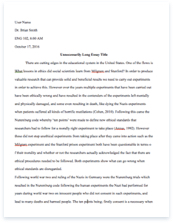 The whole doc is available only for registered users
OPEN DOC
Pages:
Word count: 1811
Category: sport
Download Essay
Get Full Essay
Get access to this section to get all the help you need with your essay and educational goals.
Get Access
Inequity In Sport Essay Sample
Throughout history many forms of inequity have existed throughout the world, in all areas of society and all walks of life. The sub-culture of sport is a particularly good example to outline not only the inequalities within the field itself but it may also offer a perspective on forms and levels of inequity that survive in broader society.
Inequality is generally based around stereotypes of various groups in society. The main groups highlighted textbooks and the media, (although not the only), are ethnic minority groups, people with disabilities, and women.
Forms of inequality are potentially very dangerous as it is the process of one group putting itself above another on a pre-conceived basis. This has had disastrous consequences in the past with coercion, oppression and in the most extreme cases ostracism occurring stemming from a base of inequity.
There are many examples that demonstrate the existence of inequity in sport. Until recently, women were not permitted to enter the prestigious Long Room at Lords Cricket Ground. This long-standing rule has since been changed (to the discomfort of many of the M.C.C.'s older male members) and represents in itself a groundbreaking step towards equity in sport.
Another example, if less distinct, is that of ticket allocation to England International Rugby matches. Tickets will only be sold to members of affiliated rugby clubs, and do not go on sale to the general public. Whilst this is much less harsh than some discrimination in sport, it helps to further strengthen the sub-culture of rugby football and prevent those from outside gaining access.
Access is a key issue when we talk about inequity. Access to participation, be it spectating or performing, is what needs to be equal across the spectrum of social groups in order for equity in sport to be achieved. Participation figures are a good indicator of equality in access to sport, although not an exact science. The figures show only how many people actually participate in sport, not how many have access to it (such data would be far harder to obtain). Nonetheless, the below figures (from a survey carried out by the Office For National Statistics in 1999/2000) are useful as a guideline:
Group
National Average Participation
Ethnic Minority Participation
Male
54%
49%
Female
39%
32%
Overall
46%
40%
This survey showed that there is still a noticeable difference in participation, and therefore an inequity, in sport even as recently as 2000.
There are many figures available which demonstrate inequity, and some show that the imbalance is apparent 'in favour' of the minority group. For example, the same survey from 1999/2000 also produced these figures regarding participation in certain activities:
Activity
Ethnic Minority Group
Group Participation
National Average Participation
Weights
Black Other (Men)
23%
9%
Badminton
Chinese (Men)
17%
3%
Cricket
Pakistani (Men)
10%
2%
Basketball
Black Caribbean (Men)
4%
1%
Running/ Jogging
Black African (Women)
11%
2%
Weights
Black Caribbean (Women)
7%
3%
These findings show that the inequity that exists does not always result in greater participation for the majority group in society. At a closer look, it is evident that the sports listed above are those in which the particular country tends to do well in internationally (e.g. Pakistan in cricket). This leads on to a whole new debate about minority groups in society adhering to stereotypes, and creating self-fulfilling prophecies, in which minority groups prejudicially perceived to be superior in a particular sport then look up to role models who have succeeded from within their minority group and attempt to follow in their footsteps. An example of this is the high level of Black participation in basketball, stemming from the high percentage of black players in the NBA and leading to the notion that 'white men can't jump'.
Another variation on this type of inequity is known as 'stacking'. It is particularly visible in American Football teams, in which Black players are often selected for the wide receiver and running back positions, positions more in need of physical skills than decision making and communication qualities. Grusky further expands upon this in his 1963 theory of centrality:
'….this restricts them (Black players) from more central positions which are based on coordinative tasks and require a greater deal of interaction and decision making. Significantly, coaches who make these decisions are generally white.'
'Sport & PE', Wesson, Wiggins, Thompson & Hartigan
The last sentence is particularly important, as it leads to one of the key areas within sport that not only demonstrates inequity, but also ensures that inequity continues to exist into the future. Described by Coakley as 'the self-perpetuating coaching sub culture' (1994) it is the coaching and administrative roles in particular in which minority groups are noticeable by their absence. A fine example of this is the table below, showing figures from the Great Britain Summer Olympic Teams:
Year
% of Athletes
% of Coaches
Male
Female
Male
Female
1976
73
27
96
4
1980
68
32
91
9
1984
68
32
96
4
1988
64
36
90
10
1992
61
39
92
8
These figures concisely show that at the highest level, although there has been a significant increase in the number of women representing Great Britain at the Olympics over a 16-year period, the number of women coaches has remained very low.
If changes are to be brought about to reduce inequity in sport, these findings show that it is of significant importance to establish people from minority groups into managerial and administrative roles in order for a change to become permanent and ingrained in society.
Inequity is an issue that has been tackled by government in many ways over recent years, and many different approaches have been tested to reduce levels of inequality and discrimination within sport and in society as a whole.
Various measures have been taken in this country (and internationally) to prevent incidences in which inequity leads to oppression as described earlier. An example of this in England is the introduction of the Equal Pay Act in 1970 followed by the Sex Discrimination Act in 1975. These ensure so-called equal rights for women, but, as outlined below, do not entirely stamp out inequity:
"In Britain the Equal Pay Act and the Sex Discrimination Act now allow women in sport to go to court if their rights are abused, but it is important to recognize that sex discrimination in itself is not unlawful, only instances where discrimination creates financial consequences."
'Physical Education & The Study Of Sport', Davis, Bull, Roscoe & Roscoe
This statement underlines the fact that even when the government steps in to make legislations intended to prevent it, inequity within sport and in society as a whole is still very much apparent.
Nevertheless, numerous initiatives and organisations have been set up with the interest of promoting equity in sport at heart. The most prominent of these is Sport England, the brand name of the English Sports Council, which has been established since January 1997 with the primary objectives of development and maintenance of the infrastructure of Sport in England, and the distribution of National Lottery Funds. The slogan "More people, more places, more medals" adopted by Sport England reflects the three key areas in which their priorities lie. 'More medals' focuses on international recognition for England as a successful sporting nation. 'More places' concentrates on the development and placement of sports centres and facilities. 'More people' is aimed at getting more people involved in sport, and the key area when it comes to studying inequity in sport. Sport England has identified inequity as a problem and gives the following 'equity statement':
"Sport England recognises that inequalities in sport exist. We are working to change the culture and structure of sport to ensure that it becomes equally accessible to all"
Sport England actively encourages sports clubs and associations to promote equity for themselves, and has also commissioned much research to be carried out on the issue. An example of this is shown earlier in this essay, as the 1999/2000 survey by the Office for National Statistics on Ethnic Minority participation was appropriated by Sport England.
They also work closely alongside many projects set up specifically to achieve equity in sport. These range from BEM Sport – Yorkshire, an project "developed as a forum to represent the black and ethnic minority sports community in the Yorkshire area" Sport England Website, right through to West Ham Asians in football, set up to bring the most talented young Asian players into the professional game through a link-up with the academy at West Ham United FC.
Aside from promoting equity and providing expertise to assist such projects, Sport England has also contributed �988,000 to the cause. As an organisation, Sport England is accountable to Parliament through the Secretary of State for Culture, Media and Sport. It is he/she who appoints members to the council of Sport England.
Over and above the existence and influence of Sport England, the Department of Culture, Media and Sport has attempted to address the issue of inequity in sport. Basic sport and leisure legislations such as the obligatory requirement for the provision of libraries, playing fields and allotments, and optional additional leisure facilities have been introduced.
Directly, government has affected sport and leisure in many ways, from its leisure policies before and after the introduction of the welfare state right through to the development and subsequent demise of Compulsory Competitive Tendering, designed to encourage competition financially for sports facilities maintenance and construction contracts amongst other things. Although initiatives and legislations such as these have affected the overall picture of sport participation, the projects that single out and tackle sports equity directly are done through Sport England.
In conclusion, I believe it is fair to say that although the existence of inequity in sport is decreasing with government attempts to address the issue; the need still resides for changes to be made within society at a deeper, more fundamental level for true equity in sport to fully take effect.
Bibliography
K. Wesson, N. Wiggins, G. Thompson, S. Haitian, 'Sport & PE', Hotter & Stoughton, 1998.
R. J. Davis, C. R. Bull, J. V. Roscoe, D. A. Roscoe, 'Physical Education & The Study Of Sport', Wolfe Publishing, 1991.
J. Coakley, 'Sport in Society', McGraw-Hill Companies Inc., 2001.