Inferential Statistics and Introductory to Operations Research Essay Sample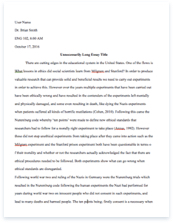 The whole doc is available only for registered users
OPEN DOC
Pages:
Word count: 412
Category: study
Get Full Essay
Get access to this section to get all help you need with your essay and educational issues.
Get Access
Inferential Statistics and Introductory to Operations Research Essay Sample
POPULATION
A population consists of all the possible observations of the random variable under study. A census involves the gathering of data on a random variable from every member of the target population A sample is a subset of all members of a target population. Sampling is the process of selecting a representative subset of observations from a population to determine the characteristics of the random variable under study.
SAMPLING METHODS
Two methods of sampling are: 1 2 probability sampling methods non-probability sampling methods
PROBABILITY SAMPLING
In probability sampling (random-based sampling) every member of the target population has a chance of being selected for the sample. Sampling units are selected from the target population on a random basis. There are four probability-based sampling methods: 1 2 3 4 simple random sampling systematic random sampling stratified random sampling cluster random sampling.
PROBABILITY SAMPLING
Simple random sampling: Each member in the entire population has an equal chance of being selected. Systematic random sampling: Sampling begins by randomly selecting the first sampling unit from the sampling frame (database of population members). Thereafter, subsequent sampling units are selected at a uniform interval relative to the first sampling unit. Stratified random sampling: This method is used when the population is heterogeneous with respect to the random variable under study. The entire population can be divided into segments (or strata) where the sampling units in each stratum are relatively homogeneous. Thereafter, random samples are selected from each stratum.
PROBABILITY SAMPLING:
Cluster random sampling: The entire population is divided into clusters, and a random sample of these clusters are selected. The sampling units are selected from these randomly selected clusters.
NON-PROBABILITY (NON-RANDOM) SAMPLING:
In non-probability sampling sample members are not selected randomly, the main selection criteria are the personal judgement of the researcher and/or convenience. There are four types of non-probability based sampling methods: 1 2 3 4
Convenience sampling Judgement sampling Quota sampling Snowball sampling
NON-PROBABILITY SAMPLING:
Convenience sampling: This method is used when the sampling units are selected to suit the convenience of the researcher. Judgement sampling: Personal judgement is used by the researcher to select the best sampling units to include in the sample. Quota sampling: The population is divided into segments and a quota of sampling units is selected from each segment. Snowball sampling: Snowball sampling is used to reach target populations
where the sampling units are difficult to contact.